Schools arranging Tet bonus for teachers in remote areas
Schools across the country were trying to balance their spending to give gifts to encourage teachers during the upcoming Lunar New Year.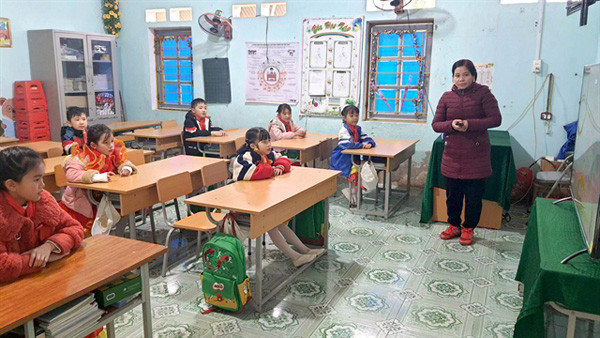 Nguyen Thanh Son, principal of Thuong Phung Primary School, Meo Vac District, in the northern mountainous province of Ha Giang, said that with limited funding in remote and mountainous provinces, the school can only support teachers with a Tet gift worth VND500,000.
"It is true that in remote provinces like ours, schools have no additional source of revenue other than the local education budget," said Son.
"To give Tet gifts to teachers, schools must balance their savings sources."
Nguyen Thi Nga, vice principal of Meo Vac Town's Primary School, said in that over Tet, the school will give each teacher a gift package including cakes, candies and drinks worth VND500,000.
Nga said that to have this small gift for Tet holiday for teachers, the school board also had to save expenses for the whole year.
All senior teachers and educational administrators like Son and Nga, as well as young teachers who have just joined the school, understand that the school's funding source was not available.
For teachers who return to their hometown during Tet holiday, the cost of transportation is also a concern.
Ho Tuan Anh, principal of Quynh Phuong Secondary School, Hoang Mai Town, Nghe An Province said: "There is no regulation on Tet bonuses for teachers."
"However, according to traditional custom, at the end of the year, more or less, public schools often try to have a little Tet gift to encourage teachers after a year of work."
To have Tet gifts, according to Ho Tuan Anh, public schools in remote areas often tried to save from the regular expenses of the whole year, the school's welfare sources, fee-based tutoring activities, and the trade union's source.
For schools that have sources of revenue from services such as canteens and parking areas, it was easier.
Principal Tuan Anh said that from the beginning of the school year, he and the school's trade union had to coordinate to develop internal spending regulations and calculate so that at the end of the year, they could have surplus as Tet gifts for teachers from VND1-1. 2 million.
"This amount is not high compared to other industries' Tet bonus for employees, but compared to public schools, this is a great effort of our school."
In public schools in the city, Tet bonuses for teachers were higher, mainly from saving internal expenditures of each school.
Luong Du Mai, principal of Cach Mang Thang Tam Secondary School, District 10, HCM City said that currently, the school's management board was waiting for the city's Education Department to approve this Tet bonus.
To have a year-end bonus for teachers, schools must save from the allocated State budget, Mai said.
Mai said: "This year the Tet bonus will be worth about a month's salary. What I wish for is that this expenditure will be approved soon."
Le Thanh Xuan, Principal of Phan Dang Luu High School, Binh Thanh District, HCM City said the school has completed the year-end financial processes to submit to the Ministry of Finance, hoping to have Tet bonuses for teachers soon.
In the system of private schools, the management board also tried to arrange a stable Tet bonus for teachers.
Nguyen Quang Tung, principal of a private high school in Hanoi, said that despite many difficulties after the COVID-19 pandemic, the school's Board of Directors was still determined to arrange Tet bonuses for teachers like in previous years.
"It is expected that the average Tet bonus for teachers is about VND15 million; for employees, it will be slightly lower," Tung said.
"This bonus level may be higher than that of some other public schools, but compared to other professions, it is still low, and completely worth the dedication and effort of the teachers."
"Because in private schools, pressure is high due to heavy workload, working time can last until night or over to holidays."
Source: Vietnam News