Four database centers that are expected to help turn HCMC into a smart city have been launched after over one year of construction and set-up, stated officials on May 12.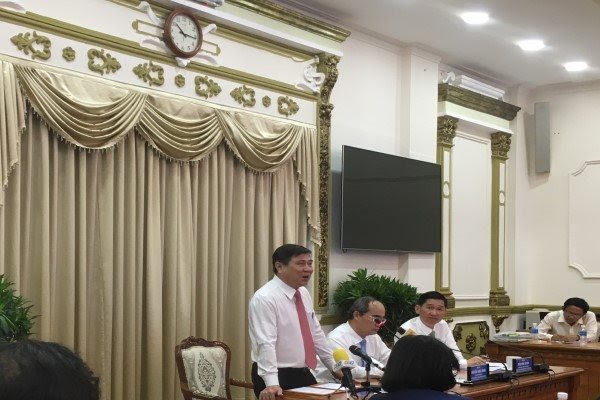 HCMC Chairman Nguyen Thanh Phong (standing) calls on the relevant units to make positive contributions to the city's shared database
The HCMC People's Committee unveiled these centers as part of plans to develop HCMC into a smart city in the 2017-2020 period with a vision toward 2025.
The shared database and open database ecosystem center is operational at Quang Trung Software City. The database has integrated existing data from various departments and agencies such as the departments of taxation; planning and investment; natural resources and environment; and labor, invalids and social affairs.
Some important databases relating to the city's one-stop shops, complaints, hotlines, business registrations, foreign investment, tax payments and land ownership have also been integrated into the shared database.
The municipal government has launched an open database portal at https://data.hochiminhcity.gov.vn on a trial basis. The site offers useful information on healthcare facilities and certificates for medical practice.
Meanwhile, the urban monitoring center has merged the data of some 1,000 surveillance cameras from the municipal Department of Transport and the people's committees of districts 1 and 12 as well as the Phu Nhuan and Go Vap districts. The center has now been put into operation on a trial basis.
For the first phase, this center has also integrated information with the city's one-stop shops; the switchboards of emergency services for security, health and fire incidents, such as 113, 114 or 115; and another switchboard for receiving reports on infrastructure incidents.
Also, the city has developed a system of technical infrastructure management of the geographic information system (GIS) as an integrated platform of databases containing information on the city's technical infrastructure, including postal communications, telecommunications and the electricity and water supply.
The socioeconomic simulation and forecast center, whose database was built to store the data and models of various social and economic indicators, is slated for launch next month.
The center is coordinating with a number of experts to create social and economic prediction models in some schools.
With regard to the information safety center, the municipal government decided to establish a joint stock company to operate the center, where the State-owned Saigon Industry Corporation holds a 51% stake.
The new company is responsible for ensuring network safety and security among artificial intelligence connections with the databases of the city's districts, as well as for developing information technology infrastructure.
Speaking at the meeting, the city's chairman, Nguyen Thanh Phong, urged the relevant departments and agencies to finish their work on schedule in the second phase since some units were earlier slow in sharing their data, causing difficulties in the establishment of the shared database. SGT
My Huyen