Authorities in the ancient town of Hoi An – a famous tourist destination in the central province of Quang Nam – are intensifying their efforts to tackle noise pollution in the area.
Hoi An Town to curb noise pollution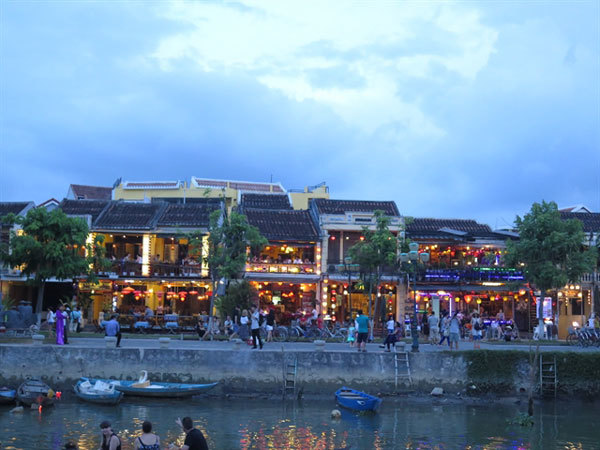 Tourists walking by the Thu Bon River. Authorities in the ancient town of Hoi An are intensifying their efforts to tackle noise pollution in the area. VNS Photo Hong Van
The town's People's Committee recently issued a notice on all types of noise pollution including loud sounds caused by vocal advertising on streets or by bars and karaoke clubs, saying that violators will be strictly punished based on public administration regulations.
Despite concerns voiced by some that would be difficult to control noise pollution, the authority vowed to strengthen measures to handle the issue to help ensure the reputation of Hoi An and its role as an attractive cultural destination for tourists.
The committee requested all of its local branches manage all activities affecting the social environment, security and order.
It urged local authorities to intensify inspections to give accurate and strict punishments to violators, particularly those who advertise with loudspeakers mounted on vehicles.
Police and authorities including the Office of Culture and Information, the Department of Natural Resources and Environment and other units were urged to join hands to organise street patrols and ask local people to take down illegal billboards and loudspeakers that broadcast noisy ads.
The authority admitted that in the past, many companies and individuals in the town such as restaurants, bars, coffee shops, bands and DJs had caused serious noise pollution.
Some other cases including street vendors had also made contribution to cause noise seriously affecting the urban cultural environment, tourist environment and the people's daily life.
Nguyen Van Son, Vice Chairman of Hoi An People's Committee told Dân trí online newspaper that noise violations had increased recently because more clubs, cafes and bars have opened.
The official said authorities recently received complaints from many local people about restaurants, bars and karaoke clubs that played music too loud and stayed open past the allowed time.
Tourists also complained about the noises, and about scams carried out by persistent sellers.
Nguyen Van Lanh, head of Hoi An's Department of Culture and Information, said noise pollution was widespread, but was difficult to handle because of a lack of mechanisms for enforcement, co-ordination and punishment.
According to Lanh, a lack of noise testing equipment and clear guidelines for what constitutes noise pollution were among the challenges.
"In addition to advising the People's Committee on issuing documents to reduce noise pollution, the department has asked the town to support more operational tools such as standard noise meters for all relevant units and communal authorities, and to clarify authorities' responsibilities in dealing with violations," said Lanh.
The official pointed out that most cases of noise pollution do not meet the current legal threshold of 72 decibels.
"But they still cause noise pollution, so the process of solving the issue should be researched and adjusted based on regulations to ensure social security and order," said Lanh.
According to the official, public awareness of noise pollution regulations could be improved through better dissemination of information about laws and punishments.
VNS