Many areas in the central coastal province of Binh Thuan are said to be in ruins by titanium extraction after several reports claiming that the south central province boasts the largest reserve in the Southeast Asia.
Titanium miners in Binh Thuan ignore safety measures
Binh Thuan: 'black gold' mining destroys beautiful landscapes
Binh Thuan attempts to combat desertification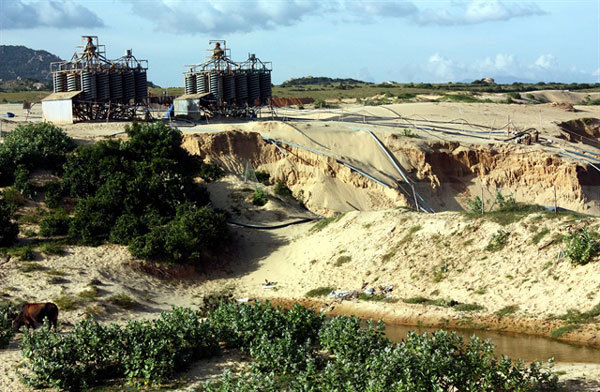 Titanium extraction near the coastline of the south central province Binh Thuan. — VNA/VNS Photo Cong Thu
With the estimated reserve of 559 million tonnes, accounting 92 per cent of the country's reserve, Binh Thuan Province sought to become a centre of titanium mining and processing of the country, according to reports by Vietnam News Agency.
However, exploitation and processing projects have not only caused negative impacts on the environment and daily life of local people, but also affect the socio-economic development activities of the province, especially the coastal strip, the news agency said.
In recent years local people living in Mui Ne Ward of Phan Thiet City have complained repeatedly to the local government about illegal exploitation by the Phu Hiep Company.
According to the complaints, the exploitation has dried up the underground water resources which caused severe shortages for people's daily lives and agriculture production.
Waste water from ore screening activities also caused pollution and harm to people's health and crops.
"Since 2016, Phu Hiep Company had pumped out underground water to its huge reservoirs for titanium ore sorting which made the underground water resource dry up," local resident Nguyen Tho Thai told Vietnam News Agency.
"The water shortage along with dust and untreated waste water had badly affected to the local people's lives and production," Thai said.
"Our family was planting 400 mango trees and earned yearly income of VND200 million (US$8.500) in previous years. But since the exploitation our orchard was badly affected so income dropped."
Phu Hiep was among the four titanium companies the local authorities inspected and found serious violations ranging from design and failure to pay environmental protection fees for their wastewater, to illegal titanium extraction and encroachment on unauthorised land to dump their waste illegally.
They were fined and ordered to halt operations until all the issues are corrected, according to the report. No companies were available for comment.
According to Nguyen Huu Quy, chairman of Binh Thuan Province's Nature and Environment Protection Society, Binh Thuan is one of two provinces suffering serious drought in the country.
Every year, the province has a modest rainfall of 500-800mm as compared to average rate of 1,600mm in other provinces, said Quy.
"The province has a sand area of 120,000ha which retained water by the flora. But the titanium exploitation killed the flora", he said.
The underground water was barely enough for people's daily use so exploitation for industrial production was forbidden.
But in fact, all projects of titanium exploitation in the province have been using the underground water resource for ore sorting although the investors had pledged to use surface water in the pre-feasibility projects.
It was estimated that the local government spent thousands of billions of dong on building more irrigation works to supply clean water for people, Quy said.
Less economic contribution
According to the provincial People's Committee, at present, there are 25 titanium extraction projects operating on 19,339 ha of land.
However, the contribution to the local budget was so modest - 1 per cent of the total provincial budget revenue and is equal to one tenth of the tourism sector's contribution.
It was due to out-dated technology of exploitation and processing which caused a lot of fuel and water to be used, and some titanium projects overlapped with projects of tourism, and clean energy.
The province has three key tourism projects including hotels and resorts, which will be built on of 2.500 ha at a cost of nearly VND40 trillion (US$1.7 billion). But the projects have not yet been implemented due to the location overlapping.
This has not only caused difficulties for investors but also affected to the province's socio-economic development plans.
According to experts, the titanium exploitation in Binh Thuan Province has brought about many side effects to environment.
Prof. Dr. Dang Trung Thuan of the Viet Nam National University, said exploitation would cause a change in topography and drying up the underground water.
Titanium extraction would incur radioactive issues which are harmful to people's health, he said.
Environment monitoring data showed that the level of alpha and beta radioactive activity in Hong Phong and Hoa Thang communes of Bac Binh District was between three and nine times higher than the permitted level.
"The titanium exploitation should be halted until the environment-related issues would be solved," said the expert.
Also, former of the provincial Party Secretary Dinh Trung suggested Government should stop the titanium projects in Binh Thuan due to their questionable economic efficiency, but massive environmental impacts.
Meanwhile, Dr. Nguyen Thanh Son, former head of Stratergy, Sciences and Technology Committee of the Viet Nam National Coal and Mineral Corporation, said titanium extraction is very important as the scale and level of exploitation of this rare metal reflects the country's technological level.
The metal also has important uses in national defence and space industries, Son said, adding that there should be studies looking into ways to extract the mineral without causing much impacts on the environment.
Another benefit is that titanium exploitation would also discharge waste under form of sand which could be used for civil construction or reinforcing islands, he said.
Using the waste sand could help reducing the illegal sand mining in rivers, he added.
VNS