The number of scientists working at research institutes is high, but the volume of research work is modest.
There are 3,116 scientific researchers and technology developers in Thanh Hoa. In 2019, the province spent VND141 billion to fund scientific research, but only 19 research works were published in Vietnam and another was published internationally as a seminar article.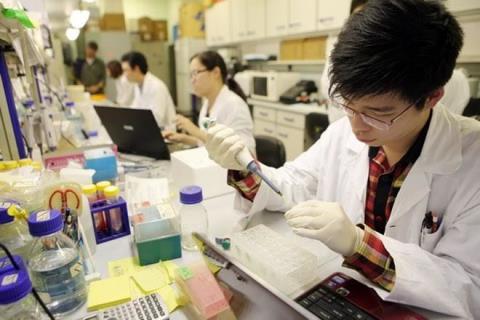 Tran Duy Quy, director of the Institute for Asia-Pacific Scientific and Technological Research Cooperation, commented that Thanh Hoa has a high number of researchers, but a low number of research works.

"Thanh Hoa has to spend big money on scientific research, but the result is not appropriate," he commented, adding that the provincial authorities need to reconsider the efficiency of the research.

The number of scientists working at research institutes is high, but the volume of research work is modest.
According to Quy, his research team just needs VND300-500 million to carry out one research project and create a new plant variety which can bring high economic efficiency.

There are several reasons behind the low ratio of scientific research works.

First, the research topics are unsuitable to the local conditions and practice. This leads to unfocused investments which consume big resources but bring modest effects.

Second, the capability of researchers is limited. In other words, there are still many problems in the training of master and doctoral candidates in Vietnam.

Agreeing with Quy, Pham Pho, former rector of the Sai Gon Economics and Polytechnic Junior College, said scientific research requires high capability and patience.

In general, research is mostly carried out at universities and research institutes which gather leading experts in different fields. This allows in-depth research projects to be implemented thoroughly and difficult questions to be solved.

Meanwhile, in provinces, researchers don't have the necessary conditions to carry out in-depth research.

Pho noted that the scientific research movement in localities is developing strongly, but this is not an easy job that everyone can do. Provinces have profuse research staff, but the researchers' capability is limited.

"The scientific research in localities is ineffective. The spending is high, but the result is modest," Pho commented.

He believes that localities should not 'follow the crowd' by spending time and money on research projects. This job should be allocated to central institutes and universities where there are leading experts with experience and in-depth knowledge.

Quy also thinks that research projects should be allocated to institutes in big cities.

"It would be better make concentrated investment," he commented.

"Some localities can also gain encouraging research results. But in general, in localities, scientific research just adds jobs," he said. 
Linh Ha

The agencies with the highest numbers of scientific research works are universities operating under the mode of autonomy and private universities, data from the Web of Science/Publons shows.

Prof Nguyen Thanh Liem, head of Vinmec Research Institute of Stem Cell and Gene Technology and one of top 100 Asian scientists 2019, says that Vietnamese are quite capable of carrying out scientific research at the international level.