Dr Ho Pham Thuc Lan began her medical career in an unconventional way.
"When I was in high school, my younger sister became severely ill and had to be hospitalised. An attending doctor told my parents to take her home because my parents couldn't afford the cost of treatment," Lan recalls.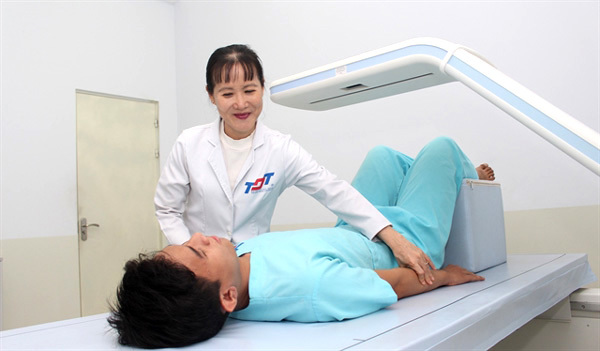 Dr Ho Pham Thuc Lan examines a patient. Photo courtesy of Dr Lan
"I was shocked to see such a cold-hearted attitude from a doctor. Right at that moment, I became determined to become a doctor one day. I promised myself that I would never say the same thing to my patients."
Today, as a teacher at Pham Ngoc Thach University of Medicine, Lan has won local recognition as well as international acclaim.
After graduating from the University of Medicine and Pharmacy of HCM City, Lan worked at People's Hospital 115 where she met patients with all sorts of diagnoses. Many of the cases were not curable, but some were preventable.
"I regard the elimination of suffering as an important role. We doctors can eliminate or reduce suffering by using affordable treatments. We can also help reduce patients' pain by showing empathy. I found that the behaviours of touching, listening, talking and smiling can positively contribute to patients' well-being," she said.
Osteoporosis research
During her career, Lan has treated many patients with severe complications caused by osteoporosis and osteoarthritis.
"That's why I have focused my research on these disorders," she says, adding that more than 1,000 volunteers have been involved in her research efforts.
"I start with simple questions, like finding out how many people have osteoporosis, and how and why the disease began, and then move on to more advanced questions such as the criteria used in diagnosis or whether diabetes is related to bone health."
Her research has attempted to address these questions, many of which are based on real-world observations. "I asked myself, for example, whether vegans have a higher risk of osteoporosis than non-vegans."
Lan's research on veganism and its possible relation to osteoporosis and vertebral fracture showed that veganism does not adversely affect bone health.
She presented her research at the 2nd Congress of the Strong Bone Asia Conference in 2008, and subsequently published her findings in a prestigious journal, the American Journal of Clinical Nutrition.
"My paper has received more than 160 citations from colleagues worldwide," she says.
Since no organisation would fund her study, Lan had to pay for it herself. But her research results and international recognition led authorities to fund subsequent projects.
At the time she conducted her research on osteoporosis, only a few studies on the topic had been done in Vietnam. There was little information about the risk factors for osteoporosis or the magnitude of the problem in the country.
"My colleagues and I carried out a large-scale study to fill the gaps in knowledge. We also examined the effects of genes and environmental factors on osteoporosis," she says.
Her studies showed that the prevalence of osteoporosis in Vietnamese aged 50 years and older was 28 per cent for women and 11 per cent for men.
Many of her studies, which were the first done in Vietnam, contributed to insights into the diseases, leading to better practice and diagnoses.
One of her studies involved research on genes that affect the bone size of Vietnamese. The collaborative research was published in the prestigious scientific journal Nature Communications.
Another research study, on the association between diabetes and bone density, showed that diabetic patients had high trabecular (sponge-like) bone density but lower cortical (hard) bone density. The study was published in the journal Osteoporosis International last year.
Lifelong learner
Lan is also keen to improve the presence of the work of Vietnamese scientists in the international arena, and has done her part to present her work at international scientific conferences and fora.
"Compared to other Southeast Asian countries such as Thailand, Malaysia and Singapore, Vietnam has had a modest presence in the medical literature and in international scientific fora," Lan says.
Besides doing research, she has shared her research findings with the general community. Four years ago, she launched a community health programme to provide free counselling and health examination on the weekends to people in District 7.
She also set up the website www.suckhoexuong.vn to provide useful and science-based information about osteoporosis and osteoarthritis.
As a lifelong learner, Lan always enjoys learning something new as part of her research. "Research is very useful because it provides an opportunity to learn the latest knowledge, and it's wonderful to see students get involved in research."
Asked about her challenges, she says that funding is the major problem.
Because she does not have a PhD, Lan was not eligible to apply for funding from the National Foundation for Science and Technology Development. Ton Duc Thang University and the city's Department of Science and Technology have funded her research projects over the past 10 years.
Cancer research
Currently, she is turning her attention to cancer. In Vietnam, most cancer patients admitted to hospitals for treatment are in the late stages of the disease. Lan and her colleagues at Pham Ngoc Thach University of Medicine are conducting a major research project to improve early diagnosis of cancer.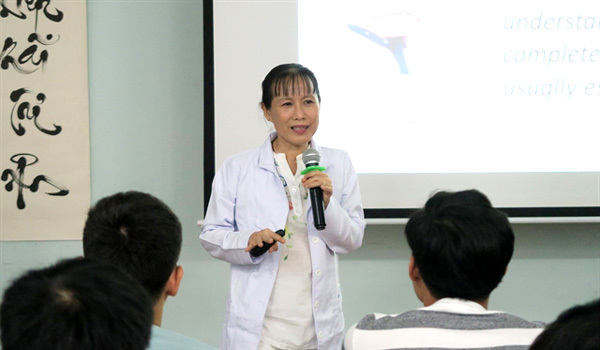 Dr Ho Pham Thuc Lan teaching students at Pham Ngoc Thach University of Medicine in HCM City. VNS Photo Dinh Hang

The project involves the collaboration of the Oncology Hospital of HCM City, Binh Dan Hospital, University Medical Centre, Garvan Institute of Medical Research in Australia, and Johns Hopkins University's Centre for Genetics and Oncology Treatment in the US.
Lan has received many awards for her research. This year, she was recognised with the 2019 Vietnamese Women Award. Previously, she was awarded the L'Oreal - Unesco 2015 Prize, the Alexandre Yersin Award for Outstanding Publication, and the HCM City Reproductive Endocrinology and Infertility Association Prize for Excellence in Medical Research. VNS
Gia Loc