Farmers have been still struggling to maintain agricultural production during prolonged hot weather in the coastal central province of Ninh Thuan.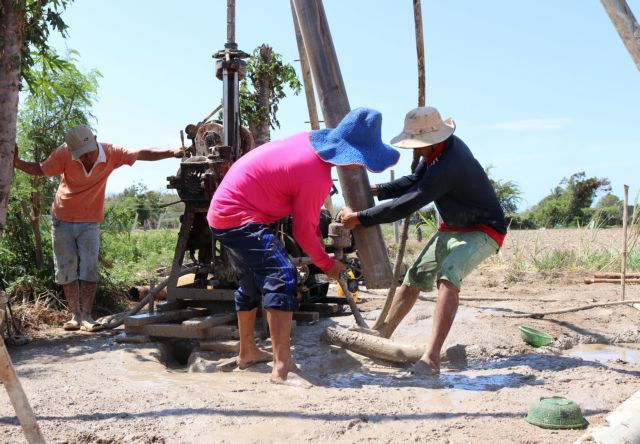 Local residents dig a well to find water for their crops in the coastal central province of Ninh Thuận.
In Ninh Hải District's Nhơn Hải Commune, farmers have been digging wells hundreds of metres deep to find water for their crops.
Nguyễn Chung, a local farmer, said he just spent VNĐ40 million (US$1,700) to dig a well.
The water shortage started in early February, he said.
Chung also spent about VNĐ10 million ($430) on a 2km pipe and a pump for his red onion farm.
It costs Chung about VNĐ2 million ($86) for electricity alone each month. 
Chung has borrowed money from relatives to try and manage the situation.
Lâm Học Mười in Mỹ Tường 2 Village said he had just paid VNĐ70 million ($3,000) for a 100m well in an effort to save his 8,000 sq.m farm of red onions and watermelons.
Võ Thị Kim Liên from Mỹ Tường 1 Village said her two 40m wells, which were dug in 2018, had run dry since early February.
She had to hire a company to extend the wells to 150 metres to get water, which cost was over VNĐ100 million ($4,300).
"We found water but not as much as expected in the first well. We hoped more would be found in the second well," she said.
She needed water for her grape vines while the fruit was ripe. If the fruit was dehydrated, it would fall, she said.
Liên said she did not have enough money to pay the company, so she had agreed to pay after the harvest.
"I really hope I will have enough water for my grapes," she said.
Phạm Gia Huy, the owner of the drilling company, said local people used to dig wells of 40-50 metres to find water for irrigation.
This had resulted in a groundwater shortage, he said. 
Huy said he knew some local farmers had been going through difficult times, so he had said it was fine to pay after the harvest.  
Data from the commune's People's Committee showed it had over 160ha of red onion, garlic, apple, grape and grass farms.
The committee said most local ponds and lakes had run out of water.
Statistics from the Ninh Thuận Irrigation Works Exploitation One Member Limited Company said that all 21 local reservoirs were down to 55 million of cubic metres, equal to 28.3 per cent of capacity.
Đặng Kim Cương, deputy head of the provincial Agriculture and Rural Development Department, said more than 7,800ha of crops had been suspended due to lack of water in the spring crop this year.
Hungry cattle
Pi Năng Thị Noan of Phước Trung Commune said she was raising seven cows.
She had to buy straw to feed them each day due to the shortage of fresh grass, triggered by the prolonged hot weather. It cost her about VNĐ100,000 ($4.3) daily.
Ta In Bố from Đồng Dầy Village said he had 20 cows, and only had enough straw stored until the end of this month.
If it did not rain before the end of this month, he would have to spend about VNĐ300,000 ($12.9) per day to buy straw, he added.
The cost would be too high, he said.
"Local farmers are waiting for heavy rain now," he said.
Statistics from the agricultural department said it was estimated there were over 433,000 goats, sheep, cows and buffalos in the province.
The majority of small-scale animal husbandry households depended on natural pastures, the department said.
In response to the situation, Trần Quốc Nam, deputy chairman of the provincial People's Committee, said relevant departments and agencies had been told to focus on coping with the prolonged hot weather.
The province would improve water conservation and prioritise supplying water from rivers and reservoirs to serve households, key economic sectors and agricultural production, he said.
Nam also ordered the Animal Health and Husbandry Division to instruct farmers to keep their animals healthy, use water efficiently and not expand their herds if they were unable to secure food and water for them. — VNS

Warned about serious drought this year, provinces in the western part of the southern region have spent hundreds of billion dong to build fresh water reservoirs. But this is just a temporary solution.

The farmers in Binh Thuan Province are facing dropping river water levels and imminent drought.