Pham Thi Thu Hien, 37, starts her day by grabbing her backpack before trekking through dozens of kilometres of forest with her colleagues.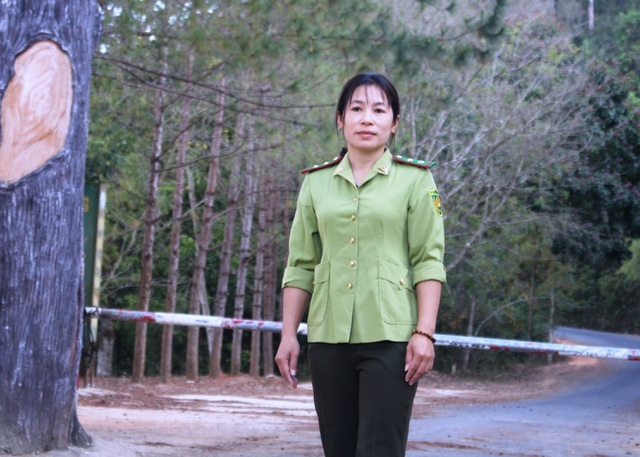 Despite difficulties, Phạm Thị Thu Hiền has a passion for protecting the forest. — Photo dantri.com.vn
Hiền is the only female forest ranger in the province, and patrols Kon Ka Kinh National Park in Mang Yang District, Gia Lai Province.
She was born and grew up in Đak Hlơ Commune, Kbang District. After graduating from high school, she entered medical school following her parents' wishes.
It transpired a medical career was not for her, so she quit school and entered the Central Highlands Forestry College hoping to become a forest ranger.
Hiền graduated in 2008 and started work as an office worker for the Forest Management Unit at Kon Ka King National Park.
Eight years later, she was assigned to join a patrol team protecting thousands of hectares of forest.
After days and nights on duty in the forest, she met Huỳnh Ngọc Thành, also a forest ranger, and married him.
However, Thành died in a traffic accident when their child was only three years old.
"I promised myself that I would spend the rest of my life protecting the forest," said Hiền.
She asked her mother to look after the baby and started living in the office in case there was an emergency.
She goes home at weekends, which is 70km from the national park.
After a long day at work, she calls home to ask her son about school.
Once her son had high temperature, so she had to rush back at night.
Despite these difficulties, Hiền has never been discouraged, and never thinks about quitting her job.
"My wish is to be close to my colleagues every day to go on patrol and protect the forest," she said.
Hiền added that her colleagues and leaders always supported her and helped her fulfill her mission.
"One special thing is that locals consider us family members and work with us to protect the forest," said Hiền.
Nguyễn Văn Hoan, director of Kon Ka Kinh National Park, said Hiền had passion for the career.
The career had a lot of risks requiring workers to spend many nights in the forest, but Hiền was always ready for her duty, he said.
Quảng Nam to investigate illegal deforestation
The central province of Quảng Nam's Department of Agriculture and Rural Development (DARD) has reported that Bắc Trà My District rangers in co-ordination with the provincial forest management office and local police are rushing to investigate reportedly illegal deforestation in the locality.
The illegal deforestation incidents occurred at Nước Oa River's upstream forest in Bắc Trà My District. The acts have been recently reported by local media.
A DARD official said the provincial forest management office is working with Bắc Trà My District's Protective Forest Management Board, as well as the people's committees of three communes where the illegal deforestation occurred, to inspect the scene.
At least 16 trees were chopped down in the protective forest in the area between the district's Trà Giác, Trà Tân, Trà Sơn communes, local media reported.
Rangers also found many trees cut into small pieces in streams and at the forest's edge. At the scene, rangers seized 26cu.m of timber.
Lê Trọng Trung, DARD Director, said recent deforestation incidents showed the shortcomings of forest management and protection work by relevant agencies.
The violation occurred in the protection forest near the Nước Oa hydroelectricity plant, however the plant has been slow to provide information to the local authorities.— VNS

Reporters provided photos and evidence about the slaughter of Red-Book-listed wild animals to forest rangers, but they remained unruffled.

Police have arrested five illegal loggers who allegedly attacked a forest ranger in Yók Đôn National Park.