Hai Van Shipping - Services Co, Ltd together with Vietnam Salvage Joint Stock Company, have already pumped about 50 tonnes of oil out of the Vietnamese-flagged container ship VIETSUN INTEGRITY that sank in Can Gio District's Long Tau River
  at around 1.50am last Saturday.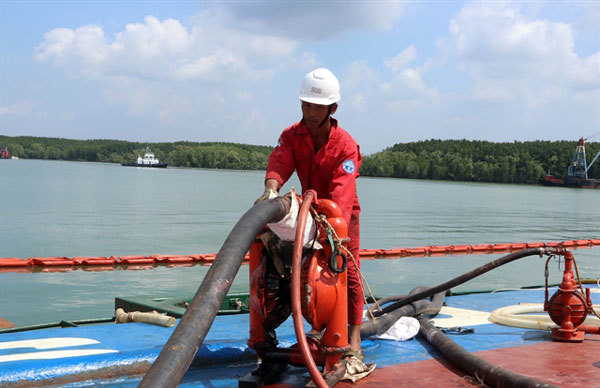 A worker pumps oil from the sunken ship. — VNA/VNS Photo Xuan Khu
The ship, carrying about 150 tonnes of oil, is about 132 metres long.
A representative of HCM City's Port Authority said it would take about 5-7 days to pump all 150 tonnes of oil out of the sunken ship. A small amount of oil has leaked from the vessel. The Hai Van Shipping – Services Co, Ltd has used three layers of buoys to prevent oil from spreading on the river in order to avoid environmental pollution.
The company has also collected 10 floating containers to take them to shore, the Tuổi Trẻ (Youth) online newspaper reported.
Nguyen Xuan Sang, head of the Vietnam Maritime Administration said there was no specific plan to salvage the sunken ship so far.
The specific time for re-opening Dong Tranh – Long Tau route had not been finalised, he said.
Relevant agencies were gathering to discuss the salvage plan, attempting to re-open the route as soon as possible, he added.
Currently, ships travelling between HCM City – Vung Tau will follow Soai Rap route, Dua River route or Dong Tranh - Go Gia route.
Previously, Minister of Transport Nguyen Van The asked concerned organisations to collect all floating containers on the river to ensure waterway traffic safety and investigate the case.
The water area between the Dong Tranh – Long Tau River intersection and Cambodia's Four Faces River has been restricted to vessels.

A container vessel has sunk on Long Tau River in HCM City, leaking 150 tonnes of oil.
VNS