Residents in HCMC who have installed rooftop solar panels can sell their solar power output to electricity firms next month. 
VN households receive financial support to install solar rooftop systems
VN's biggest renewable energy project to go operational in April
Maximising the wind revolution in energy sector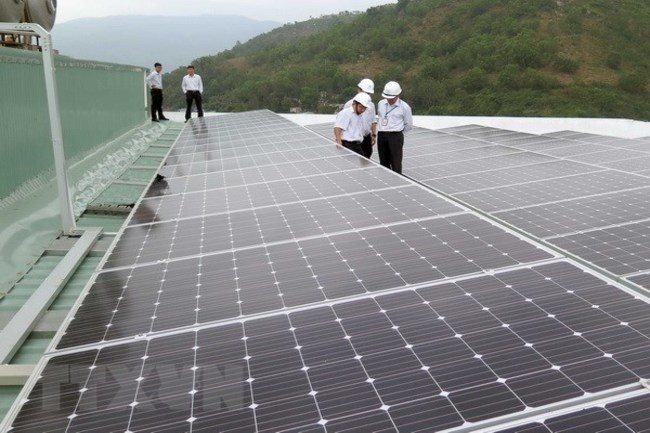 The rooftop of Binh Dinh Power Company's building is equiped with solar panels. HCMC residents who have installed rooftop solar panels can sell their solar power output to power firms from May 2019
Local households selling less than VND100 million of electricity annually will be exempt from taxes, the local media reported.
Saigon Power Company, a unit of Vietnam Electricity Group's HCMC Power Corporation (EVNHCMC), on April 25 signed power purchasing contracts with households that have installed rooftop solar panels in districts 1 and 3.
More than 1,400 households and units have installed rooftop solar panels in the city to date, with total capacity exceeding 17 megawatt peak (MWp), according to data from EVNHCMC.
However, the city's power firms had yet to sign contracts to purchase the power from local households since there were no official guidelines on solar power payment methods, as well as cumbersome tax procedures.
From next month onward, households will be paid for the amount of electricity sold previously as well.
Also, EVNHCMC said that power firms will transfer money each month to clients' bank accounts.
For value-added-tax (VAT) calculations, corporate clients that issue invoices will have to declare taxes by deducting a standard 10% of their income from selling electricity. If clients make a tax declaration directly on their VAT invoices, they have to submit 2% of their income to tax agencies.
In addition, a 2% tax is imposed on household clients who do not issue invoices and have annual revenues exceeding VND100 million.
Many experts forecast that the installation of rooftop solar systems may rise rapidly in the future as barriers for payment methods for purchasing power from local households have been removed.
However, according to Dang Ngoc Quoc Bao, a representative of EVNHCMC, clients should learn about the regional grid and relevant equipment before setting up the solar panels, so that their systems' capacity is compatible with the grid.