As air pollution has engulfed HCMC, the municipal Department of Transport is set to adopt multiple energy-efficient solutions in early 2020, including the launch of bike rental services, to reduce traffic congestion and air pollution.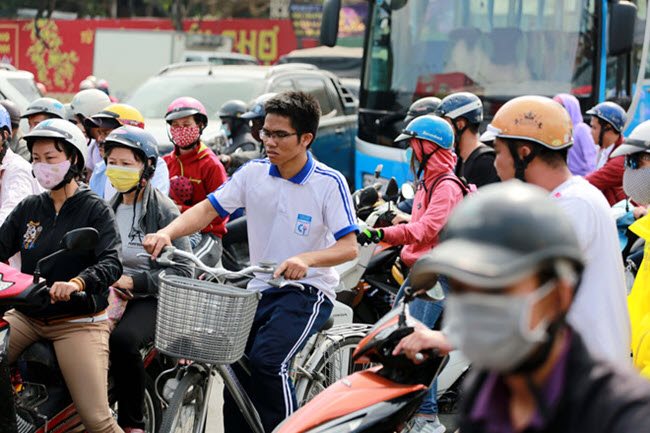 A young man struggles to ride a bike amid traffic jam in HCMC. The city is set to offer bike rental service on a trial basis in downtown areas to reduce air pollution - PHOTO: THANH NIEN
The department will launch a bike rental service on a trial basis to diversify modes of public transport in downtown HCMC after receiving approval from the municipal government.
The service is expected to encourage the use of public transport vehicles among local residents, thereby easing traffic jams and air pollution.
Besides this, the department will team up with ride-hailing firm Grab Vietnam to pilot a public transport service, using electric motorbikes to transport passengers in the downtown areas and connecting Grab Vietnam's available transport services to the public transport system in the city.
For the city's traffic infrastructure, the department next month will seek approval from the city's government to increase the frequency of washing activities for road and bridge surfaces to ensure that the collection, transport and treatment of waste during road maintenance activities are in line with prevailing regulations.
The department will also study solutions and boost the application of renewable energy resources and energy-efficient technologies, such as solar panels and LED lights on traffic signal poles, road safety signboards and other energy-consuming transport facilities.
Further, investment in ecofriendly buses will be encouraged. Buses powered by clean energy sources such as electricity, liquefied petroleum gas, compressed natural gas and liquefied natural gas will be put into service.SGT