The fact that some countries were able to upgrade their national ranking because of technology application is an inspiration for developing countries like Vietnam.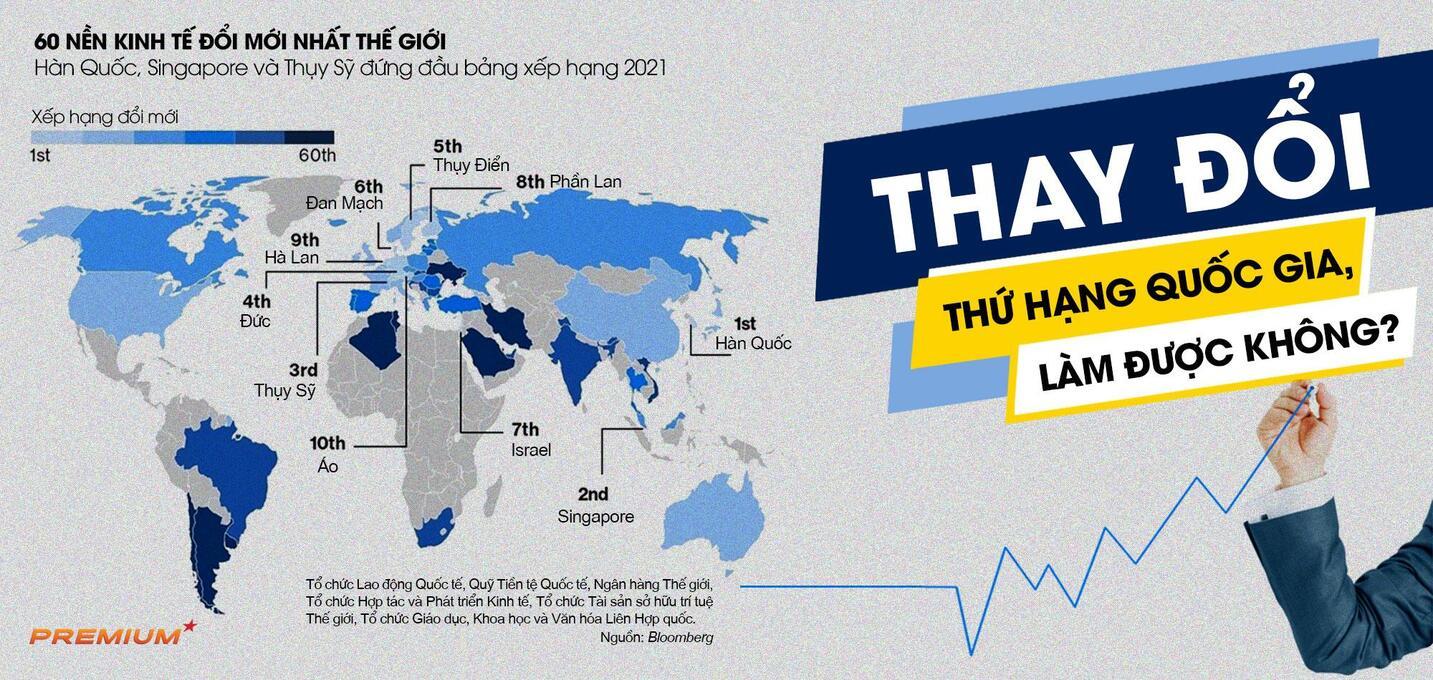 South Korea is recognized as the most innovative country in the world, a significant achievement if noting that the country had been a Japanese colony until the first half of the 20th century.
South Korea tops Bloomberg's 2021 Innovation Index, and ranks 10th in WIPO (World Intellectual Property Organization), INSEAD and Cornell University's 2020 Global Innovation Index.
Both indexes highlight South Korea's outstanding achievements in research and development (R&D) intensity, an index based on the government's investment in R&D and industry. The high R&D intensity makes South Korea a global leader in information and communication technology.
Excellent strategy
These developed countries which jumped in the world ranking followed excellent strategies and had a long term vision.
Minister of Information and Communications Nguyen Manh Hung has issued strategies for the information and communications sector in 2021, the first year to implement such strategies.
Hung said as a national strategy, it must have long-term vision and an ambitious goal of improving the country's rank. And it is necessary to have an original approach and solutions that are feasible, and easily and quickly applied.
Regarding the digital infrastructure strategy, the focus is on: 5G, the cloud, technology and infrastructure as services, essential platforms, one smartphone for every citizen, and one fiber cable Internet line for every family.
Vietnam aims to be among the top 30 in the world in digital infrastructure by 2025. As for the post-infrastructure strategy, the focus is on means of delivery to every household, VPostcode (digital address platform), e-commerce sites for farmer and business households, and digitization of all postal business and services. Postal infrastructure will ensure material flow in parallel with data flow, targeting households.
Regarding enterprises, Hung stressed the 'Make in Vietnam' spirit, the turning of Vietnam into a digital country, the solving of Vietnam's problems with technological solutions, the development of digital transformation platforms, and the mastery of technology through application promotion. Vietnam aims to have 100,000 digital technology firms by 2025.
Hung said that digital Government is a breakthrough solution to change the way the government operates. The government will lead national digital transformation.
It is expected that the digital economy growth rate would be 20-25 percent per annum, or triple the GDP growth rate. It would account for 20 percent of GDP by 2025 and 30 percent by 2030. 
Du Lam

Digital transformation starts with a mind shift. 

The Covid-19 pandemic has accelerated digital transformation, forcing businesses to adapt quickly even though they are not ready for it.