On the morning of June 28, Phan Dinh Thanh from Nghi Son District in central Ha Tinh Province bought groceries and a lighter to smoke some cigarettes.
Fire continues to spread in central Vietnam
Man prosecuted for causing large forest fire in Ha Tinh
Fires ravage forests in central region in prolonged heat wave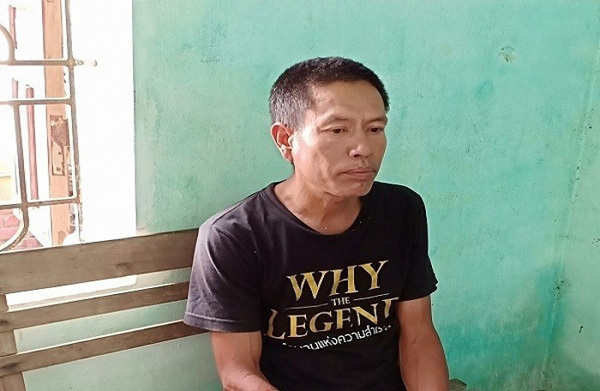 Phan Dinh Thanh
Later that afternoon, he gathered dried leaves in a trash pit in his garden and lit them on fire. The wind rapidly spread the fire to the nearby forest in Hong Linh Mountain.
That led to an incident that has been deemed the worst series of wildfires in Ha Tinh's history.
Despite efforts by firefighters and locals, the fire continued to spread and burned over 30 hectares of forestland in three days.
On the same day, four other forest fires broke out in the communes of Huong Tra and Huong Thuy in the central province of Thua Thien-Hue, spreading across over 100 hectares of pine and acacia trees.
Ha Tinh authorities said it would take months to evaluate the damage, but according to preliminary reports by the Viet Nam Administration of Forestry under the Ministry of Agriculture and Rural Development, fifteen forest fires were recorded from June 26-30, ravaging over 140 hectares of forest.
Downpours had been forecast in the central region today, and the situation is expected to improve. But the fires over the past few days are a strong call for local governments and relevant experts to discuss what lessons can be learned and what kind of contingency plans should be made for fighting forest fires in different localities.
The first big lesson? Don't let forest fires happen!
Once wildfires happen, experts say the fires can grow out of control before firefighters arrive, especially when conditions are dry, hot and windy. These are exactly the conditions in Vietnam's central region during summer time.
Other factors include dead trees and grass, which provide more fuel and help spread the fire to other trees. Once fires get big enough, they can even create their own weather systems and generate wind to fuel the flames. When a wildfire gets large, there is little anyone can do to stop or control it. In extreme conditions, firefighters even have to back off and wait for safer weather before trying to engage the blaze.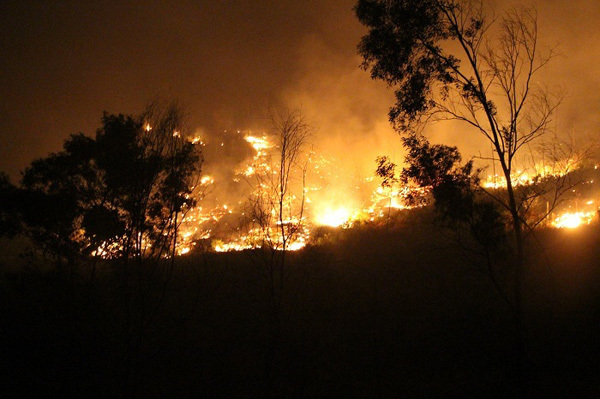 Photos: VNN
The man in Ha Tinh, Thanh, who inadvertently lit a fire in his backyard, ended up causing wide-ranging consequences for the community and the forest. He would be held in custody for at least four months and might face criminal charges for his act, but the damage was way too much to be compensated for.
Why does a man living so close to the forest act in such a risky way? Wasn't he informed of the consequences of such careless behaviour? Local authorities clearly hadn't done enough to make sure local people follow fire prevention regulations.
While forest fires are sometimes caused by natural factors, human error and negligence in many cases are the culprits. So experts say it falls largely on the awareness and action of the general public to make wildfire prevention most effective.
Forest fires burn several thousand hectares of vegetation every year in Vietnam. With a large area of the country experiencing dry and hot weather in the summer, it's vital to raise awareness around the implications of a forest fire. Local authorities can even create permits that people have to obtain before they can use fire, start campfires, or burn grasses, brush or debris. Sometimes when people are just not willing to be aware, enforcing fines for any violations may help reduce risky behaviours.
The recent tragedies also raised another issue – the country's preparedness in fighting forest fires.
According to a report by the Ministry of Agriculture and Rural Development in February, from 2014 to 2018, there were almost 1,980 forest fires nationwide, burning more than 7,700 hectares of forest to the ground.
Climate change is a fact, and is lengthening the wildfire season. Heat waves and hot spells are happening all over the world, including in Vietnam. Every year, we hear the term: record-breaking high temperatures. In 2017, it was 40 degrees Celcius, then 50 degrees Celsius in 2018.
Colonel Vo Dang Khoa, deputy head of the Fire Fighting and Prevention Department of Ha Tinh Province, said there were no fire lines on Hong Linh Mountain, which caused great difficulties during the firefighting process. Also, when the fire line was completed, the fire had already spread to another area.
Nguyen Cong To, deputy head of Ha Tinh Forest Rangers Unit, said a lack of essential firefighting equipment, like water delivery vans or water pumps, also hindered the effectiveness of firefighting measures.
He blamed it on the absence of a State budget for forest fire prevention, and asked the Government for such funding.
Officials from the localities where forest fires happened shared the view, saying that fires were still being fought using outdated methods. Ha Tinh Province's fire prevention department had requested research on modern firefighting chemicals and technologies, but the request is still pending.
Around the world, many countries have been using sensors and drones to help to predict the spread of fires, and satellites to monitor wildfires in their early stages. However, in a 2018 decree to instruct the implementation of Vietnam's Law on Forestry, there's no mention of such modern fire management techniques and methods.
These are just small examples of the country's lack of preparedness for wildfire prevention. In an age of climate variability, a lack of preparedness can put Vietnam's forest wealth at huge risk.
It's essential now that the Government come up with a comprehensive prevention plan, then work with forest management experts, environmentalists, climate scientists and firefighters on such a plan. More should be spent on equipping firefighting forces. Invest now to limit destruction from wildfires.
In 2012, Ha Cong Tuan, then deputy chief of the General Department of Forestry, told media that by 2020, Vietnam would still have to fight forest fires manually because it couldn't afford modern forest firefighting equipment.
As a matter of fact, the Government should somehow manage to be able to afford effective forest firefighting equipments, because once a forest fire happens, it would cost us more than just money and resources.
Thu Van
VNS