The People's Committee of Lam Dong Province has urged the provincial Department of Agriculture and Rural Development and Lac Duong District authorities to clarify reports of pine trees being poisoned in an attempt to clear land for cultivation.
Three arrested for poisoning pine forests in Lam Dong province
Hectares of pines poisoned in Lam Dong farmland grab
Hundreds of pine trees poisoned in Lam Dong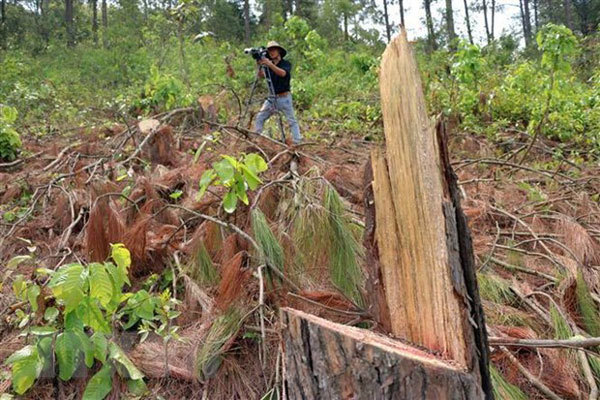 Pine trees are poisoned and chopped down in Lam Dong Province. — VNA/VNS Illustration photo
In a document sent to the relevant authorities, vice chairman of the committee, Pham S, asked the People's Committee of Lac Duong District to guide all relevant authorities to examine the situation and report the results to the committee before June 30.
On June 5, as many as 40 pine trees along the National Highway 27C were found to have been poisoned with herbicides. The pine trees were estimated to be between 40 and 50 years old, with diameters ranging from 40 to 70 centimetres.
The dead trees were found to have numerous holes in their trunks. The trees were located in Lac Duong District's Da Sar Commune, which belongs to the provincial High-tech Industrial Park project.
In response to questions from Vietnam News Agency reporters, head of Lac Duong District's Forest Protection Department Dong Van Lam confirmed the trees had been poisoned.
Lam said on April 25, the department caught Tran Van Quang while he was attempting to poison trees in the commune.
As many as 22 pine trees were killed.
The pine forest was under the management of Đa Nhim Protective Forest Management Board.
The department estimated that the amount of wood was nearly 12 cubic metres and the area of damaged pine forest was about 1,300 square metres.
Quang was fined VND15 million (US$645) and was forced to re-plant the dead pine trees.
VNS