Over the years, we have always been in the position of a technology outsourcing country. So what is the road to develop Vietnamese technology businesses?
Speaking at the National Forum for Developing Digital Technology Businesses, Mr. Nguyen Anh Tuan, Head of Samsung Vietnam External Relations Department, said that in 2008, when Samsung began investing in Vietnam, the local supporting industry was still very weak.
At that time, technology and the ability to get access to capital of Vietnamese enterprises were limited. The competitiveness of domestic firms was low in comparison with foreign-invested companies.
In 2004, only four Vietnamese enterprises met the conditions to be a level-1 supplier of Samsung. So far, 240 Vietnamese companies have joined Samsung's supply network, with 190 suppliers at level 2 and 50 suppliers at level 1.
Samsung has invested heavily in the education sector in Vietnam to increase the number of research staff. There are many young students from Vietnam in Samsung research centers.
According to a representative of Samsung, Vietnam's supporting technology businesses have increased strongly in both quality and quality in the past 10 years. Photo: Trong Dat
Mr. Tuan said that, for Vietnam's success in digital transformation, the most important thing is still the human factor. This is true for all businesses, not just digital technology businesses.
Tuan said that what should be noted in both industrial production and technology development is connectivity. In addition, leading companies in the supply chain will not buy loose parts; they buy solutions. If they can make solutions, Vietnamese businesses can participate more in the global supply chain.
Outsourcing enterprises: How to manufacture Make in Vietnam products?
At the forum, many experts also suggested how local firms can switch from outsourcing to manufacturing digital products.
Mr. Nguyen Xuan Hoang, Vice President of MISA, said the way of making packaged products, branded products or Make in Vietnam products is very different from outsourcing. With Make in Vietnam, we have to make products that meet the needs of many different clients, which must be a product that everyone can use.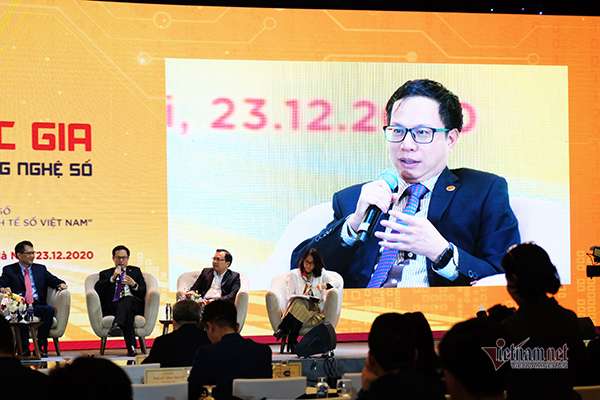 MISA Vice President said that making Make in Vietnam products is different from outsourcing. Photo: Trong Dat
In order to switch from outsourcing to making "Make in Vietnam" products, a business has a lot of work to do. Specifically, they need to have a mindset about the product, to know what product they make, and who to serve.
Hoang said that, when manufacturing Make in Vietnam products, if there is a mistake, the price for that mistake is huge. Therefore, "Make in Vietnam" products must be refined with a consistent customer experience.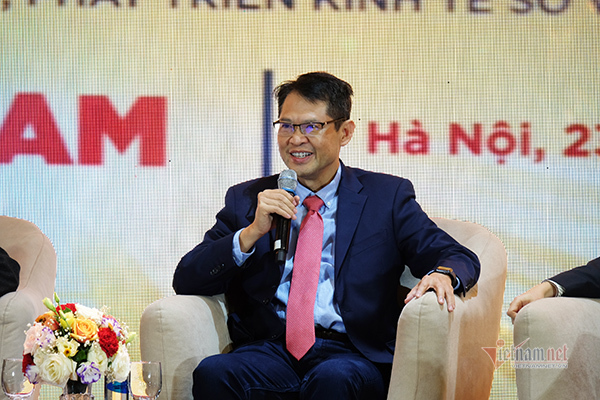 Mr. Truong Quoc Hung, General Director of VinBrain. Photo: Trong Dat
Mr. Truong Quoc Hung, General Director of VinBrain (Vingroup), said that if you want to create influence, Vietnamese digital technology enterprises need to create a different product, and solve problems no one has ever solved in the world. Hung's VinBrain followed this direction when choosing to solve medical problems with artificial intelligence.
In addition to finding unique problems, start-ups and technology companies need to maintain persistence in solving problems. Also, when building teams, companies need to carefully select each person to create a solid team before they want to replicate. Most importantly, the team of Vietnamese start-ups should have a close connection and unanimity, and be determined together to develop Make in Vietnam products.
Trong Dat

"Vietnam's overall economic growth rate is below 10%. The growth target for digital technology enterprise should be set at 15-20% and even more," said Deputy PM Vu Duc Dam at the National Forum for Developing Technology Enterprises.