Prime Minister Nguyen Xuan Phuc has approved a plan to provide VND70 billion to five Mekong Delta provinces – Long An, Tien Giang, Ben Tre, Kien Giang and Ca Mau – to respond to ongoing problems with seawater intrusion and drought.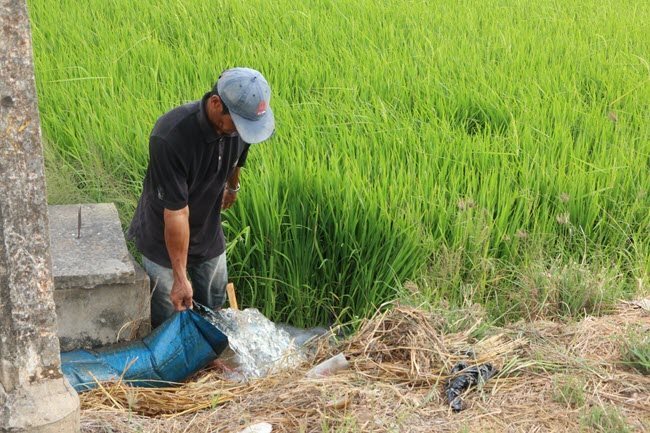 A rice farmer in Long An Province pumps water into his paddy field to fight drought. Drought and seawater intrusion have taken its toll on nearly 40,000 hectares of rice fields in the Mekong Delta - PHOTO: VNA
The funding, coupled with that from other financial sources, is expected to help the delta's residents overcome these hardships, PM Phuc said at a meeting, held in Ben Tre on March 8, on the issue, reported VnExpress news site.
Nguyen Hoang Hiep, deputy minister of Agriculture and Rural Development, said that the Government, ministries and localities have adopted many measures to handle the intrusion of saltwater but still could not avoid damages.
One out of 1.5 million hectares of the delta's 2019-2020 winter-spring rice crop was harvested. Drought and seawater intrusion have taken its toll on nearly 40,000 hectares of rice fields, equivalent to over 30% of rice production.
Some 95,000 local households are facing a freshwater undersupply. Soc Trang was the hardest hit locality, with 24,000 affected families.
Last year, water inflows from upstream of the Mekong River to the delta were significantly below average, causing seawater to intrude deeply into the delta and last for a prolonged period during the dry season. Apart from Dong Thap, An Giang, Can Tho and 10 other provinces in the region were affected, Hiep remarked.
The competent agencies forecast that the level of saltwater will likely rise and the situation could last until April. Seawater in some rivers may intrude up to 110 kilometers toward the mainland.
Accordingly, the agriculture ministry has recommended the vulnerable localities ramp up the storage of water in paddy fields and canals while the level of saltwater is still at acceptable limits. They should also dig wells and set up extra water supply stations for public use.
Local authorities need to work out plans to mobilize tankers to deliver fresh water to roughly 40,000 households in the remote and coastal areas of Kien Giang, Ben Tre, Long An, Ca Mau, and Tra Vinh provinces, while building freshwater reservoirs and dams to serve water supply stations in Bac Lieu and Tra Vinh. SGT

Local authorities in Tien Giang, Ben Tre, Long An, Kien Giang and Ca Mau provinces in the Mekong Delta have declared a state of emergency as seawater intrusion and drought are worsening in the delta.  

Fresh water supplies are being transported from HCM City to Mekong Delta provinces that have been affected by severe saltwater intrusion during the dry season.