The Ministry of Information and Communications (MIC) has released a second set of stamps on Covid-19 prevention to raise awareness, spirit and responsibility of each individual and community in prevention, combat and readiness to cope with epidemics.
The stamp set titled "Living safely with the Covid-19 epidemic" was designed by painter To Minh Trang. It has 2 samples, 32 x 43mm, with face price of VND4,000 plus VND2,000 and VND6,000 surcharge. The surcharge of VND2,000 from each stamp will be donated to the Government's Disease Control Fund.
The stamps are provided at 63 provincial post offices throughout the country and widely circulated in 192 countries and territories under the World Postal Union (UPU). The stamps will be circulated on the public postal network from now until December 31, 2022.
In addition to issuing stamps, Vietnam Post also offers many products on the same theme, including: FDC envelopes, postcards, personal stamps...
The MIC last March issued the first stamp set on the topic of Covid-19 prevention, which was titled "Joining hands to prevent and fight against the Covid-19 epidemic", which was also one of the first Covid-19 epidemic stamps in the world.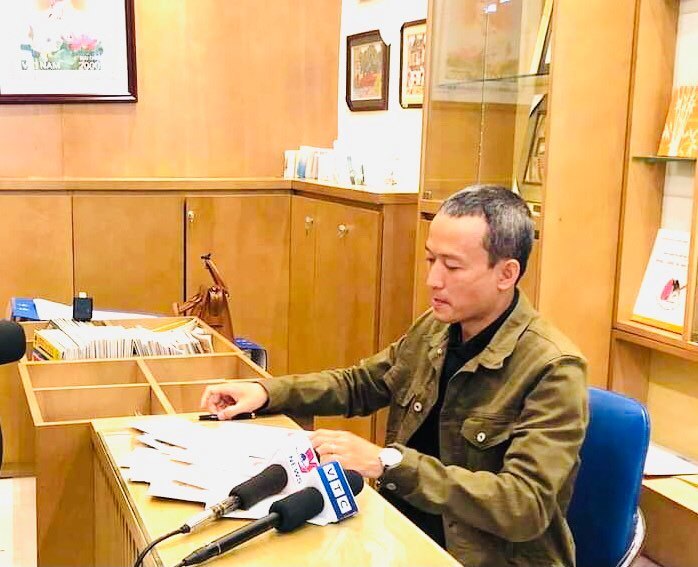 Painter To Minh Trang signs stamps on the date of issue.
Binh Minh

For the last 50 years, Nguyen Thi Kim Thanh, 69, in Thanh Khe district in Da Nang City has been traveling to many areas to collect and exchange postage stamps about 12 zodiac animals.