A cross-border payment start-up has bagged the first prize of US$5,000 at the Fintech Summit 2019 competition.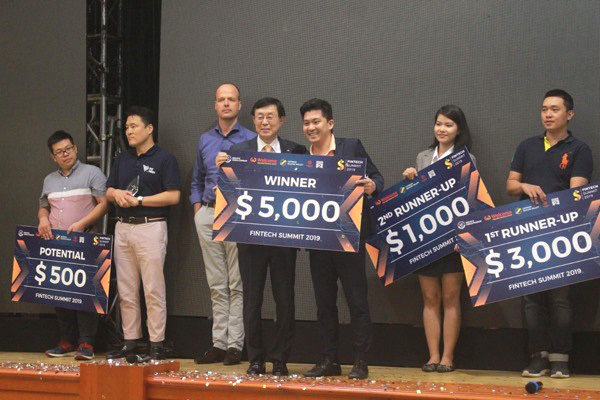 Hawking, a cross-border business-to-business (B2B) payment platform made by the Vietnamese start-up Hawking Instamo-B2B, surpassed other 10 fintech start-ups competitors on the Demo Day which took place in Hanoi on Wednesday. Photo courtesy of Techfest
Hawking – a Vietnamese business-to-business (B2B) payment platform – surpassed 10 fintech start-ups on the Demo Day, which took place in Hanoi on Wednesday.
Hawking co-founder and CEO Ronald Le said that his company's platform could send payments anywhere in the world at cheaper prices than the conventional international money transfer, he said.
"We want to bring our product to more than 160 countries, starting in Vietnam," Le said.
The first runner-up was start-up Finhay which sought to help its users reinvest their savings by sending the money to credible financial funds. Finhay won a prize worth $3,000.
Start-up Finbox was the second runner-up winning $1,000 while Fin2B and Wicare shared a prize of $500 each.
Eleven start-ups in the final round of the Fintech Summit this year came from Vietnam, South Korea and Malaysia.
They were the most outstanding start-ups selected from a total of 40 companies applying for the competition, said Vietnam Silicon Valley (VSV) Accelerator Programme Director Pham Ngoc Huy.
The Fintech Summit 2019 was co-organised by the VSV, the Ministry of Science and Technology and South Korea's Welcome Financial Group.
At the summit, VSV and Welcome Group also signed a Memorandum of Understanding on co-operation to promote the development of fintech start-ups in Vietnam and Asia-Pacific. VNS