Pine trees in Lam Ha District of the Central Highlands province of Lam Dong were discovered to be chopped down this week, Vietnam News Agency reported.
Hundreds of pine trees poisoned in Lam Dong
Hectares of pines poisoned in Lam Dong farmland grab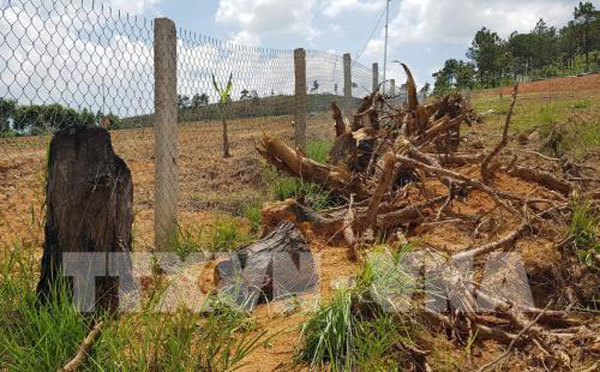 The scene of the deforesation in Lam Ha District. — VNA/VNS Photo Quoc Hung
Ten large pine trees in sub-zone 263B of Nam Ban Town were felled. The area is located less than 150m from the station of the district's protective forest management board.
Tran Minh Dang, a forest ranger, told Vietnam News Agency the tree destroyers had watched for the forest rangers before they took action in the early morning.
They finished chopping down the trees in only 10 minutes and left the area when the guards reached the scene.
In Hamlet 4, Gia Lam Commune, dozens of pine trees with a stem diametre of 20-40cm were axed.
Local authorities did not act promptly to prevent the deforestation.
The deforestation in Lam Ha District was an attempt to encroach land as land prices in the area are soaring.
A representative of Lam Ha District's forest protection and management station said all of the cases were reported to authorities but none of the violators have been punished because they fled quickly.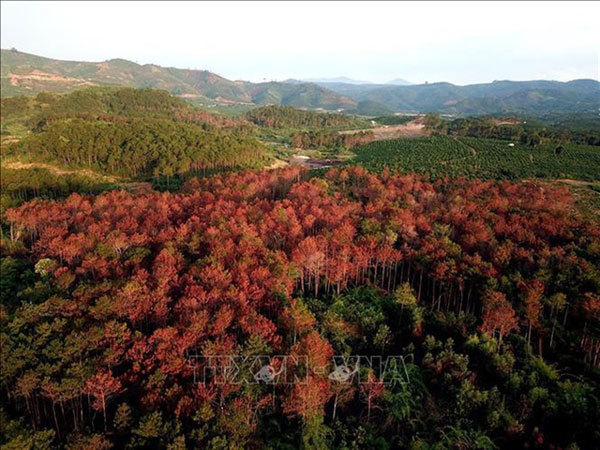 The poisoned pine trees are no longer green but red. — VNA/VNS Photo Quoc Hung, Dang Tuan
Lam Ha District is home to large pine forests and has been a hotspot of deforestation over the past years.
The deforestation was reported only a week after Prime Minister Nguyen Xuan Phuc ordered an investigation into a pine tree poisoning in the district.
Media reported that thousands of almost 20-year-old pine trees covering 10ha in the district had been poisoned, turning the entire area red.
Since late April, the trees were axed or drilled and then filled with a white liquid which seems to be a herbicide.
VNS