Customs officers at Noi Bai International Airport in Hanoi stated on November 12 that they have stopped two separate incidents of trafficked rhino horns and ivory handicraft products being smuggled into Vietnam.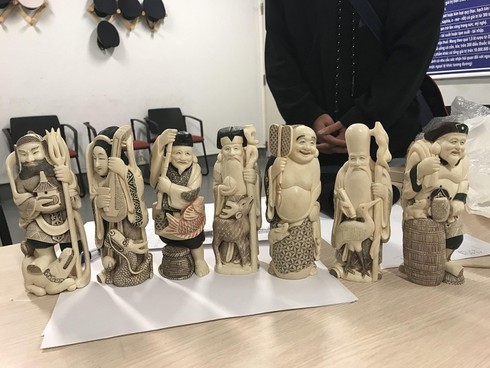 Rhino horns and ivory are seized upon arrival at Vietnamese airport  (Photo: haiquanonline or Customs Online)
Earlier officials said that, Hanoi police in conjunction with customs officers at Noi Bai International Airport noticed a suspicious passenger who was travelling on flight VN385 flight from Tokyo to Vietnam.
Upon conducting a search of the suspect's luggage, police successfully discovered seven handicraft products made from ivory. The items, weighed approximately 4.22 kg and are currently being kept by the airport's customs officers as a further investigation into the case gets underway.
In addition to this discovery, Noi Bai International Airport officials and authorised agencies discovered two suspected rhino horns on November 7. The items were found in the luggage and check-in bags of a Vietnamese passenger travelling from Angola to Hanoi.
A further investigation into the case is now underway. VOV

Scientists have found three items of rhino fossil dating back between 30,000 and 50,000 years at a cave of the central province of Quang Binh's Phong Nha-Ke Bang National Park.

At the age of 28, Nguyen Ngoc Nhu Thao, a Vietnamese student returning from the UK, had many job choices. Finally, she decided to go to Africa to attend a 2-year training course.

A 22-month old boy in HCM City suffered poisoning after being given rhino horn powder to reduce his fever.