Saltwater intrusion has occurred in most areas of the Cuu Long (Mekong) Delta province of Tra Vinh, forcing authorities to close most saltwater-prevention sluices and to stop planting the 2019-20 winter-spring crop in some areas.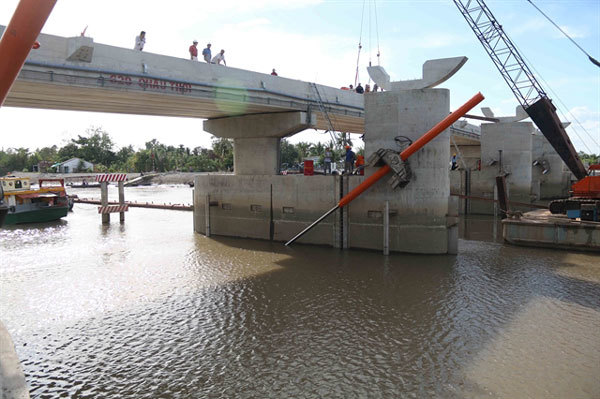 Construction of the Bong Bot saltwater prevention sluice in Tra Vinh Province's Cau Ke District is nearly completed. The sluice will be put into use by the end of this month. — VNA/VNS Photo Thanh Hoa
Do Trung, director of the province's Irrigation Works Exploitation One-Member Liability Limited Company, said that saltwater intrusion in the 2019-20 dry season had occurred two months earlier than the severe saltwater intrusion in the 2015-16 dry season.
Saltwater from the sea has entered 60-70 kilometres deep into the Co Chien and Hau rivers.
Huynh Van Thao, head of the Tra Cu District Bureau of Agriculture and Rural Development, said that saltwater intrusion began early during the 2019-20 dry season in mid-November rather than in December.
The district has closed all of its seven saltwater-prevention sluices as the salinity is between 3-4 parts per thousand.
Tra Cu has to take irrigation water from Cau Ke District, but Cau Ke has also been affected by saltwater intrusion and irrigation water is limited.
In Cau Ke, which is the last district in the province affected by saltwater intrusion every year, saltwater intrusion has occurred since early December.
The province has closed 42 of its 48 saltwater-prevention sluices to prevent saltwater intrusion.
The six remaining saltwater-prevention sluices only open to take water when the water salinity is low and suitable for irrigation.
The province has nearly 38,000ha of rice cultivation facing the threat of saltwater intrusion every year.
In the winter-spring crop, farmers have sowed more than 50,000ha of the province's target of growing 66,000ha of rice.
The province's Department of Agriculture and Rural Development has encouraged rice farmers who have not sowed the winter-spring rice to switch to other crops resistant to saltwater and drought.
It has instructed farmers to build embankments around orchards to prevent saltwater intrusion.
Farmers should use water with a salinity of less than 1 part per thousand to irrigate fruit trees, according to the department.
Pham Minh Truyen, director of the department, said to mitigate the impact of saltwater intrusion on the winter-spring rice, farmers should prepare pumps and build temporary dams to store irrigation water.
The province is building Tan Dinh and Bong Bot saltwater-prevention sluices in Cau Ke District's An Phu Tan Commune and will put them into use by the end of this month.
The two sluices will provide irrigation for more than 11,400ha of farmland in Cau Ke.
More than 8,660 households in the province's saltwater affected areas that have no tap water are facing the threat of water shortage for household use, according to the department.
To ensure supply, water supply stations will check the salinity of water in rivers and canals around the clock and pump water for storage when it has a salinity of less than 1 part per thousand.
The province's Clean Water and Environment Sanitation Centre has installed 100 kilometres of pipes to transport water from concentrated water supply stations to saltwater affected areas.
The centre has provided each household a plastic water container with a capacity of two cubic metres to more than 2,000 poor households who live far from residential areas.
Tra Vinh is located between and at the end of the Tien and Hau rivers, two tributaries of the Mekong River. It has been one of the Delta's hardest-hit areas for saltwater intrusion. — VNS

Many provinces have been bracing for it following a forecast that the intrusion of seawater up rivers would be early and severe this year.  

Farmers and agricultural officials in Vinh Long Province in Mekong Delta are rushing to prevent the worse impacts of an early saline intrusion.

Authorities in provinces in the Mekong Delta and Can Tho city are dredging irrigation works and storing fresh water to cope with saltwater intrusion during the dry season.