Businesses have poured trillions of dong into spiritual tourism projects, causing hundreds of hectares of forestland and rice fields to be cleared.
Chair of Hoa Binh province Bui Van Khanh has asked for the Prime Minister's permission to change the purpose of using 47 hectares of rice field land and develop Lac Thuy ecological and spiritual tourism project on the land, in Phu Lao commune of Lac Thuy district.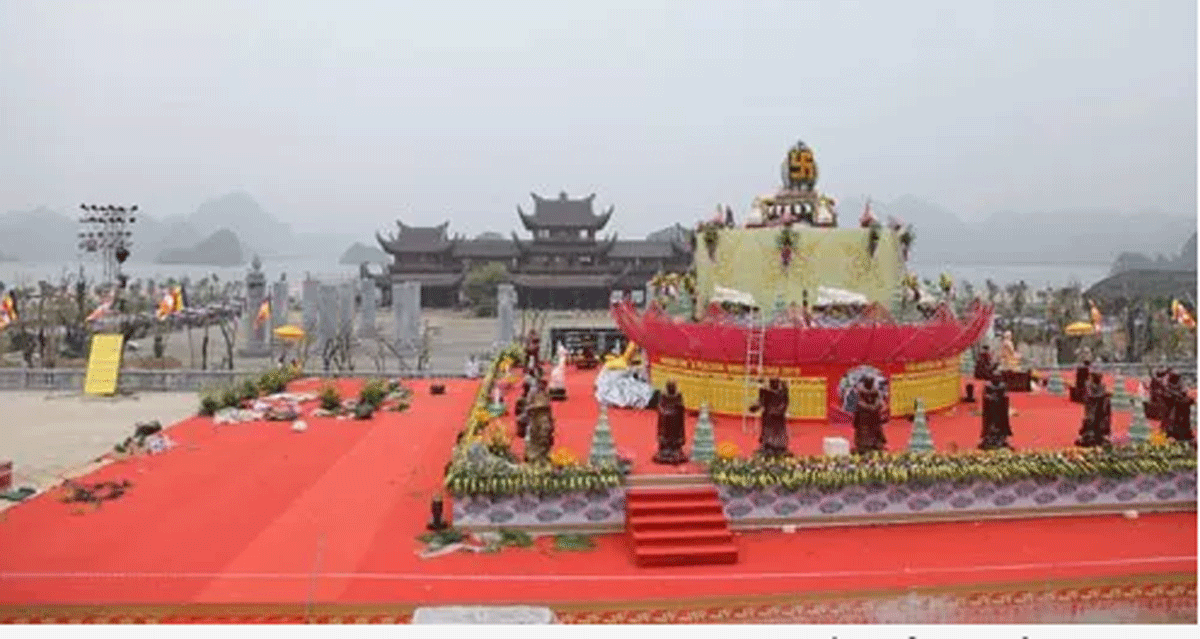 Tam Chuc Pagoda in Ha Nam Province


The project has been forwarded by the Government Office to the Ministry of Natural Resources and the Environment and the Ministry of Agriculture and Rural Development for consideration.

Businesses have poured trillions of dong into spiritual tourism projects, causing hundreds of hectares of forestland and rice fields to be cleared.
The Lac Thuy Tourism Site project received approval from the Hoa Binh provincial authorities in November 2016. It has total investment capital of VND3 trillion, and covers 121 hectares of land, including 47 hectares of land now reserved for rice fields.

Soon after mass media reported about the project, it has been facing strong opposition from the public, because 47 hectares of fertile land would be eliminated.

Analysts noted that there is a trend of developing spiritual tourism projects.

In December 2018, Nguyen Van Truong, general director of Xuan Truong Construction Private Enterprise in Ninh Binh, asked for Hanoi authorities' permission to build Huogn Son spiritual tourism site in the Huong Pagoda area with investment capital of VND15 trillion. However, he finally had to give up because of strong protest from the public.

Xuan Truong is a well known name in Vietnam as it is the developer of a series of spiritual tourism projects across northern provinces, from Bai Dinh – Trang An in Ninh Binh (VND15 trillion), Tam Chuc tourism complex in Ha Nam (VND11 trillion), Cai Trap general spiritual complex in Hai Phong City (VND9.8 trillion) and Ho Nui Coc Spiritual Tourism Complex in Thai Nguyen (VND15 trillion).

Most of the projects developed by Xuan Truong cover large land areas of up to thousands hectares. However, the developer only reserves small areas for spiritual works, while the remaining land is reserved for service areas.

Tam Chuc complex, for example, covers an area of 4,000 hectares, but spiritual works just cover 1,205 hectares, while the remaining is for entertainment works. At Cai Trap, spiritual works just cover 88 hectares out of 450 hectares.
Meanwhile, 108 hectares of land are used for service complex which is expected to comprise of villas, casino and sailor's club.

Pham Van Hoa, a member of the National Assembly's Legal Committee, said it is necessary to think carefully about using the land fund for developing spiritual tourism projects, especially the big project in Hoa Binh. 
Thien Nhien

The Vietnam Environment Administration has advised members of the public, especially children, the elderly, pregnant women and those with respiratory diseases,  to limit outdoor activities due to rising pollution.

Nguyen Trung Khanh, director general of the Vietnam Tourism Administration, talks to Vietnam Economic Times newspaper about his agency's efforts to improve the tourism sector's competitive advantages.