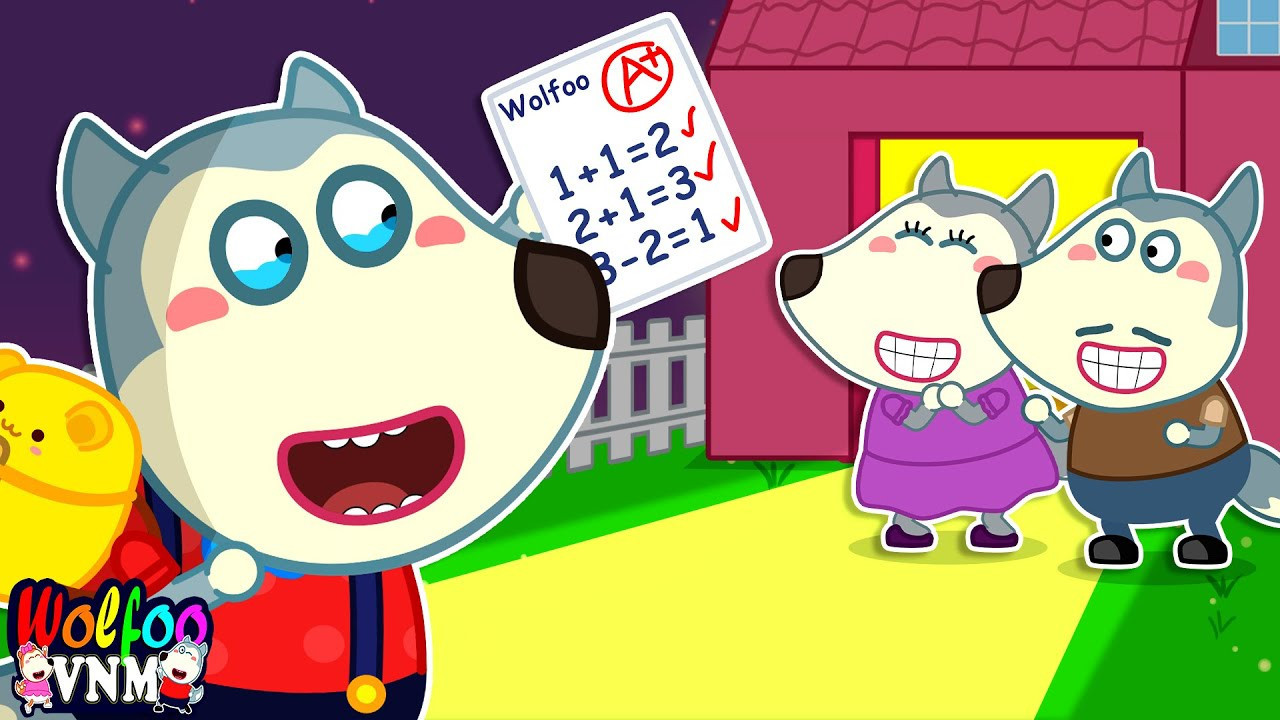 It has a billion views a month and three diamond buttons on YouTube, and has been translated into 17 languages and become famous in many countries.
Surprisingly, most Vietnamese believe that Wolfoo is a foreign product, but it is 100 percent made in Vietnam and created by Vietnamese, from idea to script to production to distribution.
The little Wolfoo was born in 2018 and gradually became a character that won the hearts of small children.
"Setting a big goal, striving to conquer a choosy market like the US, the home of the Hollywood movie industry, Sconnect thoroughly researched the experience of making films, American audience's tastes, and improved and created new things during production," Ta Manh Hoang, the founder and CEO of Sconnect, explained.
Many people are curious about the main character. Why is it a wolf cub?
In fact, Sconnect once considered creating a perfect character who was good at everything, or a super-hero in the surreal fantasy world. However, the final choice was Wolfoo, a character very true to life, which can convey humanitarian and educational messages through daily happenings.
In some animated films, a wolf appears as a negative character, a sly one. However, from another perspective, a wolf is strong, agile with great intelligence.
Sconnect conducted thorough studies on small children's behaviors and the Montessori educational method, and included in the film 12 educational standards suitable to children, thereby gaining trust from parents and love from children all over the globe.
Moreover, Sconnect wants to extend the value that a cartoon character can bring, instead of just leaving it as an animated product only.
This model has been applied in the world as "commercialization of intellectual property", which is understood as using the images of a famous character under various modes to optimize value, thus helping the character not only exist in the worldview of the animated film, but also bring practical value in the real life.
Mickey Mouse, Donald Duck, Spiderman and Minions are examples.
The same model is being applied by Sconnect for Wolfoo. Sconnect has developed a game system based on Wolfoo characters as well as the core educational value of the film since late 2021. Just within a short time, the Wolfoo game had 3 million downloads and received 22 Teacher Approved medals awarded by leading Google education experts.
Books, entertainment areas, clothes, sweets and many other products for children have been developed by Sconnect using the Wolfoo image. More than just a funny cartoon, Wolfoo can become a reliable companion of families.
Sconnect
Established in 2014, Sconnect took the first steps with less than 10 workers and implemented general content on YouTube, soon gaining traffic of 100 million views a month.
After two years of operation, the staff increased to 60 and Sconnect began its production sphere to 2D animation film production and Stopmotion.
In 2016, Stopmotion was still uncommon in Vietnam. As the market was still blue and there was not much competition, Sconnect had great opportunities to develop, but it faced challenges, because there had been no example for it to learn from.
At Sconnect, there is a principle for all to follow: sometimes the choices are more important than efforts. In other words, working hard and working smartly don't bring the same results. A right choice may go much further.
In its history of development, Sconnect has, more than once, proved that the principle is right.
Before launching Wolfoo and gaining great achievements from the product, Sconnect many times tasted failure. However, Sconnect learned from the failures to develop in a more sustainable way.
In addition to Wolfoo, Sconnect also owns 13 animated IPs that apply the latest filmmaking technologies, has a diverse worldview, and it suitable to different audiences. This includes Fairy Tales, Max's Puppy Dog, Tiny, 3D Minecraft and Doll Crafts.
Instead of relying on YouTube as the only platform, as it did at the very beginning, now Sconnect's animated films are present on many TV channels such as SCTV, K+, FPT Play and OTT/IPTV pay platforms such as Netflix.
Binh Minh