Scuba diver spent nearly two decades cleaning up the ocean
Scuba diver Nguyen Van Duc is dedicated to cleaning the ocean and he hopes his work will inspire others to do the same.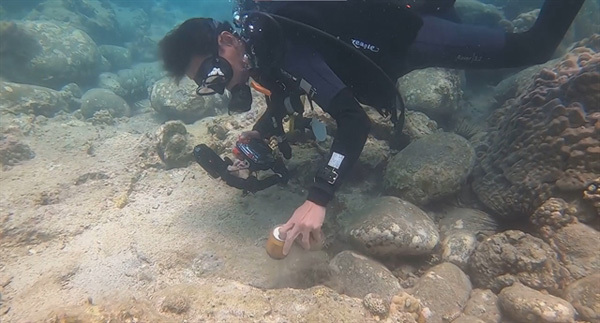 Scuba diver Duc picked up soft drink cans from the seabed during one of his dives. — Photo courtesy of Nguyen Van Duc
When he first took the water 17 years ago, the 38-year-old was shocked to see the impact of waste on marine life.
Born and raised in Dien Khanh District, Khanh Hoa City, Duc pursued his higher education at Nha Trang University (formerly the University of Fisheries).
After graduation, he obtained his PADI (Professional Association of Diving Instructors) certification in 2007. 
With almost two decades working as a scuba driver, Duc has made numerous 'friends' along the way: well-camouflaged toadfish, vibrant scorpionfish, or a particular eel that become acquainted with Duc and his colleagues. 
"During my dives to collect the trash, some fish actually recognise me, then they would start swimming close to me," he said. 
The underwater camera that he takes with him on every trip captures more than just the wonders of the underwater world. 
"It was haunting to look back at the photos and witness the destruction happening under the sea because of plastic waste," Duc said. 
"It pains me to see the environment so severely damaged by human hands."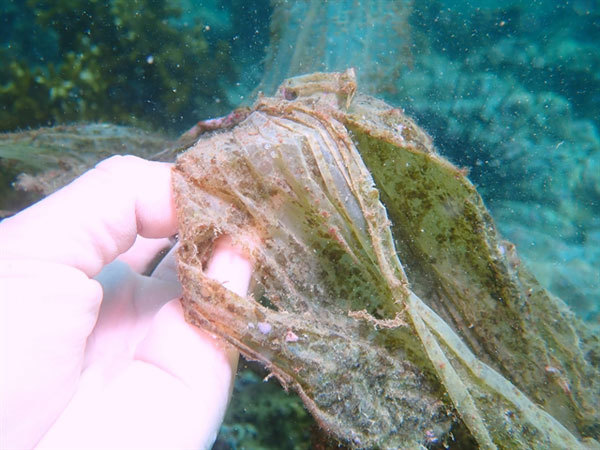 A piece of a discarded nylon bag. — Photo courtesy of Nguyen Van Duc
Plastic bags stuck between coral reefs, tangled nets trapping fish and turtles, ensuring a slow, suffocating demise – these images propelled Duc to start cleaning up the ocean. 
He said: "At first, cleaning up is just a spontaneous action for me. When I see the trash, I would collect it in a bag, or I would go pick up the floating plastics during boat trips.
"But then before I realised it, I became addicted to cleaning up trash." 
In the beginning, many people deemed his picking up trash in the ocean a fad but over time his meaningful actions have been well-received by others, inspiring fellow divers to do the same. 
Duc also incorporates this module into his diving course. After teaching students the basic skills, he would take people underwater to pick up the trash.
This activity allows them to see the situation with their own eyes, work together and convey the message of protecting the marine environment.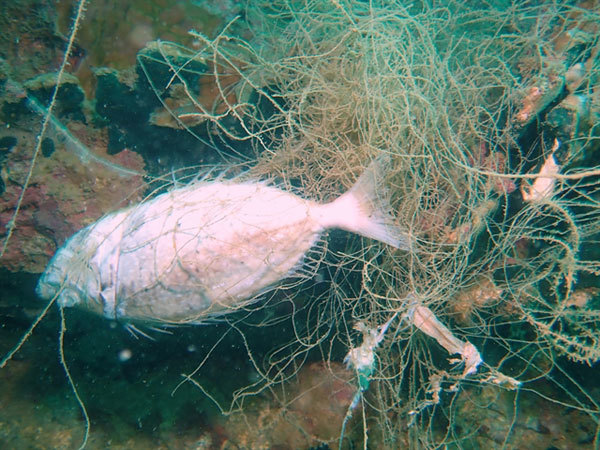 A dead fish stuck in a discarded net (also known as 'ghost' net). — Photo courtesy of Nguyen Van Duc
To date, Duc instructed more than 500 people in his diving course, with many regularly accompanying him on dives to clean up the sea. 
"There is no better campaign than rolling up your sleeves and start picking up the trash," Duc said.
"It is incredibly amazing to come back to an area where you once dived and see the coral reefs growing, the changes in its inhabitants, a certain section flourishing, while others become even more splendid. It is also painful when you realise that several reefs have disappeared, or are entangled in the trash."
This lesson goes beyond his class to young people in the community. Everyone lends a hand in cleaning up the ocean, from picking up and sorting the trash, helping collect trash on the boats, to raising awareness among their families and neighbourhoods.
Initially taking place only in Hon Mun Marine Reserve (Nha Trang City, Khanh Hoa Province), now Duc's actions have spread to many other areas, including Phu Quoc, Hoi An and Con Dao.
According to Duc, diving and picking up trash from the ocean takes much more effort than on land, yet comes with its own rewards. 
Seeing the coral reefs, the marine life, or the schools of fish after pulling out a net stuck amid the underwater forest can dispel all your fatigue, he said.
"My goal is to help the community realise the direct consequences that waste has on our life, our health, and the creatures living underwater," said Duc.
Source: Vietnam News

The image of a young man with a boat full of garbage collected from the ocean has become familiar to people in Phu Vang District of central Thua Thien-Hue Province.

The Vietnamese Government has over the past time exerted a great deal of effort in addressing plastic waste in oceans by introducing various policies and regulations to tackle the scourge.