SEA Games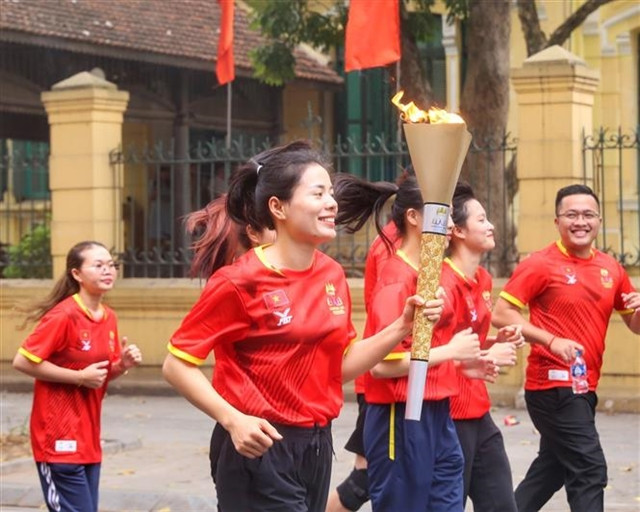 The 32nd SEA Games torch is carried through the streets of Hà Nội, the first stop of its ASEAN journey, on March 24. VNA/VNS Photos
Excitement filled the air as the 32nd SEA Games and 12th ParaGames torch made its way through the streets of Hà Nội on the morning of March 24 at the start of its ASEAN tour ahead of the highly anticipated regional sports event in May.
Brimming with symbolism, the torch was ceremoniously lit from a small lamp that had landed on Việt Nam's soil two days prior, and had been carefully guarded at the Cambodian Embassy.
Witnessed by Cambodian and Vietnamese leaders, sports officials, as well as hundreds of athletes and local people, the lighting of the torch was a powerful reminder of the unity and spirit of the ASEAN community.
In a stirring speech, Cambodian ambassador Chea Kimtha expressed his gratitude to the Vietnamese Government, the Việt Nam Olympic Committee, and all other agencies involved for their support and tireless efforts in organising the torch relay.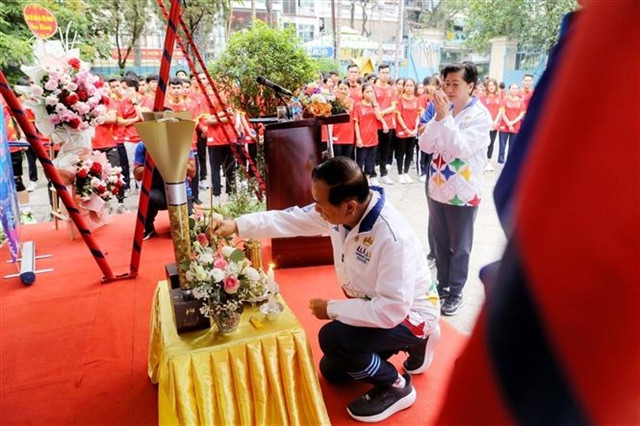 Organisers worship before the torch relay ceremony.
She said the torch relay ceremony showed the good relationship between the two countries and the traditional friendship that had been built up and maintained for a long time.
"SEA Games is considered a major festival for Southeast Asian countries," said Đặng Hà Việt, director of the Việt Nam Sports Administration. "Cambodia and other countries organised many activities to respond to and celebrate the SEA Games and ParaGames."
"Việt Nam is the first leg of the 32nd SEA Games torch relay after the host country. I want to reaffirm that Việt Nam will always support with utmost effort for successfully organising the 32nd SEA Games in Cambodia."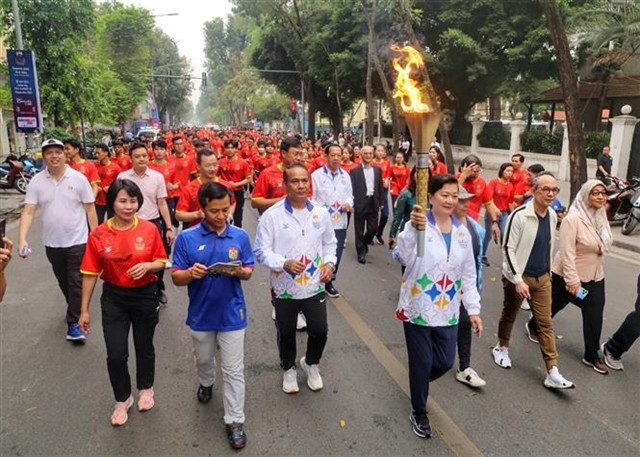 Cambodian ambassador Chea Kimtha holds the torch during the first part of the relay.
Runner Nguyễn Thị Huyền carried the torch under the escort of 200 athletes, guests, and thousands of residents.
The relay started from the embassy office to the streets of Quang Trung, Đinh Tiên Hoàng, Đông Kinh Nghĩa Thục Square, to Hàng Trống, Bà Triệu, Lý Thường Kiệt and returns to the embassy.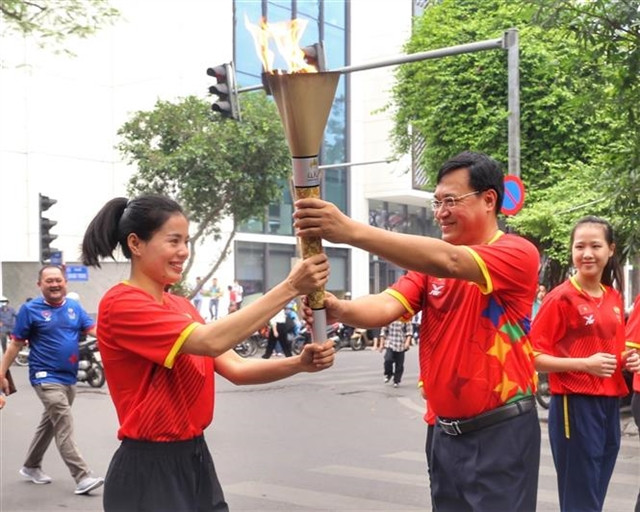 Director of the Việt Nam Sports Administration Đặng Hà Việt (right) presents the torch to runner Nguyễn Thị Huyền.
The torch will leave Việt Nam tomorrow to visit Manila, the Philippines, before touring Bandar Seri Begawan (Brunei), Jakarta (Indonesia), Dili (Timor Leste), Kuala Lumpur (Malaysia), Singapore, Bangkok (Thailand), Yangon and Naypyidaw (Myanmar) and Vientiane (Laos) on April 25.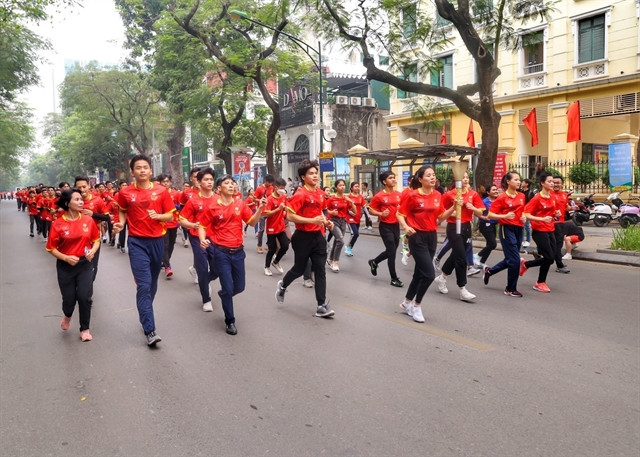 Athletes and sports officials run during the torch relay.
It will arrive in Cambodia on April 27 and travel around the country until May 5.
The SEA Games will be held on May 5-17 in Phnom Penh and four other localities. The ParaGames will run from June 3-9, mainly in Phnom Penh. -VNS