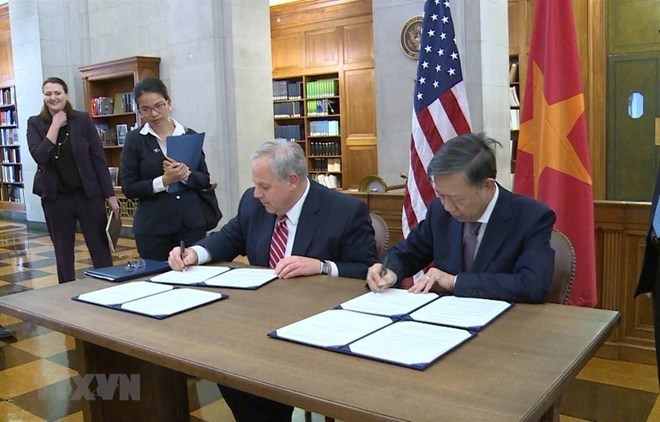 Minister of Public Security, Gen. To Lam (R) and Secretary of the US Department of the Interior Davis Bernhardt
At the talks with the Vietnamese minister, Secretary of the US Department of the Interior Davis Bernhardt expressed his belief that the visit will contribute to deepening the US-Vietnam comprehensive partnership in general and cooperation between the US department and the Vietnamese ministry in particular.
For his part, Gen. Lam stressed that although peace, cooperation and development are still major trends of the era, countries in the world are also facing many new difficulties and challenges.
He emphasized the need for law enforcement agencies of Vietnam and the US to have close and effective cooperation, especially in fighting terrorism, transnational organized crime, drug crimes, money laundering, high-tech crime, human trafficking, and illegal trading of wild animals and plants; and in ensuring national security and social order in each nations.
He took the occasion to thank the US department for strengthening information exchange and assisting the Vietnamese ministry in personnel training.
On the occasion, Minister Lam and Secretary Bernhardt signed a memorandum of understanding on cooperation in fighting illegal wildlife trade between the two agencies.
Earlier, the Vietnamese officer held talks with Under Secretary of State for Political Affairs David Hale, during which the two sides compared notes on international and regional issues of common concern.
They highlighted the fruitful and practical development of the Vietnam-US relations across fields of security-defence, trade, culture-education, tourism, science-technique, and humanity.
Hale spoke highly of the US-Vietnam comprehensive partnership, and the coopetation between the Vietnamese ministry and the US department in particular.
Minister Lam stressed that Vietnam always sees the US as one of the most important partners and wishes to promote the comprehensive partnership on the basis of respect for each other's independence, sovereignty, territorial integrity, and political institutions, for the benefit of both nations, contributing to the maintenance of peace and stability, cooperation and development in the region and the world.
He thanked the US side for its efforts to complete the detoxification project at Da Nang Airport, expressing his belief that the work at Bien Hoa Airport will be actively implemented in the future.
The same day, the Vietnamese minister also met with Davis Pakoske, Acting Deputy Secretary of US Department of Homeland Security.
The two sides held that since the US Department of Homeland Security (UDHS) set up a representative office of the US Immigration & Customs Enforcement agency in Ho Chi Minh City in 1998, the cooperation between the Vietnamese ministry and the US department has recorded strong and effectively development.
Minister Lam suggested the two agencies foster their cooperation, especially the exchange of delegations and sharing information and experience in combating transnational crimes, high-tech and economic crimes, human trafficking, and illegal immigration; and consulting with each other on the process and procedures for mutual legal assistance in criminal matters.

Before that, Minister Lam received Ann Griffiths, head of the US's National League of Families of American Prisoners and Missing in Southeast Asia.-VNA