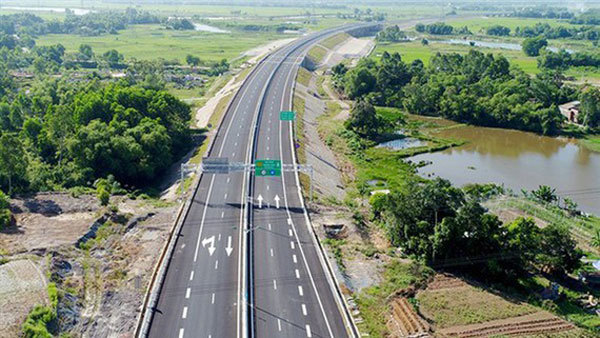 Seven more expressways are proposed to enhance connectivity in and socio-economic development of the Mekong Delta. — Illustration Photo www.sggp.org.vn
Their total cost is estimated at more than VND64.5 trillion (US$2.8 billion), of which VND37.3 trillion ($1.6 billion) will be spent in 2021-25.
The ministry is drafting a plan to allocate funds in 2021-25 for proposed and unfinished expressway projects in the region.
The Vietnam expressway development plan for the period until 2020 envisages building five expressways with a total length of 998km, of which 349km were to be completed this year, including the eastern and western sections of the North-South Expressway, Can Tho - Ca Mau Expressway, Chau Doc - Can Tho - Soc Trang Expressway, and Ha Tien - Rach Gia - Bac Lieu Expressway.
But their construction has been slower than expected, affecting the region's socio-economic development.
National Highway No 1A is an arterial road through the delta but it is often overloaded.
To share its burden, the 51km Lo Te - Rach Soi Expressway between Can Tho City and Kien Giang Province opened to traffic in October and is expected to become full-fledged by the end of this year.
Prime Minister Nguyen Xuan Phuc has instructed the ministry and other agencies to speed up construction of the Trung Luong - My Thuan and My Thuan - Can Tho expressways and My Thuan 2 Bridge.
The Tay Ninh People's Committee wants the Government to add the Go Dau - Tay Ninh City - Xa Mat Expressway to the national expressway development plan for until 2020.
The 65km, four-lane road will start from the proposed HCM City – Moc Bai Expressway in Tay Ninh's Go Dau District and run until the Xa Mat International Border Gate in Tan Bien District parallel to National Highway No 22B.
Tay Ninh has a 240km border with Cambodia, with three international border gates, four main border gates and 10 sub-border gates.
National Highway No 22B is currently the only route for transporting goods between HCM City and Cambodia through Tay Ninh.
It is unable to meet the burgeoning demand for transport, and so the proposed expressway is expected to help improve connectivity between the province, HCM City and Cambodia, fostering border trade.  VNS 

The Mekong Delta will have at least 300 km of expressway by 2025, said Minister of Transport Nguyen Van The.