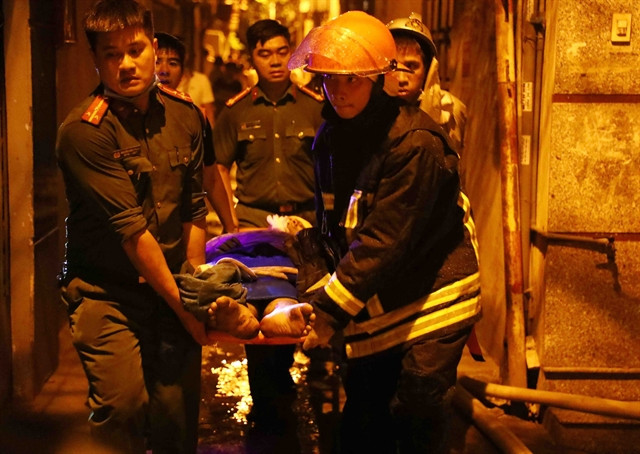 Firefighters and police officers carry victims of the fire out of the mini apartment building late on the night of September 12. — VNA/VNS Photo Phạm Kiên
The cause of the fatal blaze that claimed 56 lives in a mini apartment building in Hà Nội on September 12 night was determined to be a short circuit in the electrical wiring of an gasoline-powered motor scooter parked on the building's first floor, the investigative police agency of the Hà Nội Police Department announced on Wednesday.
According to the forensic conclusion, the origin of the fire was concluded to be located in the area adjacent to the southern wall, approximately 2.3m from the eastern wall on the first floor inside the 200sq.m residential building that houses about 150 people at No.37, Alley 29/70 Khương Hạ Street, Khương Đình Ward, Thanh Xuân District.
The scooter in question was positioned adjacent to the southern wall on the first floor.
The fire spread to the electrical cable area, the electric meter boxes attached to the first-floor wall, and then continued to spread, resulting in the particularly serious incident with the highest death toll in recent years in Việt Nam.
Also, according to the forensic conclusion, out of the four fire extinguishers sent for examination, three were left unused, and one had been used.
The day after the incident, on September 13, the Hà Nội Police initiated a criminal case and issued an arrest warrant for provisional detention (four months) against Nghiêm Quang Minh (born in 1979, residing in Yên Hòa Ward, Cầu Giấy District, Hà Nội), the owner of the apartment building, on charges of violating regulations on fire prevention and fighting under Article 313 of the Penal Code.
The leader of Hà Nội Police Department is currently directing the investigation unit to continue with the probe and prosecution in accordance with the law and actively cooperate with the city's departments, agencies, and Thanh Xuân District People's Committee to visit, comfort, and support the families of the victims.
In the wake of the blaze, the authorities of the two biggest cities in the country with densely packed populations, Hà Nội and HCM City, have ordered inspections of all mini apartment and rental buildings for planning, construction, and fire safety issues. — VNS