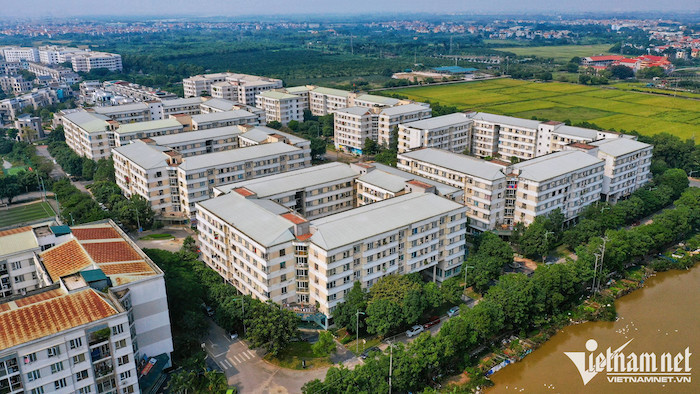 The biggest problem of the real estate market is the unreasonable product structure. The country is seriously lacking affordable real estate, while realtors focus on developing high-end expensive commercial housing.
According to the Ministry of Construction (MOC), as of August 2022, there were 301 social housing projects with 155,800 apartments in urban areas completed with a total area of 8 million sqm. Vietnam encourages the development of social housing products, but realtors do not show interest in the market segment, which is attributed to unreasonable policies.
The housing price index in Vietnam is 20 times higher than the average income per capita (the figure is just 5 times in neighboring countries), which explains why the majority of people cannot buy houses.
The apartment projects in Truong Tho ward in Thu Duc City sold at VND16 million per sq m in 2015, which means that a 50 sq m apartment cost VND800 million. The price soared to VND25-28 million per sq m in 2019, to VND30-35 million in 2020, VND40 million in 2021 and VND45 million now.
Some apartment projects in Tam Binh, Linh Dong and Hiep Binh Chanh wards in Thu Duc City have been opened for sale with deposit prices of over VND42 million per sq m. The prices of high-end apartments are much higher. Masterise Homes has introduced Masterise Lumiere Riverside project with the offered prices of VND115 million per sqm. In district 10, Sunshine has begun selling Sunshine Continental at VND120 million per sq m.
It is now nearly impossible to buy small houses with legal status and apartments priced below VND2 billion in large cities such as Hanoi and HCM City. Many people accept to buy cheap land and houses (the products don't have documents to prove their legal status) in the suburbs.
The supply-demand imbalance and the overly high prices come from management problems. The input costs for project development are too high because of complicated procedures.
Meanwhile, speculation also contributes to higher housing prices.
Analysts estimate that land-use rights fees account for more than 10 percent of the input costs of apartment projects, 30 percent of townhouses, and 50 percent of villas.
Engineer Tran Van Tuong said it is necessary to change real estate regulations by increasing the number of social housing products and forcing the prices of commercial houses.
To do this, state agencies need to support those who have real accommodation demands, reduce land bank creation costs and cut project execution costs by simplifying procedures.
More money for the property market?
According to Tuong, in current conditions, when the real estate market is quiet, if the state "humors" enterprises by pumping more money into circulation to rescue the real estate market, most of the cash will flow to high-end projects.
If so, the supply-demand imbalance and the lack of affordable products will become even more serious.
Vietnam once rescued the real estate market in 2013. A VND30 trillion package was launched to help improve liquidity and ease inventory levels for enterprises and investors.
The credit package then successfully helped the market recover, however, the effect was temporary. Meanwhile, it is more difficult to build social housing and development of affordable products has 'fallen into oblivion'.
Even if a large amount of money pours into the market, this would be just a 'drop in the ocean'. If so, the idea of developing social housing would exist on paper.
In a market economy, Tuong said, taking a loss and making a profit are quite popular, and enterprises need to accept losses instead of shouting for help.
Tightening control over cash flows into the real estate market and taxing second-home buyers should be applied to ease the real estate prices. This measure, if applied, would help prevent speculation and allow people to possess homes at reasonable costs.
Tran Van Tuong