"If it were before, I'd wish I was a normal person so I could travel wherever I wanted. But now that I know my request would not be granted, I do what I want in my own manner," Nga said.
Ms. Duong Thi Thanh Nga (30 years old, living in Pleiku City, Gia Lai) is a businesswoman and single mother. Something unexpected happened two years ago. Nga was experiencing leg discomfort and having difficulties walking.
When she went to the doctor, he noticed she had a tumor in her leg and transported her to the HCM City Oncology Hospital for further investigation. Ms. Nga received the formal results in March 2020: she had bone cancer and had to have her leg amputated.
Ms. Nga underwent excruciating discomfort following surgery, which she says she will never forget. The discomfort forced her to inject pain killers on a regular basis, and have restless nights and tears of hopelessness.
Nga's daughter and family, however, were helpful in planning her steps to overcome everything. She does yoga, plays the guitar, reads books, and plans trips to explore life.
Ms. Nga planned a solo journey to Ha Giang for her 30th birthday. "I hired a guide to to drive me and take me to the attractions." On the way, they happened to meet two other persons who were also beginning at the same time, so they joined the group.
"They became new pals that I treasure," Nga said.
Nga's company drove motorbikes from Ha Giang city to various sites such as Dong Van, Tham Ma slope, Chin Khoang slope, and visited a lovely village featured in the film "Pao's Story" - Lung Cam Cultural Village in Sung La valley. It was raining outside when they left.
Ms. Nga was able to view the spectacular sea of clouds after the rain.
"That evening at the homestay, everyone threw me a surprise birthday celebration." The entire family sat around the H'Mong black chicken hot pot, drinking corn wine with yeast leaves. "It was a really nice sensation," Ms. Nga recalls.
The group started out the next day to conquer Ma Pi Leng pass and see Nho Que river. The company returned to Du Gia hamlet in the afternoon to sample local specialties such as Ban chicken, black pork, and wild buffalo meat.
Ms. Nga went to the Lung Tam weaving hamlet on the third day to learn about the flax plant, which indigenous people use to manufacture cloth and complex traditional outfits.
Flax is carefully picked, soaked and plucked into little threads when it is gathered. The flax yarn will next be rolled onto spinning frames. Hmong women frequently boil or steam flax fibers to soften them. Lung Tam people use natural dyes produced from forest leaves and trees to color flax fibers and avoid using industrial chemicals.
Ms. Nga did not feel exhausted despite traveling more than 350 kilometers in three days, owing to the encouragement of her friend and the beautiful scenery of Ha Giang.
The most challenging thing for Ms. Nga was getting off the boat at the Nho Que river boat station. This part is around 1km long and requires passing on tiny, slick stone stairs. The brave woman on crutches walked a long distance to witness the Nho Que river with her own eyes.
"Back home, my heart still lingers in Ha Giang, recalling the lovely pass routes, towering mountains, lush corn fields on both sides of the road, and the sensation of floating on the Nho Que river," Ms. Nga explained.
The nice and welcoming people of Ha Giang country are what made Nga feel connected. "The children said hello and grinned cheerfully every time my drove passed."
"I complimented the plum tree when I went by Pao's house, and people promptly gave me a large bag and I carried it home," she recalled tearfully.
Many netizens expressed appreciation and respect for Ms. Nga when she shared a video of herself conquering the A Pao dragon cliff with crutches:
"That's fantastic! You are quite tough despite having just one leg! Best wishes!"
"Her pictures are stunning! Stay going, and keep smiling!"
"Looking at your photo, I want to go to Ha Giang right now! Thank you for your positive energy."
Ms. Thanh Nga has traveled to numerous places in recent years, including Da Nang, Da Lat, Ninh Binh, Ha Long, Phu Quoc, Quy Nhon, Vung Tau, Hanoi, Ho Chi Minh City, and western regions. Journeys to new lands, cultural discoveries, cuisine, and people have brought colours to the life of this resilient women.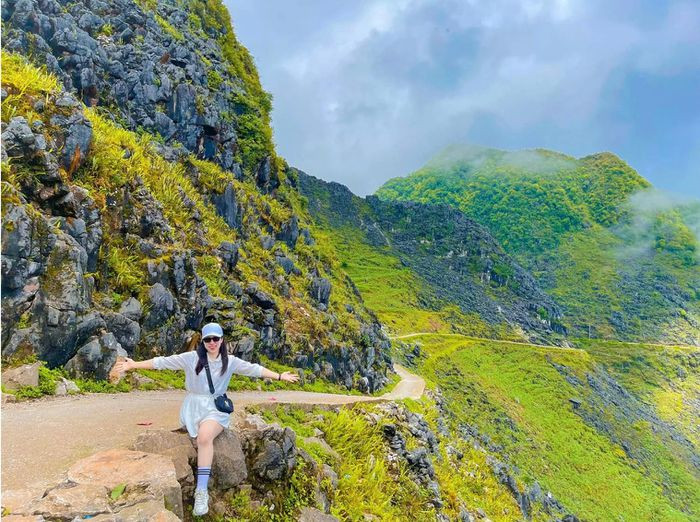 Ms. Thanh Nga embarks on a journey to rediscover a love of life.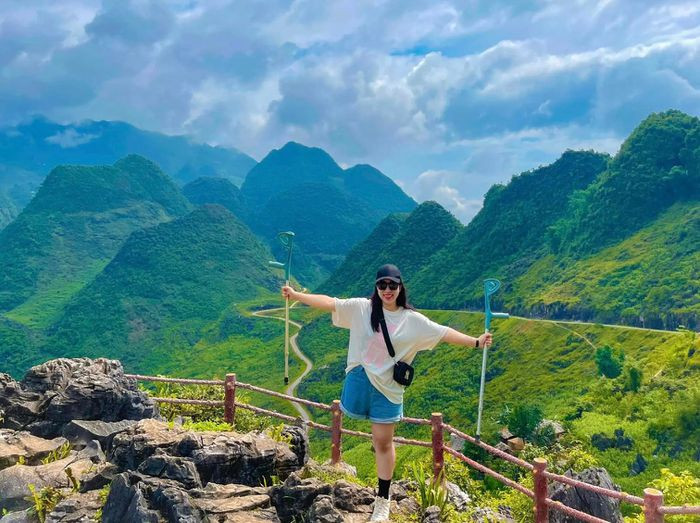 Ms. Nga enjoys the hills of Ha Giang and the sea of drifting clouds.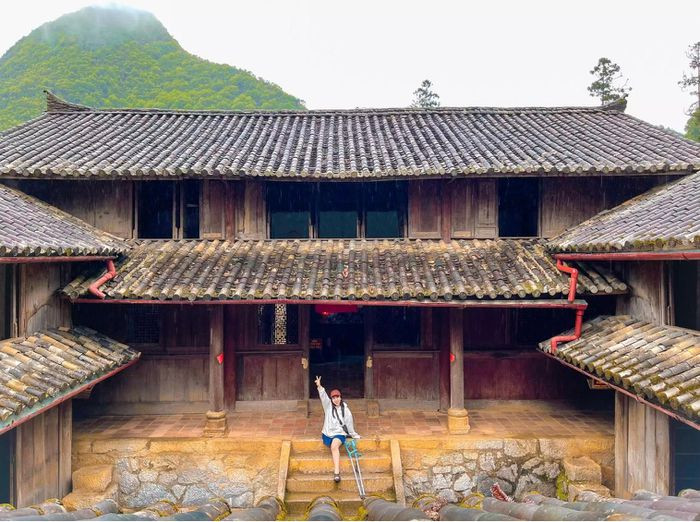 Ms. Nga learned a lot when she visited the residence of the H'Mong Kings.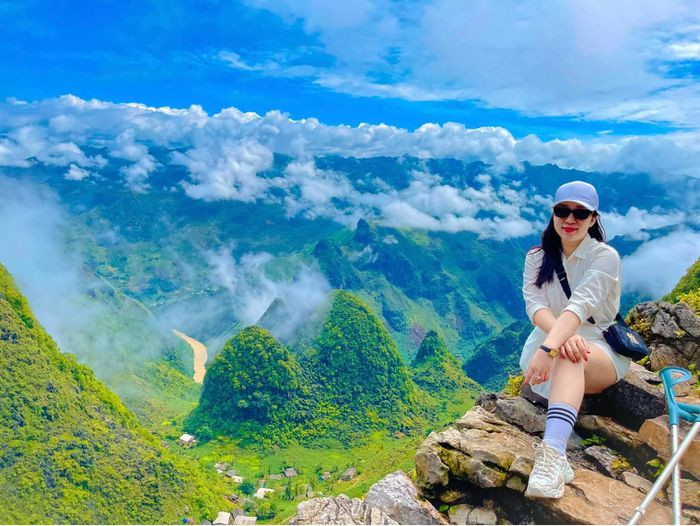 Ms. Nga visits Ma Pi Leng on her second day in Ha Giang.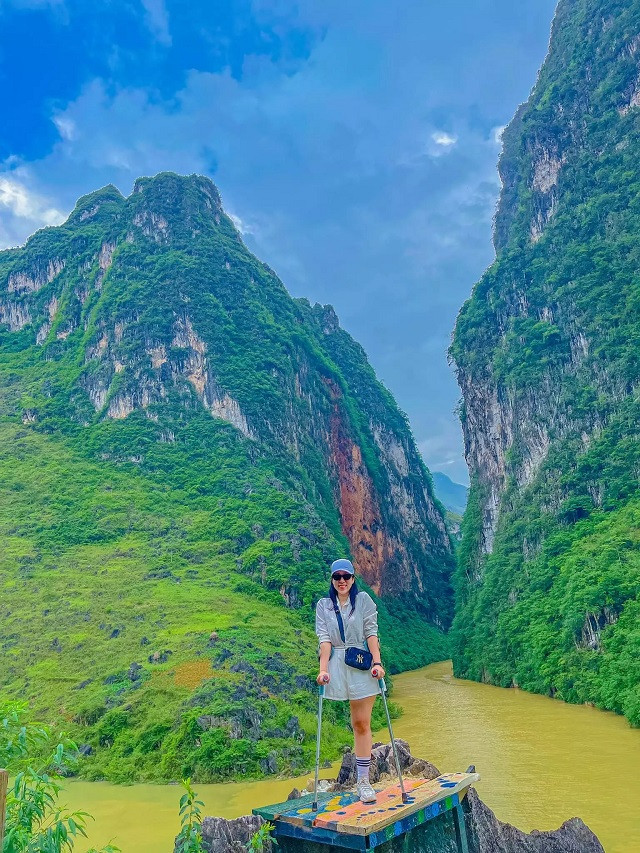 Nga stands on the bluff to gaze out over the Nho Que River. "The view is breathtaking. I'm just a little sad that the river is not in its most beautiful color this season."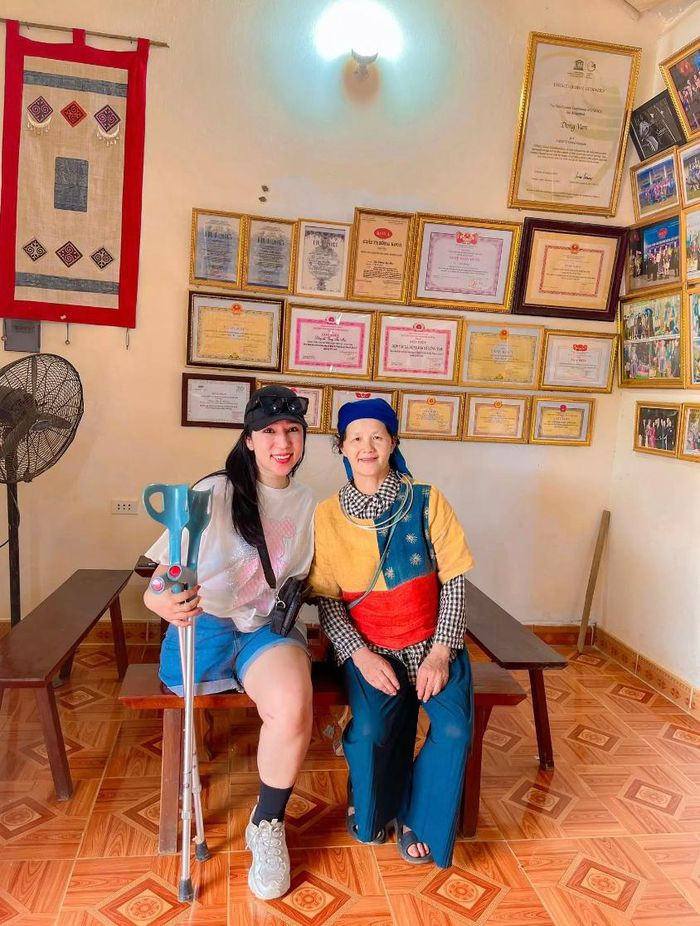 Ms. Nga poses with Mrs. Mai, an artisan in the Lung Tam weaving hamlet.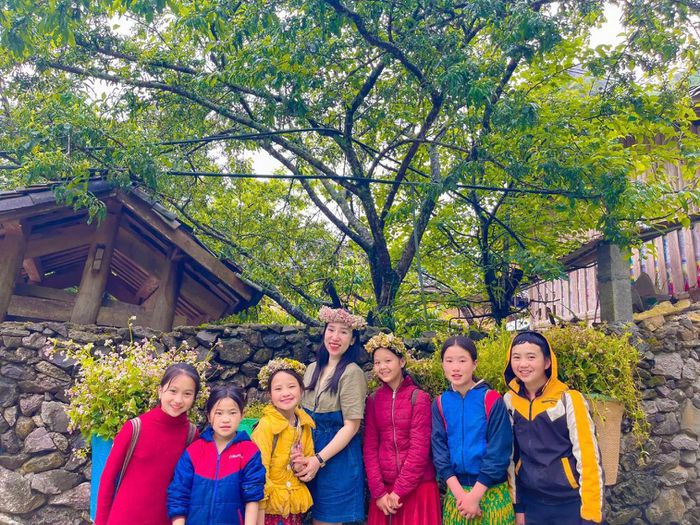 Ms. Nga with lovely Hmong girls. Ms. Nga intends to return to Ha Giang during the buckwheat blossom season.
Nguyen Hanh