Social News Headlines 10/4
Vietnam police arrest 11 in cybercrime raid; Russia, Vietnam to explore space for peaceful purposes; Out-of-season rains help Central Highlands; Deputy PM affirms determination to combat smuggling
Vietnam police arrest 11 in cybercrime raid
Ho Chi Minh City police arrested 11 people from Taiwan for committing high-tech sophisticated cybercrime schemes over the internet.
Local police caught the suspects red handed in Tan Phong ward, District 7, while they were in the process of swindling several Chinese people out of their money.
Five laptops, 11 computers, 18 telephones, and several recorders and printers were seized in the raid.
Police and prosecutors, allege the suspects made phone calls to Chinese people in a number of countries, including Vietnam, using threats and various other devices to extort money from victims.
Police officials said that many people have fallen prey to these fraudsters who managed to entice some Vietnamese people to join their ring.
Russia, Vietnam to explore space for peaceful purposes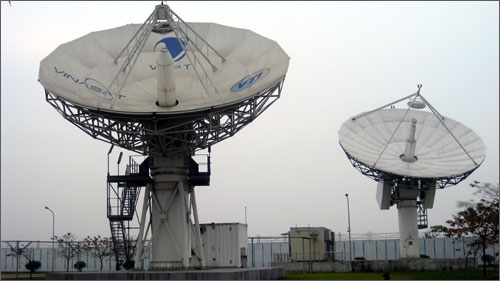 A Russian government committee for legislative drafting activities on April 8 approved a bill ratifying a Vietnam-Russia agreement on cooperation in the field of research and use of outer space for peaceful purposes.
The document, drafted by the Russia Ministry of Foreign Affairs and the Russian Federal Space Agency (Roscosmos), aims to boost mutually beneficial cooperation in such potential areas as satellite navigation, space communications, Earth exploration and biomedical research in space.
It helps create a legal framework for bilateral cooperation regarding research and use of outer space for peaceful purposes.
If approved, the bill will enhance the production capacity of Russia's rocket and space industry, to help them secure more orders.
The bill will be tabled for discussion at the upcoming Russian Cabinet meeting.
Out-of-season rains help Central Highlands
Out-of-season rainstorms occurred in the Central Highlands provinces of Dak Lak, Gia Lai, Dak Nong and Lam Dong on April 8, providing much needed water for millions of hectares of land.
The rains helped local people and enterprises operating in the region save billions of Vietnamese dong because they do not have to irrigate their plants.
They also helped localities in the Central Highlands rescue tens of thousands of hectares of rice and vegetables in the Winter-Spring crop from drought, which has lasted the whole month.
Many localities in the region also benefited from the rain which brought needed water for daily activities.
In the south-central region and the Central Highlands, rainfall levels have dropped 50-90 percent this year compared to the first three months of last year.
Meanwhile, water levels in reservoirs have reached only 60-70 percent of their designed capacity.
The Central Highlands and south-central regions will continue to have prolonged hot weather, and the rainy season is expected to come late this year, according to the National Centre for Hydro-Meteorological Forecasting.-
Charitable art programme slated for weekend
The 11th charity art programme, entitled "One Heart – One World", will be held in Hanoi on April 13, in anticipation of the Vietnam Day of People with Disabilities (April 18).
The annual event will be broadcast live on VTV2 in order to mobilise the community's financial aid for vocational training and job generation for disabled people and orphans, said Nguyen Dinh Lieu, President of the Association in Support of Vietnamese Handicapped and Orphans.
Lieu further said that the programme also aims to honour outstanding disabled people and orphans across the country and call on sectors, organisations and individuals to join hands to help them overcome difficulties in their lives.
Over the past decade, with the donations, the association has organised many activities to help people with disabilities and orphans improve their living standards and integrate into the local communities.
However, localities across the country still have numerous handicapped people and orphans in need of healthcare services, education and jobs, he stressed.
This year, the association will step up the implementation of six key programmes. They focus on rehabilitating 1,200 physically disabled people in the community, conducting cataract surgeries for 8,000 blind people, providing vocational training and jobs for 1,500 disabled people and orphans, and 5,000 wheelchairs for people who need them along with 15,000 scholarships and bicycles for local orphans.
Vietnam attends charity bazaar in Tokyo
The Asia-Pacific Ladies Friendship Society (ALFS) held their 38th charity bazaar in Tokyo on April 8 with the participation of representatives from 26 women's unions of ALFS member countries.
Distinguished guests attending the event included Princess Hitachi, wife of Japan's Prime Minister, Akie Abe and the wives of senior government officials.
Speaking at the ceremony, head of the organizing board, Ms Komura expressed her deep appreciation for the enthusiastic support of the Japanese Government, embassies, donors and guests at the bazaar, aiming to raise funds to provide assistance for education and victims of natural disasters.
"The proceeds will help build a better world for disadvantaged people, especially poor women and children," she said.
Le Nguyen Nga, wife of Vietnamese ambassador to Japan, said that Vietnamese embassy women's union participated in staging the culinary and handcrafts pavilions at the event.
"The women's union is highly desirous of introducing Vietnam's cultural characteristics and culinary arts to international friends," she said.
Nga added that nearly VND200 million collected from the 2013 charity bazaar were used to build schools for Agent Orange children in Vietnam and part of the funds raised from this year's event will be used to support poor children in disadvantaged areas.
Khmer people enjoy traditional Chol Chnam Thmay
The southern province of Tra Vinh is carrying out various activities to help the community enjoy the Khmer people's traditional Chol Chnam Thmay New Year, which falls annually in mid-April.
Local authorities have held meetings, visited and presented gifts to social policy beneficiaries, heroic mothers, veterans and Khmer monks.
Apart from assistance for poor households to enjoy the festival, the province has collaborated with pagodas to organise Khmer art, sports activities and folk games for the Khmer people.
The Chol Chnam Thmay New Year festival is one of the most important festivals of the year for the Khmer people. It lasts three days (four days in leap years) and is usually held in a pagoda. On these festive days, people wish and pray for a lucky new year. Each of these days has its own name.
Apart from worshipping the Buddha, Khmer people believe that every year heaven sends a god called Tevoda to earth to look after human beings and their lives. At the end of the year, the god returns to heaven and another one will replace him.
On its eve, every family prepares a lavish meal, burns incense and candles to see off the old god and welcome the new one. On the altar, they present five flower branches, five candles, five incense sticks, five cereal seeds and fruit crops. They pray for health and luck in the New Year.
Khmer people always prepare for the New Year ceremony very carefully. They clean and redecorate their home and buy necessary food for the holidays. They stop all farm work, relax and set free their cattle. The three official festive days are held in a joyful and exciting way.
The first day is for the ceremony to receive the great calendar. On this day, at a selected hour no matter if it is in the morning or afternoon, people take a bath and put on their best clothes in anticipation of the New Year. They take incense, lamps, flowers and fruits to a pagoda where they do the great calendar-receiving ceremony. This rite is to welcome the New Year and wait for omens for a bad or good year.
The second day is for the ceremony to offer boiled rice and heap up a sandy mountain. On this day, every Khmer family cooks rice and offers it to Buddhist monks at the pagoda in the early morning and at noon. The monks chant prayers to thank those who make the food and bring it to their pagoda and say good luck to them.
On the afternoon of the same day, people start to heap up a sandy mountain in search of happiness and luck. They make small mountains looking towards eight directions and one in the middle which represents the universe. This custom originates from an age-old legend. It displays people's aspirations for rain.
The third day is for the ceremony to wash the Buddha statue and Buddhist monks. After giving boiled rice to the monks in the morning, they continue to listen to Buddhist teachings. In the afternoon, they burn incense, offer sacrifices and use scented water to wash the statue in order to pay tribute and gratitude to the Buddha. This is also to get rid of the old year's misfortunes and wish all the best for the New Year. The monks do a ceremony to pray for peace in the souls of the dead. After that, the people return to their houses and wash the Buddha's statue at home. They offer dishes, confectionery and fruits to ask for happiness for their parents and grandparents and forgiveness for their mistakes made in the old year.
During these three days, Khmer people go to visit each other and wish good health, good luck and prosperity to each other. They also join in fun activities.
Chol Chnam Thmay festival shows Khmer people's aspirations, like many other ethnic groups, to forget about the old year's misfortunes and look forward to a better new year.-
Deputy PM affirms determination to combat smuggling
Deputy Prime Minister Nguyen Xuan Phuc has affirmed the determination of combating smuggling and trade fraud, underlining that strict punishment should be given to officials who cover up violations.
Addressing the launching ceremony and the first meeting of the National Steering Committee on the Prevention and Control of Smuggling, Trade Fraud and Fake Commodities (also known as Steering Committee 389) in Hanoi on April 8, he said smuggling and fraud remain serious problems, affecting the people's health and domestic production.
Deputy PM Phuc, who is also head of the committee, urged the media to enhance communications against fake goods, helping people recognise and boycott low-quality products to protect themselves.
According to Deputy Defence Minister Senior Lieutenant General Nguyen Thanh Cung – deputy head of the committee – it is necessary to assign a specific force in every locality to take the charge in preventing smuggling, trade fraud and counterfeit commodities.
The leader of the force will be responsible if the situation lingers in that locality, he said.
Meanwhile, Deputy Minister of Public Security Senior Lieutenant General Le Quy Vuong, another deputy head of the committee, noted that more effective measures should be taken to prevent smuggling across land, air and marine border lines, especially in the north where poultry and low-quality food trafficking remains serious.
According to a report by the Ministry of Industry and Trade, authorities detected 32,000 smuggling cases with goods totally valued at 430 billion VND in 2013, up nearly 8,500 cases.
The Coast Guard, Maritime Border Guard and customs forces handled nearly 940 trafficking cases.
The Steering Committee is upgraded from Steering Committee 127, with members coming from all ministries and sectors, aiming to increase the efficiency of smuggling, trade fraud and fake commodities prevention and control.
Deputy PM Phuc also called on ministries and localities to introduce competent officials to join the committee at the local level.-
Overseas Vietnamese flock to Phu Tho to honour nation founders
A group of overseas Vietnamese from all over the world offered incense to the Hung Kings at the Hung Temple in Viet Tri city, the northern province of Phu Tho, on April 8, as the main commemoration of the legendary nation founder is nearing.
"Although living far away from the homeland, we are always proud of being Vietnamese and hope to pay tribute to the Hung Kings at least once in our lives," said 71-year-old Dinh Van Moi who has lived in Thailand for 69 years.
Pham Minh Tiem, living in Australia , said he is delighted that the Hung Kings worship ritual has been recognised by UNESCO as an intangible heritage of humanity which helps overseas Vietnamese get a better understanding of the ritual and join hands together in preserving it.
According to Deputy Foreign Minister Nguyen Thanh Son, the overseas Vietnamese's tour, held with assistance from the government, manifests the national tradition of respecting ancestors, while showing the Party and State's attention to the Vietnamese community abroad.
Son, who is also head of the State Committee for Overseas Vietnamese Affairs, affirmed that the Vietnamese communities in foreign countries are an indispensable part of the nation as they serve as a bridge connecting their homeland and their host countries.
During their stay in Vietnam, the group will also visit soldiers and locals in Truong Sa (Spratly) Archipelago.-
Dong Nai exerts efforts in poor areas
The southern province of Dong Nai will exert all possible efforts to transform impoverished areas, attempting to recognise 34 out of its 136 communes as new-style rural areas by 2015.
Director of the provincial Finance Department Ho Thanh Son made the statement at a meeting in the locality on April 8 to review its January–March socio-economic performance.
Over many years, Dong Nai has poured over 7.5 trillion VND (352 million USD) into the national target programme on rural development, 360 billion VND (17 million USD) of which was sourced from the public. To realise such a goal, it needs another 600 billion VND (28.5 million USD).
Secretary of Xuan Loc district Party Committee Nguyen Minh Nhat, for his part, advocated State support in production and trade as a starting point to raise local living standards.
In his opinion, more attention should be paid to existing new rural areas as some of them still show constraints in healthcare, education and environment.
Dong Nai has so far recorded 15 communes that meet all 19 criteria for productive rural communities.
The annual per capita income is expected to jump 1.7 times from 2010 to over 34 million VND (1,600 USD) next year.-
Vietnamese students secure spot in global energy saving contest
Two Vietnamese students from the Foreign Trade University Ho Chi Minh City have triumphed over other contenders in the East Asian region to win a place in the global 'Go Green in the City" contest in Paris, France this June.
Nguyen Thi Thuy Duong and Dang Mai Anh outperformed other teams from Cambodia, Indonesia, the Republic of Korea, Malaysia, the Philippines, Singapore, Taiwan and Thailand at the semi-final contest held in the city on April 4, with their project titled "Energy Bank".
The project focused on an initiative to manage electricity use in urban areas, which is considered as a hot issue in many countries across the world.
It introduced a banking concept applied to energy management to ensure the stability of energy demand and also to encourage the spirit of "the more you save, the better you earn".
'Go Green in the City" was launched by Schneider Electric multinational group in 2009. It started in Vietnam in 2013, challenging business and engineering students to present their own innovative and intelligent energy consumption solutions.-
Minister: science-technology contributes to agricultural growth
Science and technology have contributed greatly to raising farming productivity and product quality during the past five years, Minister of Agriculture and Rural Development Cao Duc Phat told the National Assembly's Science, Technology and Environment Committee on April 8.
He stressed that Vietnam's agricultural growth over recently years is attributable to rising productivity, not acreage expansion.
At the same time, he admitted that there is still a gap between scientific research and farmers' needs, resulting in the slow development of high-tech agriculture.
He highlighted the need to adjust investment policies and mechanisms for agriculture in the direction of improving quality and added value, adding that Vietnam has advantages in terms of rice production and aquaculture, and the country should capitalize on these strengths in order to raise its competitiveness in the world market.
Minister of Science and Technology Nguyen Quan also said scientists only focus on their own research direction without paying adequate attention to the real need of the agricultural sector. He cited the domestic husbandry sector's dependence on imported animal feed as an example, saying that the problem has persisted for several decades but no scientist showed interest in seeking solutions for this issue.
A number of scientists and agricultural producers invited to the NA Committee's meeting shared their views on how to strengthen the linkage between research and production in order to improve productivity and product quality.
Rural community encouraged to combat climate change
A multiplicity of measures addressing climate change challenges was discussed at an international seminar in Hanoi on April 8, focusing on engaging the rural community in the effort.
The seminar, organized by the Adventist Development & Relief Agency (ADRA), was the result of a South East Asia: Regional Environmental Adaptation to Climate Change Training and Implementation Project (SEA:REACTI).
At the event, Nguyen Anh Thinh, ADRA Vietnam Director, said climate change poses a monumental threat to many countries, including Vietnam and Laos. The Government, local authorities and the community are facing an inordinate number of obstacles in surmounting its negative impact.
Phoutthavy Vorachit, SEA:REACTI Project Manager, in turn suggested engineering changes to the varieties of animals and plants that are grown in the region, improving gardening methods and building more intelligent agricultural models to adapt to climate change are possible solutions.
He highlighted positive results from an ADRA-funded project in the Mekong Delta city of Can Tho that has helped increase public awareness of the danger of climate change, particularly among women and poor people in rural areas.
Participants stressed the need to build stronger links between localities and the national programme on natural disaster mitigation and climate change adaptation.
In addition, they said, foreign organizations and the private sector should assume greater social responsibility for community development to advance the cause of climate change adaptation in a sustainable manner.
Canada charity supports poor child patients
A Canadian charity programme dedicated to supporting disadvantaged children has donated more than US$45,000 to young Vietnamese patients suffering from cancer and heart-related diseases.
Canadian Trade Counselor Francois Lasalle and Vice Chairwomen of the Vietnam-Canada Friendship Association Nguyen Thi Hoi handed over the funds to Rad Kivette, a VinaCapital representative in Hanoi on April 8.
VinaCapital will distribute the sum, raised from Charity Run for Children Hanoi 2013, to the Central Pediatrics Hospital, Hanoi Heart Hospital, and Heartbeat Vietnam to support disadvantaged children battling cancer and heart diseases.
More than 5,000 people attended Charity Run for Children Hanoi 2013, formerly known as Terry Fox Run, jointly organized by the Canadian Embassy in Vietnam, the Vietnam-Canada Friendship Association, the Canadian Business Association (CanCham), Manulife Vietnam, and Sofitel Metropole Hanoi Hotel.
Hoang Thi Ngoc Huong, Deputy Director of the Hanoi Heart Hospital, thanked the Canadian organization for its invaluable support for poor children.
"The proceeds from the annual Charity Run for Children have been used to cover up to 70% of the cost of heart surgeries for the recipients, truly life-saving assistance", she said.
VNA/VOV/SGT/ND