Social News Headlines 1/3
Conjoined twins successfully separated; Woman dies in Thai Nguyen fire; Border police seize 'meth' haul; Future of Long Bien Bridge open to discussion; Tan Son Nhat international airport to be expanded
Conjoined twins successfully separated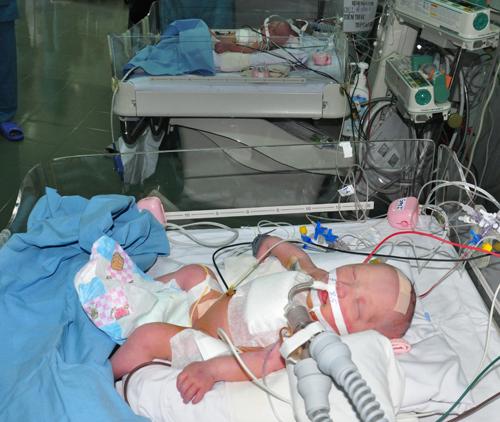 Doctors at Ho Chi Minh City's Children Hospital No.1 on February 27 successfully separated two conjoined infants in an operation that lasted an hour and a half.
The five-day-old infants, who were born with congenital heart disease, were conjoined from their breastbone and weighed two kilograms each.
The girl twins are reported to be in stable condition at the hospital's intensive care unit, said Dao Trung Hieu, deputy director of the hospital.
"One of the infants has no anus, therefore we had to operate immediately to prevent intestinal infection," Hieu said.
The twins, who were born in a hospital in the Mekong Delta province of Tien Giang, were transferred to the hospital immediately after their birth, for the life-saving surgery.
Woman dies in Thai Nguyen fire
A house fire left one woman dead after her house caught alight in the northern province of Thai Nguyen's Phu Luong District yesterday.
The fire, which began at 10am, quickly engulfed the house.
The 64-year old woman, who had become paralysed four months earlier and could not walk, was unable to escape the blaze.
Her husband, who survived the incident, was left severely injured after attempts to save his wife.
Authorities are investigating the case.
Border police seize 'meth' haul
Border guards at the Mong Cai International Border Gate in the northern province of Quang Ninh seized 5kg of methamphetamine on Wednesday.
They also arrested a man allegedly smuggling the drugs into Viet Nam from China.
The haul was apparently kept in five nylon packs hidden in two speakers.
The alleged smuggler admitted that he was hired to do the job by a Chinese man for 3,000 Chinese yuan (US$490).
Future of Long Bien Bridge open to discussion
Hanoi always emphasises the importance of ensuring the preservation of Long Bien Bridge in harmony with its socio-economic development, Chairman of the municipal People's Committee Nguyen TheThao has declared.
The municipal leader has also affirmed that discussion and suggestions are important to create an optimal plan for the bridge, whose rebuilding plans introduced recently by the Ministry of Transport sparked controversy.
In the coming time, suggestions from scientists, managers and experts will be collected for the plan with a focus on preserving and tapping the cultural and historical values of the bridge in combination with local socio-economic and traffic development and the urban landscape.
In the city's overall socio-economic development plan approved by the Prime Minister in 2011, there was a project to build a railway bridge over the Red River at the area where Long Bien bridge stands.
The Ministry of Transport had earlier proposed three plans. The first was to install a new bridge exactly where the old one stands, keeping the central part and the railway track intact, and removing other parts of the bridge for preservation.
The second option was to build a new, modern bridge with a similar design to the original, and the third was to modernize the bridge while retaining parts of the central section and trusses.
Long Bien Bridge was built between 1899 and 1902 by the French and measures 2,290m. It opened to traffic in 1903.
At the time, it was the only bridge spanning the Red River that connected Hanoi to the highway leading to the northern port city of Haiphong. It has played a crucial role in many important events in the country's history, including the independence wars.
It was heavily bombarded during the American War and became a symbol of defiance against aggression. It is no exaggeration to say that the bridge is an intrinsic, indispensable part of Hanoi's history and folklore, inspiring poets and musicians for generations.
Ha Noi vows to preserve historic Long Bien Bridge
Ha Noi will soon work with relevant ministries and agencies to collect ideas for the best plan to upgrade the Long Bien Bridge, the municipal People's Committee announced on Wednesday.
The upgrade must ensure the preservation of the 112-year old bridge's historical and cultural values, the committee's chief of the office, Nguyen Thinh Thanh, said.
The announcement came in response to recent public concern over the plan to build a railway bridge across the Hong (Red) River, which is related to the plans for the Long Bien Bridge.
The transport ministry had previously proposed three plans. The first was to build a new bridge exactly where the Long Bien Bridge stands, keeping the central part with the railway track intact and removing other parts of the bridge for conservation.
The second option was to build a new, modern bridge with a design similar to the old one, while the third was to modernise the bridge but retain parts of the central section and trusses.
The 2,290-metre Long Bien Bridge was built between 1899 and 1902 by the French, and it opened to traffic in 1903.
As it is the only bridge across the Red River that connects Ha Noi to the highway leading to the northern port city of Hai Phong, the bridge has played a crucial role in many important events in the country's history, including in the wars for independence.
These plans were proposed following the prime minister's direction and will continue to be discussed so that the best option is submitted to him for approval, Thanh noted.
Tan Son Nhat international airport to be expanded
Tan Son Nhat international airport is poised to undergo its most radical change and extensive construction since the main terminal was opened officials have announced.
General Director of Airports Corporation of Viet Nam (ACV) Le Manh Hung also made public a ten-year renovation project is planned for the Long Thanh airport.
The international airport will increase the number of its left and right terminals to allow for 40 more check-in stalls and the domestic terminal will be extended to have additional floor of space of 3,900 square metres.
In the years leading up to 2014, Tan Son Nhat airport has served serving 20 million passengers, operating up to 550 flights per day during peak hours.
Minister of Transport Dinh La Thang in turn asked the ACV to mobilize social capital sources to invest in upgraded building parking lots.
Vietnam launches VND100 bil laparoscopic surgery centre
The Central Paediatrics Hospital on February 27 officially placed Vietnam's first –ever robotic-assisted laparoscopic surgery centre into operation with an estimated investment of VND100 billion.
Associate Professor Le Thanh Hai, Director of the Central Pediatrics Hospital said that the application of computer-controlled devices to aid in the positioning and manipulation of surgical devices will bring medical procedures to a level on par with international standards.
He hypothesises that robotic assisted surgeries may one day be perfected sufficiently and to an extent that long distance surgeries for remote areas such as islands may become a reality.
The robotic-assisted laparoscopic surgery has many advantages over traditional laparoscopic surgery.
With the assistance of 3D images, surgeons can get an up close and deeper look at any phenomena in the body. In addition, this method helps patients recover sooner.
In recent years, the hospital has conducted eight surgeries on eight children with the application of this technology.
Vietnam is the first Southeast Asian nation and the second in Asia which has a centre applying this high technology.
Job fair brings employment opportunities to Vietnamese students
A job fair opened in the southern province of Dong Nai on February 27, offering a chance for Vietnamese students to explore information on educational and employment opportunities at Japanese enterprises.
Jointly organised by Japan's Ministry of Industry and Trade and the province's Lac Hong University, the fair drew the participation of 13 businesses from Japan, which needs to recruit a great number of technically-skilled workers.
As many as 600 students were preliminarily selected for employment by the enterprises at the event.
Goto Yuzo, a representative from the Japanese ministry, said his country has become one of the biggest investors in Vietnam, adding that the money flow from Japan into Vietnam will continue increasing in the coming years, meaning that job opportunities for Vietnamese in Japanese firms will be very promising.
He also noted that if Vietnamese students want to work for Japanese companies, they should have a strict sense of responsibility and discipline, an inquiring mind and good foreign language skills.
Students attending the fair were also provided with advice to find jobs at Japanese businesses and to adapt their studies to meet the requirements of these enterprises.
First outbreak of H5N1 detected in Gia Lai
The central highlands province of Gia Lai has reported its first case of A/H5N1 infection, the provincial Department of Agriculture and Rural Development has reported.
The outbreak was discovered on a flock of 4,500 chickens raised by farmer Nguyen Phuoc Huy in Tan An commune, Dac Po district.
The three month old chicken flock has been experiencing an unusually high mortality rate since February 22.
Samples taken from all of the chickens tested were positive for the bird flu strain A/H5N1, the first outbreak of the flu in the province.
At present, the provincial veterinary department has culled all the poultry and sterilized the infected areas and is supervising local residents on necessary procedures to prevent the outbreak from spreading.
Hai Duong declares H5N1 flu outbreak
The northern province of Hai Duong on February 27 declared an outbreak of A/H5N1 avian influenza in Cam Che commune, Thanh Ha district.
The action was prompted after samples taken from a Cam Che household where five dead chickens were spotted tested positive for the bird flu strain A/H5N1 on February 26.
The provincial Sub-Department of Animal Health and local authorities immediately culled all 300 poultry on the premises.
Deputy head of the division Pham DinhNghi said more than eight million birds are being raised in Hai Duong, 600,000 of them in Thanh Ha district.
The provincial People's Committee has ordered its localities to intensify inspections and sterilization as well as increase the number of staff on main roads to prevent fowl being traded during the epidemic period.
Apart from Hai Duong, as of February 25, bird flu had been detected in 21 provinces and cities across Vietnam with around 64,000 infected chickens culled, according to statistics from the Animal Health Department under the Ministry of Agriculture and Rural Development.
Vietnam shares disaster preparedness experience
Ambassador Le Hoai Trung, Permanent Representative of Vietnam to the United Nations shared Vietnam's experience on disaster preparedness at the launch of the UN report "Dare to Prepare: Taking Risks Seriously" on February 27.
The report of the UN Inter-Agency Standing Committee (IASC) and the Overseas Development Institute (ODI) extends many important messages, highlighting the need to invest in preparedness.
Vietnam agreed with the report's recommendations aimed at increasing financing for preparedness, with a combination of global, regional and national financing mechanisms, Trung said.
The Vietnamese ambassador highlighted the launch of the report as an effort to deepen understanding about preparedness, especially at the time when the UN is working on the post-2015 development agenda and the new sustainable development goals.
He thanked international organizations and other countries for their great support and assistance for Vietnam in this field.
According to the World Bank (WB) Vietnam is ranked as the seventh most exposed country in the world to multiple natural hazards including floods, tropical typhoon, tornados, landslides and droughts. An estimated 59 percent of the total area of the country and 71 percent of the population are exposed to cyclones and floods.
Japanese disaster prevention project helps Quang Nam
A workshop took place in the central province of Quang Nam on February 27 to kick-start a Japanese-funded project on raising the capacity of students and coastal residents to minimise disaster risks.
The project will benefit Hoi An city, Dien Ban, Duy Xuyen, Thang Binh, Tam Ky and Nui Thanh districts, which are severely affected by natural disasters.
The project, which will end in 2015, will provide students and coastal residents with basic knowledge on disaster prevention through training courses and extracurricular programmes.
It was jointly implemented by SEEDS Asia, a Japanese non-governmental organisation, and the provincial Department of Education and Training and Department of Agriculture and Rural Development.
Payments for ecosystem services tally VND2,850 billion
The programme of Payments for Forest Environmental Services (PFES) has provided funding totalling nearly VND2,850 billion to 34 provinces and cities in Vietnam over the past five years.
Addressing a February 27 conference on forest protection and development, Deputy Minister of Agriculture and Rural Development Ha Cong Tuan elaborated on the success of the programme, stating it has made significant contributions to sustainable forest development.
As many as 34 provinces and cities run programmes to improve forest quality and quantity in the 2009-2013 period, he reported.
Last year, PFES policy paid out VND1,068 billion. Of the figure, VND1,043 was allocated for hydro-electric power plants, and VND24 billion for clean water plants.
However, Tuan said, the programme still reveals shortcomings, including slow payment and slow disbursement of fees for forest environmental services.
Sectoral labour pacts ease bouts of industrial action
Collective labour agreements, also known as collective bargaining agreements (CBAs), in a number of sectors have provided a stable foundation for industrial relations and even reduced the number of labour disputes, officials have said.
Authorities noted a marked decline over the past three years, with no serious strikes or demonstrations taking place at any textile and garment enterprises party to collective labour agreements, said Truong Van Cam, permanent deputy president of the Viet Nam National Union of Textile and Garment Workers.
The textile and garment sector was the first to sign CBAs at a sectoral level in 2010, Cam said at a conference held recently in HCM City.
A total of 100 enterprises have so far signed CBAs, covering 136,200 labourers, he said.
Wages, bonuses and other workers' benefits such as health insurance and accommodation improved at participating enterprises, he added.
Trained workers were paid ten per cent higher than minimum wages, instead of seven per cent as regulated.
The average income of workers reached VND3.5 million (US$170) per month.
The implementation of CBAs has contributed to reducing the rate of turnover among textile and garment enterprises, particularly post-Tet (Lunar New Year) holiday.
The textile and garment sector attracts nearly three million workers at more than 6,000 enterprises.
Of that figure, female workers account for 70 per cent.
Massive strikes and demonstrations in the footwear and textile and garment sector accounted for 45 per cent of the total nationwide.
There were more than 3,130 strikes between 2007 and 2012, said Le Xuan Thanh, deputy director of Department of Labour and Salary.
Most of the strikes happened outside of any legal procedures and without the management of trade unions, Thanh said.
Most of them occurred at FDI enterprises (80 per cent), he said.
However, just a small number of FDI enterprises have signed CBAs at the sectoral level.
Last year the Textile and Garment Sector's Trade Union in Binh Duong Province implemented CBAs.
The sectoral CBAs will be scaled up in the textile and garment industry in HCM City and Ha Noi as well as other sectors such as rubber and railway, over the next few years, he added.
Viet Nam to ramp up foster care for needy kids
The Government will soon introduce regulations that encourage more Vietnamese families to provide foster care for disadvantaged children, Deputy Minister of Labour, Invalid and Social Affairs Doan Mau Diep said yesterday.
Addressing a conference focusing on family placement for orphans and other children who are not brought up by their biological parents, Diep said Viet Nam is in the process of completing its legal framework on childcare and protection, and plans to add regulations on provision of foster care.
He said that although the country already has regulations on providing alternative care for disadvantaged children, these were too general and would not motivate people to open their families to caring for them.
Viet Nam has about 23 million children, accounting for 27 per cent of its population. Of these, 1.4 million are said to fall under the disadvantaged category.
Typically, such children are cared for by social welfare centres, adopted or placed with families – relatives or others – to receive foster care, with both the children and the care providers eligible to receive Government support.
The conference heard that about 400,000 disadvantaged children are eligible to get the Government's support, ranging from VND270,000 to VND810,000 (US$12.8-38.5) per month, plus other assistance like healthcare, education and vocational training.
About 22,000 children are under institutional care and 170,000 under foster care. About 6,000 Vietnamese children are adopted each year.
Le Hong Loan, head of the Child Protection Section with the United Nations Children's Fund in Viet Nam (UNICEF), said the country needs to develop more effective monitoring and supervising systems for alternative care delivery so as to ensure the safety and well being of the disadvantaged children.
"Clear regulations are needed for assessing, selecting and granting permission to those who foster children," she said, also urging inter-sector co-operation to meet the children's needs, including residential registration, schooling and healthcare.
One of the foreign dignitaries present at the conference, Prince Michael of Kent, cousin to the Queen of England, said it was not easy to find an alternative family to provide safe and long-term care for children.
Foster children or adopted children need strong care and support from authorities, he said.
"Successfully nurturing a child into adulthood is one of the most important functions of family life and one of the foundation blocks of any good society, anywhere in the world," he added.
He said that family placement care should receive attention as the first positive alternative for orphaned and abandoned children and preferred over institutional care at orphanages or other social welfare centres.
The two-day conference was organised by MOLISA, UNICEF and the Care for Children – a British charity that partners with governments in Asia "to help them place orphans into good local families."
Ministry tightens childcare oversight
The division of Labour, Invalids and Social Affairs, should co-operate more closely with the educational division at a grassroots level, to improve the management of home-stay nurseries, small baby-sitting groups and private kindergartens, according to the Child Care and Protection Department.
At a conference on the management of home-stayed nurseries and private kindergartens between the Ministry of Education and Training and its departments, held yesterday, Dang Hoa Nam, the department's deputy head, said that the division is fortunate to have such a large number of staff – both licensed and otherwise - working in childcare in their locality.
This workforce is aware of how many licensed home-stay nurseries, small baby-sitting groups and private kindergartens there and how many there are without licenses, Nam said. They work closely with children and families in the provinces and have a wealth of knowledge that they should share with educational staff to ensure the safety of children and prevent violence and abuse.
Nguyen Thi Tuyet Mai, head of the Family and Society Division under Viet Nam Women's Union, said that a survey conducted in 2012 in five cities showed there are a large proportion of families who use unlicensed childcare facilities, but according to Mai, they are difficult to manage.
Shutting down facilities without licenses is not easy, she said. Under normal circumstances, if they fail to meet the Ministry of Education and Training's standards on classroom size and the number of children in each classroom, they would be closed down, however the demand is so great, they feel this would be detrimental to families in the region.
Tran Thi Kim Thanh, from the HCM City Department of Education and Training, agreed. Because of the demand, the city has chosen not to close all unlicensed childcare businesses, Thanh said, adding that the only ones that have been shut down are those that were deemed unsafe. Instead, under the guidance of the city's authorities, they are issuing more licenses in a bid to improve childcare options for families in the area.
The result is that the number of facilities without license has reduced from 1,021 to 453 during the last two months, raising the city's number of licensed facilities to 1,490.
To further improve the situation, the city's People's Committee has requested that priority be given to investment in kindergarten facilities. Representatives from education departments in other southern provinces suggested that the ministry offer preferential policies on land, tariffs and loans for enterprises and individuals who want to invest in building kindergartens.
Nam also suggested that a policy that helps poorer parents in the urban areas with childcare should be issued.
Pham Thi Hue Trang, deputy head of the Department of Education and Training's Pre-school Education Division in Binh Duong Province, said that salaries and allowances for teachers at kindergartens and nurseries also should be adjusted.
This would help attract to students and graduates to the profession, Trang said.
The province has a history of shortages of teachers for pre-school education as well as kindergartens, she added.
Young leaders to venture to S Korea
Eighty youths who have been appointed vice-chairpersons of the nation's poorest communes under a governance improvement initiative will visit South Korea this July to learn more about rural development.
A report on the Voice of Viet Nam website yesterday quoted Vu Dang Minh, director of the Ministry of Home Affairs' Youth Department, as saying the young government officials will learn about the New Village movement in South Korea, which was launched in the 1970s.
The movement encouraged community involvement in rural development and helped fight poverty.
Minh said the two-week study tour follows up on encouraging results seen in the US$10.25-million national project launched three years ago, selecting young graduates to serve as vice chairs of commune administrations.
So far, 580 university graduates have been appointed nation-wide.
"The young leaders have been quite proactive in implementing initiatives that promote socio-economic development and poverty reduction," Minh said.
"We want them to show leadership and governance skills besides applying their specialised knowledge on the job."
The national project selects graduates who commit themselves to work for at least five years in poor communes, giving them option of moving after three years as a reward for outstanding achievements or great initiatives.
The project gives selection priority to candidates from provinces with many poor districts and ethnic minority populations.
Particular preference is given to those who can speak ethnic minority languages, have completed their military service or have previous administration experience.
The national project was launched because it was felt that the nation's poorest communes need well-trained officials to implement the nation's socio-economic development policies, especially those relating to hunger eradication and poverty reduction.
Typically, very few officials governing poor communes in the country are college or university graduates.
Experts warn wet markets hotbeds for bird flu virus
All traditional markets that sell fresh poultry meat carry significant risk of becoming bird flu hotspots, animal health experts have warned.
A Viet Nam News Agency (VNA) report yesterday cited experts from the Ministry of Agriculture and Rural Development (MARD)'s Department of Animal Health as saying temporary markets and wet markets nationwide have to take increased safety precautions against the disease, particularly the strain caused by the H5N1 virus.
The VNA report noted that at the Nguyen Cong Tru Market in Ha Noi's Hai Ba Trung District, a major poultry market, chicken and ducks are sold live, slaughtered and processed all in one place, increasing the chances of infection as well as spread of the deadly virus.
A small trader at the market said animal health workers checked the shops three or four times per month, but with the poultry coming in from different provinces including Bac Giang, Lang Son and Hoa Binh, it was easy for infected fowls to go undetected.
The situation is similar at many other markets in the city, including those on Hoang Hoa Tham Street in Ba Dinh District or the Thach Bich market in Thanh Oai District, the VNA report said, noting that the poultry are often slaughtered in the open, very close to the street.
According to the Animal Health Department, two people in the country have died of bird flu so far this year. The H5N1 virus has been detected in more than 20 provinces and cities over the past two months, and more than 63,600 fowls have died or been killed.
Department experts said that the cold weather of the past two months created favourable conditions for the virus to spread.
Besides, several localities have not been thorough in carrying out vaccination and sterilization programmes, they added.
Le Xuan Viet, head of the Ha Vy Market Management Board in Ha Noi's Thuong Tin District, said that at present, they were spraying the market with disinfectant twice a week, and closing it a month for sterilisation.
This by itself might not be sufficient to prevent the virus from spreading, experts said.
Department Director Pham Van Dong said inspections covering 147 live poultry markets in more than 40 provinces and cities showed more than 60 per cent had the virus.
About six per cent of duck samples taken tested positive for the H5N1 virus, he said.
To prevent the H5N1 virus from spreading, the agriculture ministry has asked authorities at all levels to keep close watch on live poultry markets and tighten their management of these and related facilities. All markets should be closed periodically for sterilisation, the ministry has directed.
On February 22, the ministry launched a month-long nationwide campaign to improve hygiene, sterilisation and disinfection at all wet markets.
Major educational system assessment spots areas for improvement
The Ministry of Education and Training is committed to increasing the quality of education by improving assessments of students' knowledge and learning capacity, Deputy Minister Nguyen Vinh Hien has stated.
At a February 27 conference to sum up the 2012 Programme for International Student Assessment (PISA) and deploy the 2015 PISA in Vietnam, Hien said that through the assessment, the ministry can put forward more appropriate and beneficial policies.
Initiated by the Organisation for Economic Cooperation and Development, PISA is a triennial international survey which aims to evaluate education systems worldwide by testing the skills and knowledge of 15-year-old students. The test is also designed to measure whether students can apply what they've learned in school to real-life problems.
Vietnam will look into the results in order to seek measures for education quality improvement and study how to apply PISA techniques and methods in national education quality assessment, he added.
Vietnam was ranked eighth in science, 17th in mathematics and 19th in reading among 65 countries and territories participating in the 2012 survey. It was the first time the country, which has the lowest per capita income among participating economies, had joined in the survey.-
School initiative successful in Ho Chi Minh City
Chairman of the Ho Chi Minh City People's Committee Le Hoang Quan has requested the Friendly School, Active Student programme be carried out basing on the condition of each district in order to ensure its stability.
The programme was launched to raise the learning atmosphere in schools, promote effective teaching methods, increase soft skills among students, and encourage teamwork.
At the workshop reviewing the city's five-year implement of the programme held on February 26, Quan appreciated the close co-operation between the Department of Education and Training and other authorities and oragnisations in the city to effectively carry out the programme.
Tran Thi Kim Thanh, deputy head of the department, said that close cooperation has enriched activities in schools.
The department, for example, has cooperated with the Department of Culture, Sports and Tourism to teach traditional music such as tuong (classical drama), cheo (traditional opera), and cai luong (folk song) for students.
They have also organised entertainment and sport programmes, attracting the attendance of large number of students to help them relax and improve their physical health.
Many scholarship programmes for disadvantaged students to continue going to school have also been carried out.
Thanh said that through the programme, more attention hs been paid to the investment in building and upgrading kindergartens and schools and equipping with modern teaching aids.
The city has counted 1,788 schools, kindergartens, and education centres for night classes since September 2008, all of them have had a green campus, standard playground, classrooms, toilets and water supplying works, Thanh said.
The city has seen an increasing number of schools meeting the national standards, she said. To date, there have been 149 national standard schools in the city.
They also have applied IT in teaching and managing, she said, adding that teaching methodologies and curricula have been improved. Many international programmes have been applied to improve students' thinking and creativity, she said.
Biodiversity workshop warns of damaging invasive species
The Biodiversity Conservation Agency (BCA), under the Vietnam Environment Administration (VEA) has held a training workshop on communication strategies to prevent the progress of invasive species in the country.
Speaking at the meeting, BCA Deputy Director Huynh Thi Mai said alien species, which are brought into Vietnam through import as well as natural migration, have damaged the natural environment. She cited the flourishing of the crop-destroying yellow snail as an expensive lesson of the importance in controlling imported species and preventing them from spreading.
Vietnam has gradually strived to improve its policies and legislation in the area, while raising the awareness of authorities, enterprises and the public on the danger posed by invasive species.
At the event, delegations from universities, non-governmental organisations and news agencies heard an international media expert presenting an overview of communication strategies to better spread the message and later participated in a related training course.
Vietnam, along with fellow Southeast Asian nations Cambodia, Indonesia and the Philippines, is taking part in a regional project on the prevention and control of invasive alien species.
President honours outstanding physicians
President Truong Tan Sang on February 27 presented the title of People's Doctor to 67 outstanding physicians at a ceremony to celebrate the 59th year of Viet Nam Physicians' Day.
The President called on the health sector to implement critical reforms, including the extension of the healthcare network, improving the quality of checkups and treatment, and improving professionalism in the industry.
He said that demonstrating ethics and integrity was vital to the role of physicians and medical staff in delivering top-notch health services.
Also the same day, Deputy Prime Minister Vu Duc Dam urged the health sector to push up health care initiatives and praised the efforts of doctors and medical staff in treating and preventing disease.
Speaking at the conference on the rollout of health programmes in 2014, the Deputy PM called on the health ministry to target patient satisfaction through the improvement of medical services, the medical ethics of doctors and medical staff, an increase in health equity and transparency in examination and treatment.
He suggested the sector take full advantage of existing medical facilities at the central and local levels and investment sources in the private sector to handle shortcomings due to hospital congestion and the shortage of beds and human resources.
Dam added that the sector should review and reform medical education; financial mechanisms; and policies for medical workers in mountainous and remote areas or difficult fields such as preventive medicine, tuberculosis treatment and HIV/AIDS prevention.
Health Minister Nguyen Thi Kim Tien said the sector will focus on handling hospital congestion, disease and dangerous epidemic prevention, human resource training and improvements in medical ethics in 2014.
Tien noted that the sector has been facing many challenges posed by the increasing demand for quality health care, changes in morbidity trends, complicated developments in communicable diseases, and emerging diseases, as well as epidemics.
Low expenditures for health care, limited quantity and quality of medical workers at the community level, inadequate infrastructure, and a shortage of medical facilities also influenced the quality of medical services, she said.
At the event, the health ministry launched a patriotic emulation movement with a focus on improving patient satisfaction and confidence in the health sector.
The movement aims to improve medical ethics among doctors and health staff; improve examination and treatment methods; strengthen the health care system at the grassroots level; and educate the public on various health policies, including universal health insurance, encouraging Vietnamese people to use locally manufactured medicines.
Disease prevention and food safety and hygiene are also covered under the movement.
The ministry's statistics showed that the country had 22.5 beds for every 10,000 people, far below the World Health Organisation's recommendation of 39 beds.
Health insurance coverage reached nearly 70 percent of the country's population, seeing low participation from near-poor and middle-income groups.
Work begins on waste plant
Construction of a solid waste treatment plant, the largest of its kind in the Cuu Long (Mekong) Delta, started on Wednesday in the Mekong Delta province of Soc Trang.
The Soc Trang Public Urban Work Ltd Company invested VND216 billion ($10.24 million) in the project, of which VND177 billion ($8.39 million) was from Norwegian Official Development Assistance loans and the rest from the province.
The plant, which has a treatment capacity of 160 tonnes per day, is also designed to produce 100 tonnes of organic fertiliser and five tones of recycled plastic per day.
The plant, expected to open in August next year, is expected to improve the environment in Soc Trang Province and the surrounding provinces by reducing the number of solid-waste landfills.
Experts from Kyushu University, Japan, will help the central city of Da Nang develop a feasibility study for constructing a solid-waste treatment plant
Professor Misuyasu Yabe made these remarks at a meeting with the central city's administration on Wednesday.
According to the latest survey, the central city's dump will reach full capacity in the next four years.
The waste-treatment plant will help the city deal with 700 tonnes of waste each day, while producing compost from the waste.
The city has created a strict process of waste discharge at source and has applied the 3Rs (reduce, reuse and recycle) and appropriate technology to waste treatment policies to meet the target.
The Khanh Son dump has polluted the groundwater and the environment with 1.4 million tonnes of rubbish and will be closed by 2020.
Hydrofoils under inspection in HCMC
Ministry of Transport set up a delegation to inspect ten hydrofoils operating in Ho Chi Minh City-Vung Tau route.
The inspection agency will carefully examine covers, machines, rescue equipment on the ten hydrofoils, said Le Minh Chau, deputy head of the ministry's Traffic Safety Department on February 27.
They will also closely inspect technical safety, fire fighting and prevention and environmental protection.
Although the hydrofoil fire and explosion did not cause any human damage on January 20, it has affected the transport industry's reputation, said Chau.
The cause of the hydrofoil accident on January 20 is still under investigation.
Hue opens National Week of Fire Prevention 2014
National Week of Labor, Hygiene, Safety and Fire Prevention 2014 will be celebrated in Thua Thien Hue Province on March 16-23.
The aim of the celebration is to raise awareness and responsibility of employers and employees the importance of work safety, according to the Ministry of Labor Invalids and Social Affairs.
Last year there were 6,695 accidents in production factories causing 6,887 injuries and 627 deaths.
There was an increase of 10-21 percent injuries and deaths compared to 2012. Most accidents occurred in private companies, building projects and manufacturers.
In 2013, 2,700 fires occurred across the country causing 200 injuries and 100 deaths and damaging 900 hectares of forest costing VND 1,700, according to the Department of Fire Prevention.
Source: VNA/VNS/VOV/SGGP