HCM City plans administrative zone expansion
HCM City plans to expand the integrated political administrative centre to District 2's Thu Thiem urban zone, in a new administrative area that will span more than 700ha, according to a plan by the city administration.
Under the new general plans from now until 2025, approved by the HCM City People's Committee, other administrative centres at city level will also be developed in District 9's Long Truong Ward by a further 280ha, and the new southern urban area will extend a further 110ha.
Some administrative centres will be relocated to a new 500ha-site in the north-west of the city, and others to a 200ha-site in Binh Chanh District's Tan Kien commune.
The administrative centres at local level will be placed in Hoc Mon (north of the city) and Nha Be (south of the city) Districts.
According to the plan, the city will start to develop to the east (along the new HCM City – Long Thanh – Dau Giay highway and in the urban areas along Ha Noi Roadway) and in the south (with the development in Nguyen Huu Tho Roadway).
The city will also stretch north-west along National Road 22, and west and south-west along Nguyen Van Linh Road.
The city aims to increase the housing area per capita from 16.4 square metres (2013) to 17 sq.m next year, 20sq.m in 2020, and 22.4sq.m in 2025.
Kien Giang on high alert for forest fires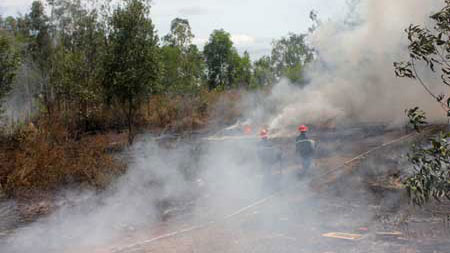 Forestry officials in the Mekong Delta province of Kien Giang have taken preemptive measures to prevent forest fires and have placed more than 10,500 ha at a high level of alert.
Much of the region, including, Phu Quoc island, U Minh Thuong, and Long Xuyen Quadrangle, have been mired in drought and the dry weather has created an overload of combustible materials which easily could ignite into flames.
The Kien Giang Forest Ranger Department reported that the prolonged draught in conjunction with a lack of precipitation not only has increased the risk of wild fires to a high level, but has caused a severe shortage of water in reservoirs and other water supply facilities necessary to combat them.
Local authorities and residents are coordinating with relevant agencies to take all precautionary measures available and recue forces have been put on standby around the clock.
Kien Giang province has allocated nearly VND7 billion (around US$350,000) for forest fire prevention and established more than 200 rescue teams with the active participation of over 5,000 local residents.
Hanoi postpones issuance of new ID cards
Hanoi has decided to delay the issuance of new 12-digit identity cards scheduled for release on April 1, according to the Ministry of Public Security.
The delay is due to several technical errors discovered during pilot issuance of the new ID cards in three districts, such as network congestion and the power leak of the photo capture devices.
Problems also arose from officials being unfamiliar with the issuance process.
All citizens 14 years old and above will be given a new ID card either when applying for a new card.
The new 12-digit ID cards are expected to provide better security as well as being more resilient and attractive. The new ID numbers will be the personal identification numbers for the life of the user.
The unified ID number is expected to replace 20 different personal documents currently used to identify an individual. They each have a separate numbering system, causing confusion in administrative procedures.
The issuance of the new ID cards aims to reduce paperwork and cut administrative expenses.
Hospitals in Hanoi overloaded due to weather change
The heat wave in Hanoi has caused an increase in ill children visiting the National Children Hospital for treatment.
The hospital has been receiving 3,500 toddlers per day, said Dr. Cu Thi Minh Hien, deputy head of the hospital's Treatment Division. This is a 20 percent increase compared to last month.
The hospital is experiencing overcrowding in many divisions.
Doctors of the Children Division of Bach Mai Hospital examine and treat around 300 children a day.
The department has only 60 beds for 160 patients. As a result, up to six children are sharing beds.
Most patients suffer from respiratory disease, rhinitis, sore throat, pneumonia and meningitis, according to hospital doctors.
Many of them below six years old have pneumonia due to complication of measles. The drastic change from wet, cold weather to hot, dry weather has affected children's immune systems.
Master lecturers allowed to extend contract
The Ministry of Education and Training just announced that professors, associate professors, and people with master's degrees in universities are now able to extend their contract after retirement if they wish.
People with master's degrees can extend their contract by five more years, associate professors can extend theirs by seven years, and professors can extend theirs by ten years.
Those who wish to extend their contracts will enjoy all benefits as regular faculty. They will be offered generous pensions for retirement.
Vietnam recalls dietary supplements
The Van Son Importer Company has been asked to recall three dietary supplements due to the US Food and Drug Administration's warning against toxic ingredients.
Super Fat Burner, Maxi Gold, and Esmeralda supplements were found containing sibutramine and phenolphthalein, two ingredients found to be toxic to human health.
The company will report a withdrawal to the Vietnam Food Administration before April 6.
Sibutramine was found to interact with prescription medications and is a risk for people with heart conditions. Phenolphthalein is an active ingredient in popular laxatives and was found to increase risk of cancer and digestion disorders.
HCMC tightens security in hospitals
A conference to enhance security an organization in medical facilities was held on March 28 by the Ho Chi Minh City Department of Health.
Nguyen Tan Binh, director of the Department of Health, asked various hospital directors to strengthen measures to ensure maximum safety in hospitals by conducting evaluations on security and emergency care.
Binh ordered the hospitals to develop strict regulations of examinations and treatments. He also ordered the establishment of visiting regulations in order to combat criminal activities in hospitals.
The department and the police signed regulations for better communications with city hospitals and police departments. These regulations include processing information management, crime, detection, and handling violations.
Local Sweet Potato Certificated Exclusive Brand name
Citizens in Dak Nong Province are thriving off of farming sweet potatoes with exports across the world.
The people in Dak Buk So of Tuy Duc District were farming rice, pepper, and corn before sweet potatoes.
In 2002, district authorities started importing Japanese sweet potatoes. A cooperative 19/5 in Dak Buk So bought the seeds for the potatoes and started producing them at 15 tons per hectare. They are sold at VND 5,000 per kilogram whereas the traditional Vietnamese sweet potato is only sold at VND 1,000 per kilogram.
Local authorizes held workshops on how to grow these potatoes. In 2013, citizens planted 50 hectares of the Japanese sweet potatoes. There is currently 300 hectares of farmland in Dak Buk So dedicated to the potato.
The Japanese sweet potato is extremely productive with Dak Buk So's climate, said Pham Thien Viet, deputy chairman of Dak Buk So People's Committee.
The first crop gave 18 tons per hectare and costing VND 6,000-8,000 per kilogram. Each hectare profited VND 40-50 million per harvest. The potato receives two harvests per year.
The province lowered the poverty rate to 16 percent. Eighty percent of households in the province are middle class.
There are 2,500 hectares of sweet potatoes in Tuy Duc District, according to the Tuy Duc Agriculture & Rural Development Department.
The Tuy Duc Sweet Potato Association was founded in 2009 to promote the crop. The Tuy Duc—Dak Nong Sweet Potato brand was established in 2012 and certified by the National Office of Intellectual Property of Vietnam under Science and Technology Ministry. It is exported to various provinces and countries worldwide.
Tuy Duc sweet potato is exported to many countries and is popular, said Tran Dinh Manh, Chairman of Tuy Duc People's Committee. We are working to build a nursery for Tuy Duc's households.
Various companies including Kim Oanh of Lam Dong Province, D.J.F. of Japan, and sub-agencies of Taiwan have set up in Tuy Duc.
The potato is processed into candies and cakes and sold at local supermarkets or exported. The potatoes are sent to Lam Dong Manufacturing Plant or HCMC to be processed into other goods.
"Dak Buk So is currently lacking a processing plant. It will be much more cost-effective if the city has its own," said Pham Thien Viet.
Other districts in Dak Nong including Dak Song, Dak Mil, and Dak G'long have also started cultivating the plant.
Every year, Dak Nong province produces 90,000 tons of sweet potatoes. Dak Nong is calling for investment enterprises to produce seeds and build a manufacturing plant at a capacity to process 70,000 tons per year in Dak Song and Tuy Duc.
High school graduation exams set for June 2 – 4
The high school graduation examinations for the 2013-2014 academic year are scheduled to take place from June 2-4, according to Deputy Minister of Education and Training Nguyen Vinh Hien.
This year, students will sit exams in four subjects instead of six subjects including two compulsory subjects and two elective subjects.
Mathematics and literature are the two compulsory subjects while the two elective subjects are among physics, chemistry, biology, history, geography and foreign languages. For foreign languages, students can choose one of six languages including English, Russian, French, Chinese, German and Japanese.
Essay tests will be used for literature, mathematics, history and geography exams; multiple-choice tests will be applied to physics, chemistry and biology exams while foreign languages use both essay and multiple-choice test formats.
According to the Ministry of Education and Training (MOET), preliminary results of the graduation exams will be reported to the MOET by June 18 and the results will be published later.
Police seize illegal timber
The local police seized an illegal consignment of 3.7 cubic metres of ironwood and truong chua (Nephelium chryseum) yesterday in the central Quang Binh Province's Quang Ninh District.
The driver of the truck, in which the timber was being transported, could not show to the police the legal documents which would prove the origin and owner of the cargo. The driver, 32, belongs to the Quang Ninh District.
The seized timber was handed over to the district's forest ranger division and would be dealt with as per the rules. The case is under investigation.
Ironwood belongs to group II category, which consists of timber that cannot be exploited or used for commercial purposes.
Student dies in Can Tho swimming tragedy
Three students were hospitalised after a swimming accident at Hau River Water Park in the southern province of Can Tho yesterday.
One student died and one remains in poor condition, although the third recovered, according to Can Tho Hospital.
The three went to the park with seven other schoolmates, who are in sixth and seventh grade at Doan Thi Diem secondary school in the province's Ninh Kieu District.
The park, which opened at the beginning of this year, attracts many students because swimming is free. However, there is also no rescue service.
Journalists receive international training
More than 100 journalists and media authorities will benefit from a workshop on investigative journalism, which was given financial support by the Embassy of Denmark in Viet Nam.
The workshop, which covered undercover reporting and editorial rules, is one of the first in-depth international workshops of its type in the country.
Representatives from the Party Central Committee's Ideology and Culture Commission, the Ministry of Information and Communications, and the Association of Vietnamese Journalists and the ambassador of Denmark in Viet Nam attended the workshop. Media experts from the United Kingdom and editors and investigative reporters from Ha Noi and Ho Chi Minh cities also participated in the workshop.
This initiative was organised jointly by the Academy of Journalism and Communication, the Centre for Journalism and Development Initiatives and the representative office of the Association of Vietnamese Journalists in HCM City.
The workshop was held in Ha Noi on Sunday and a similar workshop will be organised in HCM City tomorrow.
Ha Noi shores up flood defences
Ha Noi's Department for Agriculture and Rural Development has started to inspect dyke systems and irrigation projects ahead of the rainy season in June.
Head of the city's Flood, Storm Control and Dyke Management Department, Do Duc Thinh, said this year's weather was forecast to be unpredictable, and could threaten the safety of dykes, reservoirs and irrigation plants.
Regular inspections were necessary to minimise possible damage, he said, noting that the department had asked local authorities to prepare emergency staff and equipment in case of an incident.
Companies that operated irrigation plants and reservoirs have been asked to develop suitable water-storage plans and flood/storm prevention measures.
Ha Noi has nearly 800km of dykes, 167km of embankments and 84 flood and storm run-offs. Over 37km of dykes along the Hong (Red) River are directly protecting the city centre.
However, most dykes were made from sand on sharp bends with narrow, weak foundations.
In March, the Ha Noi People's Committee introduced a new plan to ensure dyke safety, security and urban development for an estimated cost of over VND45 trillion (US$2.13 billion).
District hospitals provide 40 percent of health care services
District-level hospitals in Vietnam now provide about 40 percent of check-up, treatment and other health care services, heard a recent seminar in the northern province of Nam Dinh.
However, these hospitals' limitations in size and capacity have led to poor service quality, prompting patients to seek treatment at central and provincial hospitals causing overloads, said participants.
To address this problem, the Examination and Treatment Management Department under the Health Ministry, the Nam Dinh provincial Health Department, FHI 360 organisation, and the US Centre for Disease Control and Prevention (CDC) jointly piloted a project on improving the capacity of district-level hospitals in Nam Dinh province.
The project was carried out from October 2012 to March 2014 at 11 hospitals in nine districts and Nam Dinh city, with CDC technical support and funding from the US President's Emergency Plan for AIDS Relief (PEPFAR).
Speaking at the seminar, Bui Thi Minh Thu, Director of the provincial Health Department said the grassroots-level health system, including district hospitals, plays an important role in caring for public health in localities and ease overloads in central and provincial hospitals.
Therefore, the project creates an effective model which should be expanded to other provinces, she said.
Measures for central coastal seafood growth
A conference was held on March 29 in the central coastal province of Phu Yen to look at measures to promote trade for sustainable aquatic development in the region.
With nine provinces and cities, the region is endowed with a coastline of 1,400 km –making up 43.8 percent of the nation's total shoreline, and extensive fishing grounds, particularly Hoang Sa and Truong Sa.
Figures from 2012 show the region is home to 46,201 fishing boats and over 200,000 fishermen. The area for aquatic cultivation was estimated at 33,778 ha, producing over 180,000 tonnes of produce worth 27 trillion VND (1.3 billion USD).
Attendees put forth a number of solutions to develop the industry in a sustainable manner, such as restructuring the sector by increasing added value, promoting the links between fishermen and businesses, perfecting the fisheries infrastructure system, and enhancing the quality of human resources.
The application of new cutting-edge technology and bettering policies in the field are two of the measures needed to realise the target, participants said.
Many scientists have also proposed the Government enforces incentives linking high-class tourism and aquatic development with protecting the national sovereignty over seas and islands.
The conference is part of the 2014 Seafood Festival which is underway in Phu Yen province (March 27 - April 2).-
Workshop reviews water improvement for ethnic minorities
Experts gathered at a seminar in Hanoi on March 31 to share experience in implementing a project to enhance gender equality and improve water, hygienic and environmental conditions in ethnic minority-inhabited areas in northern Vietnam.
Co-organised by the Vietnam Red Cross (VRC) and the Office of the French Red Cross in Vietnam, the event reviewed achievements and challenges in the implementation of the project in the three northwest provinces of Dien Bien, Son La and Lai Chau.
It also offered a chance for concerned parties to draw lessons and seek to expand the clean water and hygiene models in other areas, laying a foundation for the effective implementation of subsequent projects in the country.
Speaking at the event, VRC Vice President Tran Thi Hong An said that the project, carried out between January 2011 and March 2014, included the gender issue in strategic documents and raised the capacity of the VRC, women's unions and authorities of the targeted communes as well as public awareness of gender and clean water.
However, it still saw challenges in participating areas and people, unstable capacity improvement, and the low feasibility and sustainability of water and hygiene models.
The project had a total investment of VND7.5 billion (US$357,000), 75 percent of which came from the European Union (EU), with the remaining provided by the French Red Cross.
Thanks to it, 7,500 locals were provided with knowledge on gender, hygiene and clean water. About 300 households and some agencies and organisations gained access to safe water.
As many as 180 cadres of the VRC, women's unions, administration and agencies in targeted communes were provided with gender training.
Deputy PM welcomes Harvard professor
Deputy Prime Minister Nguyen Xuan Phuc has suggested adviser of the Harvard's Vietnam Programme, Professor Thomas Vallely greatly help boost Vietnam-US education and training cooperation.
At a March 31 reception for the US guest in Hanoi, Phuc spoke highly of the contributions of Prof. Vallely as well as Vietnam Executive Leadership Programme (VELP) staff, which is a collaborative initiative of the Vietnamese Government, the United Nations Development Programme (UNDP) and the Vietnam Programme at the Harvard Kennedy School.
He praised the VELP for providing a forum for Vietnamese senior policymakers as well as business leaders to participate in research-based dialogue on policy challenges confrontingVietnam and the world.
Prof. Vallely also applauded Vietnam's efforts to preserve cultural and education values and its renewal achievements in socio-economic development over the past years.
He said will do all he can to improve the quality of Vietnamese teaching at US universities as a contributions to enhancing the education partnership between the two countries.
Science and technology innovations exhibited
A science and technology exhibition opened at the Hanoi-based Ho Chi Minh Museum on March 31, showcasing Vietnam's latest advancements and state of the art innovations in the field.
The event, which will run until April 24, introduces 124 of the best researches and solutions selected from thousands of entries in national science and technology competitions.
Professor Dang Vu Minh, Chairman of the Vietnam Union of Science and Technology Associations (VUSTA), said the works on display relate to a variety of spheres, including information technology, electronics, telecommunication, mechanics, automation engineering to name only a few.
In addition to receiving 19 national awards for innovativeness and 12 awards for technical creativity, many innovators for a number of the works brought them to fruition and resulting in enormous practical contributions to modern day life.
In particular, the annual Scientific and Technological Innovation Award has attracted the attention of a large number of scientists and researchers from institutes and academia eager to contribute to the development of science and technology.
Dialogue focuses on empowering women and girls
Roughly 150 delegates from state management agencies, research units, non-governmental organizations (NGOs) on March 31 attended a dialogue in Hanoi aimed at strengthening the involvement of women and girls in the social welfare system.
Addressing the opening ceremony, Pham Thi Hai Chuyen, Minister of Labour, Invalids and Social Affairs emphasized that the development of the social welfare system is one of top priorities in Vietnam's socio-economic development strategy.
The Vietnamese Party and State have always paid special attention to promoting gender equality and have implemented several important policies to create amore favourable framework and environment conducive to the attainment of gender equality in general and much improved social welfare in particular.
Minister Chuyen dilated on the challenges faced by women and girls resulting from issues related to the recent economic downturn, impact of climate change, and inefficiency in integrating gender in social welfare policies.
At the talk, Under-Secretary-General and Executive Director of the United Nations for Gender Equality and the Empowerment of Women (UN Women) Phumzile Mlambo-Ngcuka said that social welfare is seen as a foundation for gender equality and empowerment of women.
However, she noted that an estimated 5.1 billion people (some 75% of the world's population) have not yet fully enjoyed the benefits of accessing social welfare.
She emphasized the importance of social welfare to each nation's development, especially in the fight against poverty. Social welfare plays a key role for governments in implementing the eight millennium development goals (MDGs), she concluded.
The UN official said that the Vietnamese Government has affirmed the need of social welfare since 2001 and the adoption of government's resolution in 2012 has reflected the country's strong political commitments in socio-economic development.
Mlambo-Ngcuka said her organization has co-ordinated with the Vietnamese Government in implementing several programs to promote gender equality and raise public awareness about ensuring Vietnamese women's rights.
It has also committed to further supporting the Vietnamese Government's efforts in strengthening social welfare and justice in the future.
New rural area programme helps to improve local life
The living standards of people in HCM City's suburban areas have improved significantly thanks to the "new rural areas" national programme, delegates told a review meeting on Sunday.
In Xuan Thoi Thuong commune in Hoc Mon District, infrastructure and people's livelihoods have improved, with many transport projects, healthcare and cultural facilities, schools, and others operating there, Van Thi Bach Tuyet, chairwoman of the district People's Committee, said.
Xuan Thoi Thuong Commune is one of six communes in the city chosen to participate in the programme, the others being Tan Thong Hoi and Thai My in Cu Chi District, Tan Nhat in Binh Chanh District, Nhon Duc in Nha Be District, and Ly Nhon in Can Gio District.
The programme seeks to develop infrastructure and production, improve livelihoods, protect the environment, ensure social security, culture, and other aspects by creating jobs, providing loans, and training people.
Speaking at the meeting, Nguyen Phuoc Trung, director of the city Department of Agriculture and Rural Development, said the six communes have fulfilled all of the programme's 19 criteria related to transport, irrigation, housing, poverty mitigation, and political and social security among others.
The average per capita income in these communes has risen significantly, he said, adding that in Xuan Thoi Thuong Commune for instance it increased to VND32.2 million (US$1,524) from VND29.5 million ($1,396) a year earlier.
Huynh Cach Mang, chairman of the Can Gio District People's Committee, said living standards have improved and every house has access to the power grid as well as clean water.
Last year the city expanded the pilot programme to 50 other communes. Trung said it carried out more than 1,500 traffic, irrigation, electricity, and educational works and rebuilt 730 dilapidated houses at a cost of VND3.9 trillion ($184.7 million).
Besides, more than VND7.4 trillion ($355 million) was invested in agricultural development to improve people's income and reduce poverty, he said.
The poverty ratio – households with a yearly average income of below VND12 million ($568) are classified as poor — has fallen from 5.77 per cent in 2010 to 1.15 per cent now, he said.
This year the city would ensure that at least 17 other communes fulfill a minimum of 17 of the criteria, and all other communes meet at least 15, he said.
Le Thanh Liem, deputy chairman of the city People's Committee, said the city also targets replacement of all dilapidated and temporary houses this year as part of the programme.
Trung said the city needs around VND9.78 trillion ($463.2 million) to invest in basic infrastructure, restructuring production, education, healthcare, and cultural activities in these areas this year.
Regulation aims to curb overloaded container trucks
The Viet Nam Register Department under the Ministry of Transport now requires all container truck drivers to attach photos of their original truck to the registration certificate. The move aims to stop drivers from using oversized cargo tanks following recent reports by the Viet Nam Road Administration that overloaded trucks seriously damaged roads. Thousands of billions of dong from the State budget have been spent to repair National Highways 1, 5 and 10 as well as the Phap Van-Cau Gie and Thanh Tri Bridge routes.
In some provinces where mines and quarries, border gates and seaports are located, heavy container trucks operating day and night have destroyed the narrow roads.
In Ha Noi, there are about 121 transport enterprises with over 850 trucks. More than 16,170 container trucks operate nationwide; 75 per cent of them have expanded containers to carry more cargo, according to the Viet Nam Register Department. Some have even renovated their containers to carry a volume of cargo three times higher than the original size.
Nguyen Hoang Linh, deputy director of Ha Noi's Transport Department, said that after the register department approved the renovation of cargo tanks in 2012, many drivers took advantage of the decision to carry excess cargo. While 40-tonne trucks should not have been allowed to be imported into the country as they were not suitable for domestic roads, the department agreed and simply required transport enterprises to carry less than 20 tonnes of cargo, he said. However, no authority conducts inspections to see whether transport enterprises comply with this requirement.
Nguyen Huu Tri, deputy director of the Viet Nam Register Department, said requiring photos of the original truck would help pinpoint violators, who would be required to cut the containers down to size on the spot.
Drivers of the thousands of trucks licensed to get their containers expanded before 2012 would receive certificates with stamps. These drivers would also be fined if found carrying excessive cargo.
Recently, the Viet Nam Road Administration installed 63 scales nationwide to weigh trucks on highways.
The ministry is chalking out a draft decree on transport conditions, which requires that trucks with capacities higher than 10 tonnes be equipped with black box recording devices.
Poor Can Tho households to access clean water for first time
More than 5,830 rural households across the Mekong Delta city of Can Tho will gain access to clean water from eight supply facilities by the middle of this year, as the result of a World Bank-funded project.
This is part of a large project on water supply and rural environmental sanitation in the Mekong Delta region, funded by the World Bank until 2016.
From now to 2020, the city plans to build 182 clean water facilities with a total capacity of 112,000 cubic metres per day, install 2,800 kilometres of new water pipes and dig thousands of wells, in order to help all locals access sanitary water.
Meanwhile, water plants in the city will also be upgraded to meet the increasing demand of local people.-
Sea grape cultivation to benefit Truong Sa island district
The Nha Trang Institute of Oceanography has finalised a project to transfer techniques in cultivating, processing, and preserving edible seaweed to soldiers living in Truong Sa island district, in the central coastal Khanh Hoa province.
A project to grow the 'sea grape' species has been piloted at Navy Zone 4 in the province's Cam Ranh city for one year, bringing about many positive outcomes. Sea grapes grow rapidly and are able to produce a maximum of 10kg per square metre, according to Nguyen Xuan Hoa from the institute's marine flora department.
Sea grapes, rich in nutrition, take up a relatively small space, are easy to nurture and are well suited to island environments such as Truong Sa.
Some 40 local officers and soldiers on the island have received training in farming techniques and methods to preserve the sea grapes.
Once processed, sea grapes are used in many traditional dishes in Japan and the Philippines.
This edible species has been farmed elsewhere in Khanh Hoa in recent years, reaching a high economic value.-
Vietnam strives for happiness
Pursuing happiness has long been underlined as one of the key principles of the Vietnamese Party and State, which can be seen in the official headline of all documents "Independence-Freedom-Happiness".
In celebrating for the first time the International Day of Happiness on March 20, Vietnam has chosen the theme of the day as "Love and Sharing", in connection with the 2013 Family Year of "Connecting Love".
Deputy Head of the Family Department under the Ministry of Culture, Sports and Tourism Tran Huong Duong said activities organised on this occasion all aimed to encourage citizens to join hands in developing welfare and building warm and progressive families.
The annual celebration was founded in June 2012 by the United Nations General Assembly. As many as 193 member countries, including Vietnam, have pledged to jointly build a merrier world.
Happiness is celebrated on March 20 as each year on this date a universal phenomenon occurs: The sun is on the same plane as the earth's equator so that day and night are of equal length, creating balance in the earth's celestial coordinate systems.
The UN wants to spread the message that balance and harmony are the keys to happiness.
In 2012, Vietnam was ranked as the world's second happiest country by the UK's New Economic Foundation, behind Costa Rica .
Vietnamese were ranked the 63rd merriest people on the planet, according to a 156-nation survey published by Colombia University's Earth Institute in 2013.-
Mitigating air pollution needs public effort
People from all walks of life should join hands to protect the environment through small practical deeds.
This is the message from the "20 seconds for green Earth" project, which encourages commuters to switch off their engines at red lights to reduce the amount of emissions.
Air pollution has become increasingly serious as a result of 6 million bikes travelling in the city.
The level of lead rose by a maximum of 36 percent in 2013 over the previous year, according to the municipal Department of Environmental Protection.
Professor Nguyen Van Phuoc, President of the Institute for Environment and Natural Resources, said ecological pollution is a festering issue in Vietnam and Ho Chi Minh City in particular due to rapid urban development and the increase of gases from vehicles and industries.
It is also blamed for deteriorating public health and contributing to the greenhouse effect, Phuoc added.
The number of people suffering from respiratory problems - mainly caused by polluted air - accounts for 3-4 percent of the population, according to Nguyen Dinh Tuan, former Rector of the Natural Resources and Environment University.
Statistics also indicate that the percentage of people with breathing difficulties in developing cities such as Hanoi , Ho Chi Minh City and Hai Phong is 4-5 times higher than that in poor localities like Dien Bien and Bac Can.
Ho Chi Minh City has employed various measures to control air quality. For example, commuters are encouraged to use clean fuel such as ethanol and biological oil to reduce gas emissions.
The city is also piloting a number of buses running on Compressed Natural Gas (CNG) – a clean fuel, which has proved effective and saved around 30 percent of fuel costs.
Municipal authorities have also concentrated on developing green industry and clean manufacturing technology.
Environmentalists said residents are the main participants in activities causing environmental pollution and they themselves have to incur the consequences. Therefore, protecting the environment is not only the responsibility of local authorities but also of each citizen, experts said.
Sharing this viewpoint, Professor Phuoc stressed the need to call on the whole community to take part in the environmental management system, and the public should be informed of statistics relating to the field and enhanced awareness of the issue.
Additionally, it is suggested that residents are encouraged to change their daily habits that badly affect the environment and use public transport or bicycles.-
Dong Nai puts water supply system into operation
The first phase on the Nhon Trach water supply in the southern province of Dong Nai became operational in late March.
The plant cost 2 trillion VND (95 million USD), and was funded by Japanese ODA, according to Dang Trong Thanh, Director of the Dong Nai Water Supply Company.
With a capacity of 100,000 cubic metres per day, it is expected to supply clean water to Tam Phuog and An Phuoc communes in Long Thanh and Nhon Trach districts.
The project was approved by the Prime Minister and began construction in 2008.-
Lai Chau households vulnerable from natural disasters
More than 1,100 households in the northwestern mountainous province of Lai Chau are residing in areas that are prone to natural calamities, such as Tan Uyen, Tam Duong and Sin Ho districts.
Since 2000, over 450 disasters occurred in the seven local districts, claiming the lives of 26 people, leaving 15 injured and destroying 350 houses. The total economic damage was estimated at over 130 billion VND (61 million USD).
Local authorities have directed the Steering Committees of Storm and Flood Prevention of all districts to warn locals of the risk of disasters, while using capital sources from national target programmes to cope with the issue.
Despite an annual average economic growth of 13 percent over the past decade, Lai Chau remains one of the most impoverished provinces in Vietnam, ranking eighth out of the 15 regional provinces in new-style rural area performance.
Its rate of poor households stood at 27.22 percent last year.
According to the World Bank, Vietnam is ranked as the seventh most exposed country in the world to multiple natural hazards including floods, tropical cyclones, tornados, landslides and droughts. About 60 percent of the total area of the country and 71 percent of the population are exposed to cyclones and floods.
In 2013, Vietnam was hit by no less than 15 tropical cyclones. Therefore, the Government has been taking disaster response preparation very seriously.
VNA/VNS/VOV/SGGP/ND