SOCIETY IN BRIEF 8/4
ADB helps Thua Thien-Hue develop green urban areas; Over 100 illegally-traded air guns seized; HCM City looks to combat rising child obesity; Red Cross projects secure local partnership
ADB helps Thua Thien-Hue develop green urban areas
The Asian Development Bank (ADB) has agreed to provide financial support for a project to develop urban green areas in the central province of Thua Thien-Hue.
The project, part of ADB's "Green Cities: A Sustainable Future in Southeast Asia" initiative, will focus on protecting the environment, promoting sustainable economic growth, and ensuring value-life balance.
Under the bank's assistance, green economic zones will be developed together with increasingly improved standard of living.
ADB selected Thua Thien-Hue as one of its aid recipients, with a view to upgrading infrastructure and adapting to climate change.
Chairman of the provincial People's Committee Nguyen Van Cao affirmed that Thua Thien-Hue is striving to become an ecological city which targets a green economy, an effective use of energy and other natural resources, and an environmentally friendly lifestyle.
So far, ADB has funded 16 projects worth US$123 million in the province, mostly on environmental protection, technology transfer, and capacity building.
Currently, Thua Thien-Hue is implementing projects on biodiversity conservation, tourism development, and water supply.
Over 100 illegally-traded air guns seized
Customs officers have seized 104 air guns, 21 ammo boxes and 105 mufflers in Ho Chi Minh City' District 7.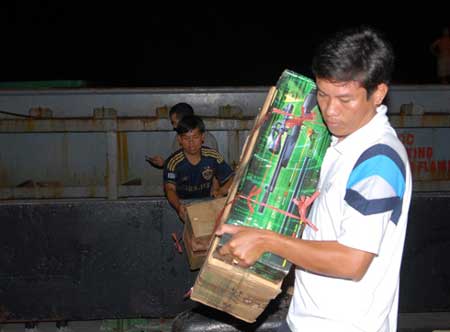 Photo: VOV
Relevant forces raided a ship en route from Indonesia to Vietnam as soon as it docked at Tan Thuan 2 seaport on April 5 and found the guns.
Captain Le Manh Hung, 53, from Haiphong, and five crewmembers aboard the ship did not give any evidence tracing the origin of the consignment.
The weapons were confiscated for further investigations.
HCM City looks to combat rising child obesity
HCM City's Nutrition Programme for 2013-15 will focus on combating obesity and non-communicable diseases among primary-school students, a conference heard on Friday, April 5.
Do Thi Ngoc Diep, director of the HCM City Nutrition Centre, said the ratio of overweight and obese children was 38.5 per cent last year.
For children under five, the ratio was lower at 11 per cent. In that age group, the ratios of underweight and stunted children were the lowest in the country at 5.3 per cent and 7.6 per cent, she said.
Early intervention measures including setting up appropriate dietary intake and physical activities to reduce the increasing rate of obesity among children would also help them combat non-communicable diseases, she said.
The overweight and obesity ratio among women of reproductive age in the city is also high, jumping to 35.7 per cent last year, she said. Prevalence of diabetes among adults was 7 per cent.
The city would spend VND42.75 billion (US$2.05 million) for its nutrition programme, including prevention of malnutrition, obesity, and iodine and vitamin A deficiencies, she said.
HCM City has the highest rate of overweight and obese children in the country, Le Thi Hop, head of the National Institute of Nutrition, said.
Viet Nam has more than seven million children aged under five, with underweight and stunted children accounting for 16.2 percent and 26.7 per cent of them, she added.
Red Cross projects secure local partnership
A new joint programme between the Viet Nam Red Cross (VRC) and nine agencies and businesses seeks to raise public awareness of humanitarian values and mobilise resources to help people living in difficulty.
Together with Viet Nam Television (VTV), the Voice of Viet Nam (VOV), the military-run telecom company Viettel and six other entities, the VRC will devote this year's resources to VND30 billion (US$1.43 million) Cow Bank project to provide 2,900 cows to residents in the country's 62 poor districts.
The agencies also plan to work together in communications and fundraising activities, especially around Tet and during a planned movement to help Agent Orange victims at the beginning of 2014.
Speaking at the signing ceremony, State President Truong Tan Sang called on organisations, businessmen and donors to get involved in VRC's humanitarian programme while praising the Red Cross society for its many achievements in recent years.
"Strengthening co-operation in humanitarian activities between ministries, sectors and enterprises, along with the Party and Government, would help underprivileged people live better lives both materially and spiritually," said Sang.
At the event, VRC received more than VND20 billion (over $950,000) in donations for the Cow Bank programme and its humanitarian fund, including $300,000 from the SBV, $240,000 from Miwon Viet Nam Company, $170,000 from the Viet Nam National Oil and Gas Group, $170,000 from Viettel Corporation and $100,000 from Coca-Cola Viet Nam.
Company ready to sell safe helmets
The National Traffic Safety Committee recently announced another programme for exchanging substandard helmets in Ha Noi and HCM City and other provinces this month and next month.
Accordingly, the Chi Thanh Plastic Company will sell discounted helmets in 39 locations in Ha Noi and one location in the northern province of Thai Binh as well as various places in Ha Noi's suburbs and Hai Phong port city. Protec, Samnec and Hitech helmets will be exchanged in Hai Phong City and Ninh Binh Province. HCM City also plans to organise a similar programme in 24 districts this month.
More efforts needed to realise MDGs
UN Resident Coordinator Pratibha Mehta has urged Vietnam to make greater efforts to fulfill the UN Millennium Development Goals (MDGs) as there are only 1,000 days to go before the MDGs expire.
Pratibha Mehta said after ten years of implementing the MDGs (2000-2010), Vietnam is one of several countries that has made significant progress towards achieving the goals.
The result was recognised internationally at the 2010 Global Summit on the MDGs, where Vietnam ranked sixth in terms of both absolute and relative progress, she added.

She praised Vietnam's important achievements in reducing the level of poverty from 58.1 percent in 1993 to 14.5 percent in 2008. She also commented on the country's performance in the areas of gender equality, education and children's health.

Despite the impressive national progress, efforts are still needed to put these goals in place in every village, city and province, she said.

Thirteen years ago, President Tran Duc Luong joined 188 world leaders at the UN headquarters in New York to sign the UN Millennium Declaration.

The leaders committed to cutting the rate of poverty in half, fighting against climate change and diseases, and addressing issues regarding water shortages, environmental sanitation and education, as well as creating more opportunities for girls and wom.
Transnational drug trafficking busted
Border-guard forces in the central province of Ha Tinh on April 4 thwarted an international drug trafficking ring from Laos to Vietnam.
They arrested Hanoian Nguyen Nam Phuong, born in 1983, as he was attempting to transport drugs from Laos into Vietnam via the Cau Treo International Border Gate.
Two plastic bags were seized. One contained 1,557 ecstasy pills weighing 109g while the other was packed with 15.4g of synthetic drugs. The illicit substances were hidden in a teddy bear and two second-hand mobile phones.
Relevant agencies are broadening the scope and scale of their investigations.
Nghe An to spend big on irrigation system
Nearly US$274 million will be allocated to upgrade the irrigation system in the central province of Nghe An from 2013-19 to ensure water for nearly 28,000 hectares of agricultural land and daily use.
Ho Duc Phoc, chairman of the provincial People's Committee, said the project, funded mostly by the Japan International Cooperation Agency (JICA), would contribute to meeting water demands for not only agricultural purposes but also daily use and industrial production.
Japanese Ambassador to Viet Nam Yasuaki Tanizaki said at his working session with provincial leaders on Friday that the project would help the province's hunger eradication and poverty reduction programmes as well as adaptability to climate change and rising sea levels. Under the project, the North Nghe An irrigation system will be fixed and upgraded to water nearly 28,000 hectares of land.
The system will be improved to also supply water for daily use and the Dong Hoi Industrial complexes.
The 75-year old system is in desperate need of repair and is currently only able to water half the area it was designed for.
The province would facilitate the implementation of the project with the Ministry of Agriculture and Rural Development, JICA and relevant agencies, the ambassador said.
This is one of 11 projects under loan agreements worth nearly US$1.9 billion signed by Deputy Minister of Finance Truong Chi Trung and JICA Chief Representative Tsuno Motonori on March 22.
Highway stretch sees many crashes
A 14-km stretch of National Highway 20 in southern Dong Nai Province's Dinh Quan District has been under repair due to serious damages.
The stretch of road accounts for over 75 per cent of the traffic accidents in the district – a statistic many attribute to the lack of lanes.
According to the provincial authorities, 10 people died and five others were injured in accidents there since early this year.
"Smart Start for Students" festival in HCM City
More than 3,000 students and their parents from nearly 20 high schools in Ho Chi Minh City joined a "Smart Start for Students" festival at the Marie Curie High School on April 7.
At the event, co-organised by the city's Department of Education and Training, Save the Children International Organisation and the Citi Fund, students and their parents exchanged their views with psychological experts on money-related issues.
Studies on students' spending habits and communication skills between parents and children on financial management were also shared during the day.
Besides, participants were provided with financial management skills and took part in physical games to practise their skills and patience.
The Citi Fund-sponsored "Smart Start for Students" project has been implemented in HCM City since December 2009 to improve students' knowledge and skills on personal financial management.
Traffic accident injures four people
Four people were injured after a truck crashed into a Mai Linh Group taxi on Saturday on a stretch of National Highway 1A in Central Ha Tinh Province.
The truck driver and the taxi's two passengers were taken to Ha Tinh Province's General Hospital for treatment. The taxi driver was taken to a hospital in Ha Noi.
Both the truck and taxi were destroyed by the crash. The case is under investigation.
Earthquake hits Tranh River dam
An earthquake of 3.8 magnitude hit Tranh River Dam 2 in central Quang Nam Province's Bac Tra My District yesterday morning, April 7.
The earthquake, which caused strong tremor during three to five seconds, was the 10th in the province in the last two months.
No damages were reported.
VNN/VOV/VNS/VNA