Investigators of the Ministry of Public Security (MPS) have issued arrest warrants for 22 people who are allegedly involved in a large-scale online gambling ring, operating on the Fxx88.com website.
92 to be prosecuted for involving in online gambling ring
Indictment announced for online gambling case in Phu Tho
Procuracy proposes harsh punishments against former top cops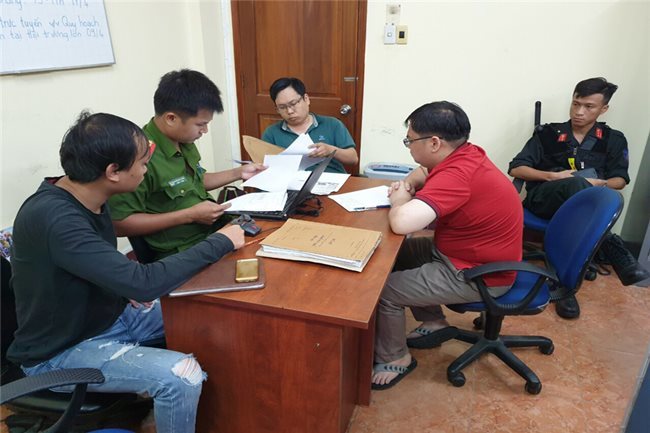 A police officer questions a suspect in the online gambling ring case – PHOTO: MPS
MPS in a statement released yesterday, April 25, said that 12 suspects out of the 22 were in charge of organizing gambling games, including one foreign national acting as the leading organizer, while the other 10 were players.
Cyber-security and anti-cybercrime police at MPS' Criminal Police Department earlier discovered the online gambling ring, which was organized in multiple provinces and cities in the country, hosted by the site Fxx88.com on a server outside Vietnam.
On April 23, under the MPS' direction, more than 30 working teams of police officers carried out raids in many localities, including Hanoi, HCMC, Khanh Hoa, Phu Yen and Ca Mau, and captured the suspects.
The police also seized many luxury cars, such as Porsches and Audis; a large sum of cash; bank cards with large bank balances; hundreds of electronic devices; and other items related to gambling activities.
The suspects confessed to organizing and running the ring.
The MPS' investigators are now expanding the investigation into the case. SGT