Most of the children at the Tin Thac Charity House are nicknamed after fruits, vegetables or animals.
 Nun offers home to homeless children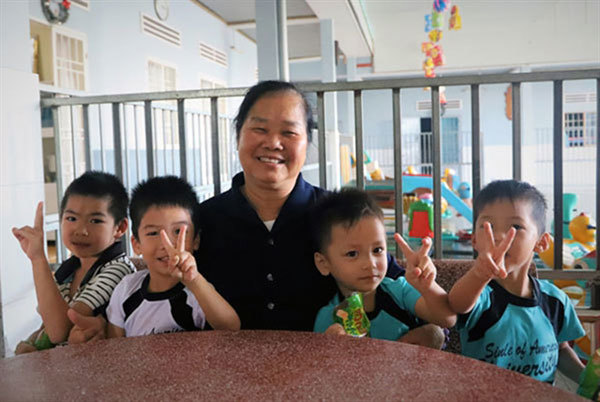 Sister Nguyen Thi Huong with the children she took in and cared for at Tin Thac Charity House in Bao Loc City, the Central Highlands province of Lam Dong. — Photo thanhnien.vn
Sister Nguyen Thi Huong, 71 years old, one of the founders of the charity house in Loc Thanh Commune, Bao Loc City, the Central Highlands province of Lam Dong, said the nicknames were chosen based on the characteristics of the kids.
The boy named Gau (Bear) is very fierce, another boy named Khi (Monkey) is stubborn, while most of the kids have An (Grace) in their names.
So visiting the house can get pretty confusing, with shouts of "Where's Banana Grace?" or "Tell Rabbit Grace to keep it down!"
Huong said that 10 years ago, she found a newborn boy weighing only 1.3 kg wrapped in a woman's shirt in a box near her house.
She carried the boy home, bathed him then kept him warm and went asking for milk for him. The boy was called Phuc An.
Huong and other nuns all in the house took care of An and raised him into a healthy boy.
Since then, whenever they find abandoned babies, local people bring them to the Tin Thac Charity House as they know the poor kids will be cared for by the kind nuns.
In the first year of opening of the charity house, the nuns received and took care of six children. Now, it is home to 107 kids aged from 2 months old to 10 years old, and Phuc An, of course, is the oldest brother in the family.
The house has been expanded from a modest area to about 4,600sq.m with rooms for studying, sleeping, eating and playing.
"We want to bring the kids not only food to eat and a house to stay in, but also a place to call home," Huong said.
The older kids helped the nuns with chores, feeding and carrying the smaller ones, she said.
Sister Nguyen Thi Thu Van said it was a big challenge for them to raise the children.
Most of them were abandoned when they were few days old and were found in plastic bags, boxes or bowls left in bushes, roadsides or in front of churches. They cried from the lack of milk from their mothers and had been bitten by bugs.
"Those factors made them very vulnerable to sickness," Van said, adding that some children had even suffered from brain damage.
Sister Pham Thi Duc Hanh said the nuns needed at least VND200 million (US$8,500) a month to operate the charity house, half of which was provided by the Sister Adorers of the Holy Cross Da Lat while the rest came from donations as well as State support for orphans.
Hanh said that funding for milk, medicine and school supplies for the children were prioritised.
Tran Thuy My, a Vietnamese-British girl, said that she spent a week of her vacation in Vietnam at the Tin Thac Charity House as a volunteer to help the nuns take care of the children.
She said previously, her UK-born brother returned to Vietnam to visit their grandparents and his friends told him about the charity house.
"I was moved to hear about the kids and the sisters at the charity house, so I wanted to visit," My said.
Nguyen Cong Chuyen, head of Loc Thanh Commune's Father Front Committee, said local authorities appreciated the good deeds of the nuns and helped the abandoned kids get birth certificates, residency books and health insurance.
Sister Huong said they tried to afford schooling for the children so they could grow up and better themselves.
"We hope that what we do can help reduce sad stories in this life and the orphans could find a warm home," Huong said.
Huong herself suffered from ovarian cancer, which she said is "eating her body from inside out to the point of exhaustion".
"But everytime I think of the sufferings that the abandoned kids have been enduring, the pain in me seems to subside," she said. "For every act of care for them, I feel more energised. Since the house was established, I have sworn to give my life to look after the kids."
VNS