A Vietnamese academic, Hanh Nguyen, has won the 2019 Regulating for Decent Work Prize from the International Labour Organisation (ILO) for her study of the conditions of female migrant workers in Myanmar's garment factories.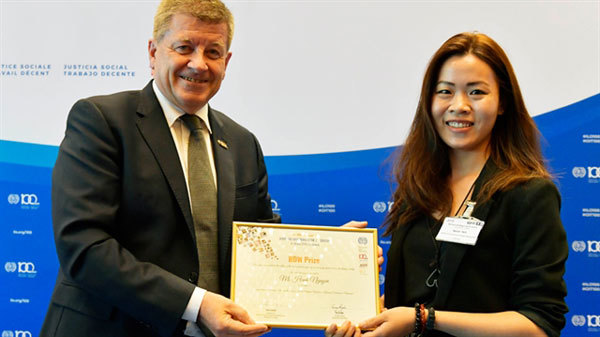 ILO Director-General Guy Ryder presents the 2019 Regulating for Decent Work Prize to Hanh Nguyen in Geneva, Switzerland. — Photo courtesy of ILO
The paper, titled "Expectations vs Reality: The Well-being of Female Migrant Workers in Garment Factories in Myanmar", focused on workers' well-being within the context of the economic and social transition in Myanmar.
The award was presented by ILO Director-General Guy Ryder at the conclusion of the 6th Regulating for Decent Work Conference, held at the ILO's Geneva headquarters.
The prize recognises the best paper by an emerging scholar from a developing country.
Hạnh said she planned to turn her paper into policy recommendations.
"The recommendations will be submitted to the Ministry of Labour, Immigration and Population of Myanmar as concrete action to empower female migrant workers in garment factories," she said. "This has never been in place in the country before."
In her research, Hanh examined how the concept of material and non-material well-being is understood, as well as the experiences of female migrant workers in the labour-intensive garment industry.
She presented her paper at the three-day conference which brought together researchers from across the world to discuss new ideas and policies that could help shape a better future of work.
VNS