African swine fever (ASF) continued to spread in the north including across the capital Hanoi with more than 120,780 infected pigs already culled, the city's Department of Agriculture and Rural Development said.
How was African Swine Fever discovered in Vietnam?
African Swine Fever continues raging Central Vietnam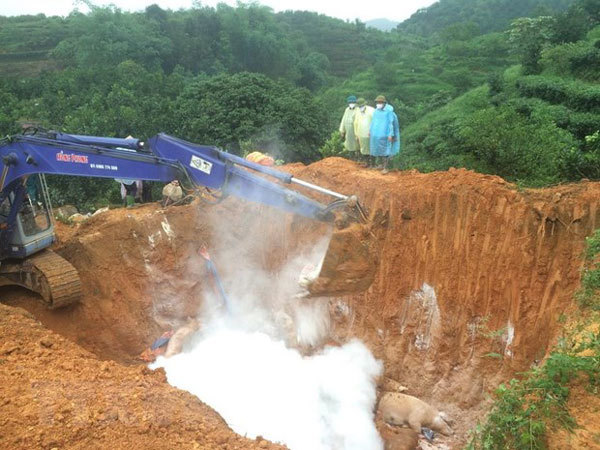 Infected pigs are culled in the northern mountainous province of Yen Bai. — VNA/VNS Photo Ngoc Anh
Speaking at a press conference on Tuesday, director of the department's Animal Husbandry and Veterinary Division Nguyen Ngoc Son said outbreaks had been reported in all 24 districts and towns across the city.
ASF has hit large-scale pig farms with high bio-security security, as well as 7,760 pig farming households.
Son said specialised forces had been sent to quarantine checkpoints to prevent it from spreading.
In Chuong My District, 36 checkpoints have been established to work around the clock at 15 infected communes to prevent and control the epidemic.
Localities have been asked to supply materials and chemicals for farming households to disinfect and sterilise infected areas.
In the northern mountainous province of Yen Bai, new outbreaks were reported between May 7 and 14.
On May 14, vice chairman of the provincial People's Committee Nguyen Van Khanh held a working meeting with localities in an attempt to stop the devastating outbreak.
Khanh stressed that the risk of the virus spreading further was high while the virus had high resistance and there were no vaccines available for it.
He called for drastic measures to protect nearly 500,000 pigs belonging to 49,000 households in the province.
All infected pigs must be culled. The affected areas must be sterilised and placed under quarantine. Checkpoints must be set up to trace the origin of the pigs, he said.
Local people must report pigs that show sign of illness.
Prevention in disease-free areas must be strengthened, he added.
Currently, the province has supplied 620 litres of chemicals to spray infected and surrounding areas.
Figures from the department showed the disease had been found in 465 pigs belonging to 47 farming households in Van Chan, Tran Yen, Tram Tau communes and Nghia Lo Town by May 13.
In northern Thai Nguyen Province, as many as 8,960 pigs have been culled.
Le Duc Vinh, head of the provincial sub-department of Animal Husbandry and Veterinary Division said the province had set up nine inter-disciplinary inspection teams to scan all slaughterhouses and vehicles transporting pigs in and out of the province.
The protection of original breeds of pigs at the Animal Breeding Centre was among the priorities. It had applied biosecurity measures and stayed free from the disease, he said.
The province has issued a decision to pay compensation of VND24,000-36,000 (US$1.04-1.5) per kilogramme of pork for infected households.
VNS