Early Thursday morning, Quynh Anh found a footprint on her apartment building's elevator control panel.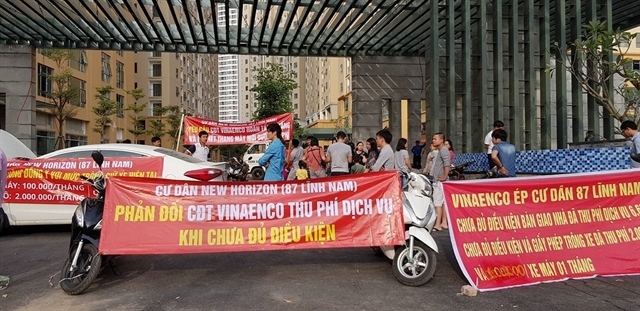 Residents of New Horizon City, a development in Hà Nội, protest the investor's improper collection of service fees in late 2017.
"It seems like someone tried to push a button using his foot," Anh told Việt Nam News. "What a shameful thing to do."
Quỳnh Anh has recently moved to the new residence on Hà Nội's Minh Khai Street.
For the first time in her life, the woman in her mid-20 is living in an apartment. When she moved in, she was expecting to enjoy a modern and easy lifestyle.
But the experience has not been so positive.
"Although I do not spend that much time here, anytime I come home it is a different disappointment," she said.
"I find a lot of things to complain about – dirty halls, discarded gum on the handrails and noisy neighbours who sing karaoke without closing their doors," Anh added.
Hà Nội has witnessed the rapid construction of modern condominiums, gradually replacing old-style community houses.
However, not everybody has been quick to adapt to the new environment.
"A lot of people are not ready to give up habits which they acquired when living in independent houses in order to integrate into the new community in the apartment," said Thiên Bình, another resident of Quỳnh Anh's building.
"They even left an emergency exit door open to let in the wind, posing a danger to their own lives and others in case of a fire," Bình said.
Among the more than 700 apartment buildings coming into operation in Hà Nội, the complex where Thiên Bình and Quỳnh Anh live is not an exception.
Nguyễn Hoài Việt, head of the management board of New Horizon City, a group of four apartment buildings in Hoàng Mai District, said some flat dwellers would just toss rubbish out of their windows on the upper levels or even steal helmets left on the motorbikes in the parking area.
However, residents have not approved of any punishments for these behaviours so the board has not imposed any fine or other forms of penalties.
Nguyễn Ngọc Hải, a resident representative at Tràng An Complex on Cầu Giấy District's Phùng Chí Kiên Street, said that although 878 households live in the area, there had not any meeting with more than 300 people in attendance.
To establish a resident representative board, they had to go knocking on the door of every apartment, asking for people's votes.
According to Hải, other meetings to discuss the rights and responsibilities of residents face the same situation because the residents, mostly young people, do not pay much attention into these issues.
Disputes
Dwellers' bad habits are not the only problem in Hà Nội's apartment buildings. Disputes over maintenance funds, common use areas and the handover of construction documents among investors, management boards and residents have fuelled uproars.
Last year, the residents of D'Capitale – a luxury apartment complex on Cầu Giấy District's Trần Duy Hưng Street – protested the investor's advertisements of the project.
They said the development was marketed as high-class and each apartment was sold for VNĐ60 million (US$2,6000) per square metre. However, only until when apartments were handed over, did the residents realise that every corridor is only 1.4m wide instead of 2.4m as stated in the initial apartment template.
The building is also not air-conditioned and the construction quality is not as good as was promised.
Feeling fooled by the investor, customers staged protests with posters and banners to ask for a price reduction and demanded local authorities' intervention.
Lê Văn Dục, director of the Hà Nội Department of Construction, said disputes in apartments were not simple matters because they involve many different stakeholders.
The most serious issues are investors' reluctance to pay operation management fees for areas under their own ownership or unsold apartments, as well as inappropriate maintenance fees and a lack of transparency in allocating budgets.
Another common dispute is over the management of the maintenance fund for common spaces, which is supposed to be handed over to apartment management boards consisting of resident representatives.
The department has fined 12 investors VNĐ125 million ($5,400) each for the slow handover of the funds.
According to Ministry of Construction (MoC), regulations on apartment management and use are not clear enough to allow law enforcement agencies to detect and handle wrongdoing.
Meanwhile, many investors pay little attention to after-sale follow-up and do not fully disclose project information or design changes.
A management board can act as a mediator between the investor and residents and represent residents in disputes. But it is not easy to choose a group of people dedicated to serving the community and working for the common good.
In November 2017, the Government issued Decree 139/2017/NĐ-CP, which sets punishments for violations by apartment management boards.
However, for the most common violation – using the maintenance fund for inappropriate purposes – the response is not specified.
In response to this shortcoming, on October 9, 2018, the Prime Minister issued Directive 29/CT-TTg on strengthening State control of the management, operation and use of apartment buildings.
It asks the Ministry of Public Security to collaborate with related agencies to investigate and start legal proceedings against any individual or organisation that uses an apartment building's maintenance fund for the wrong purpose.
The MoC is also considering developing a separate law on the management and operation of condominiums.
However, laws and regulations cannot cover all issues arising between investors and residents. For that, it is essential to have all stakeholders negotiate and agree on their responsibilities, obligations and rights.
Quỳnh Anh snapped a photo of the footprint and posted it on the Facebook group for residents of the building, prompting an outrage and drawing hundreds of angry comments.
The next day, the apartment management board held a meeting on proper behaviour in the building's elevators.
"I feel better when we discuss a problem and find a way to solve it," said Anh.
"Once residents show their co-operation and responsibility, no matter how serious an issue is, there is always a solution that benefits all," she said. — VNS