The Binh Duong Province police have arrested a suspect in the murder of three members of a family who were found dead at home in Thai Hoa Ward in Tan Uyen Town on Wednesday.
Three family members murdered in Binh Duong
Binh Duong: Teenage daughter murders father after family dispute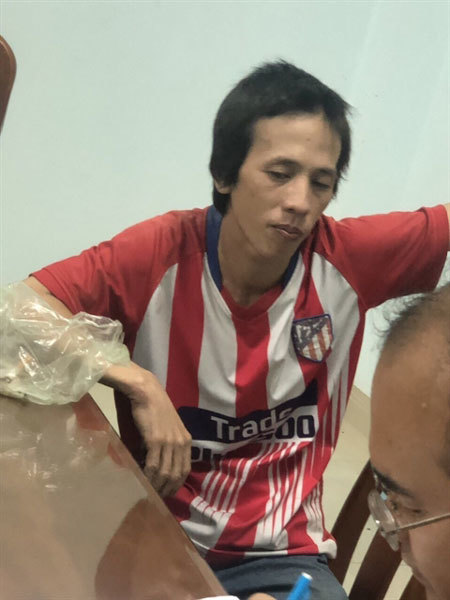 Suspect Tran Trong Luan poses at the Binh Duong police's investigation division. -- VNS File Photo
Tran Trong Luan, 34, is a neighbour of the victims Dao Thi Thu Cuc, 54, her daughter Tran Thi Quynh Nhi, 17, and granddaughter Nguyen Thi Bao Tran, 8.
The three were found with multiple injures on their bodies on Wednesday morning.
The police said Cuc's daughter Tran Minh Phuong returned home after work at around 7am on Wednesday and found it locked.
Looking into the house, she saw her daughter Bao Ngan lying motionless on the floor with blood stains around her.
She called her neighbours for assistance and they broke into the house only to find Ngan as well as her mother and younger sister dead.
Cuc had three children, two of whom are married.
Shortly after being informed, Colonel Trinh Ngoc Quyen, head of the Binh Duong Police, and Colonel Tran Van Chinh, head of its investigation Division, arrived at the scene.
According to the police, Luan frequently used to visit Cuc's home but was unhappy that Nhi disregarded him.
On Tuesday, after losing money gambling, he intended to commit suicide but then thought of Nhi and went to her home and allegedly committed the heinous crime.
The police said at around midnight on Tuesday he broke into the house through its sheet metal roof carrying three knives and a machete.
Seeing Cuc waking up, he fatally slashed her with the machete before killing Nhi and Ngan.
He then went home, took a bath, went out to discard the weapons at a place 100 metres away, and returned home to try and commit suicide by overdosing on drugs, the police said.
The murder weapons have been found.
VNS