The British Embassy in Hanoi yesterday joined the global fight to tackle human slavery.
Two arrested for human trafficking
Vietnam deals with pressure to improve labour productivity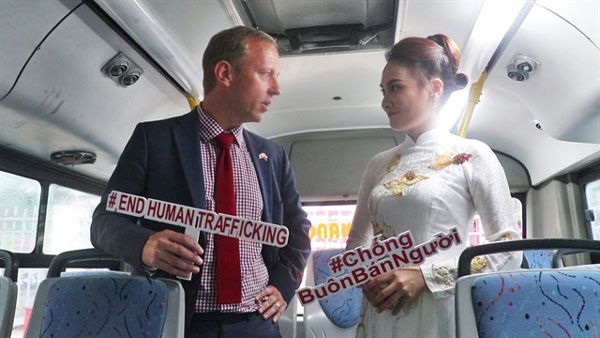 British Ambassador to Vietnam, Gareth Ward with Vietnamese actress Bao Thanh at the launch of a new plan to raise awareness on the issue of human slavery. Messages will be printed on the sides of buses and at bus stops around Hanoi. VNS Photo Paul Kennedy
As countries marked the World Day Against Trafficking in Persons (July 30), Gareth Ward, the British Ambassador to Vietnam, urged more nations to step up their efforts to put an end to modern day slavery.
He was joined in his plea by Vietnamese actress Bao Thanh and the pair unveiled a series of messages that will be displayed on buses and at bus stops around Hanoi in August to raise awareness over the issue.
According to a Government report carried out in the United Kingdom last year, there are around 13,000 people enslaved in Britain alone, with Vietnamese people making up the third largest group of victims.
Many are children who are taken from their homes and forced into illegal activities when they arrive in the UK.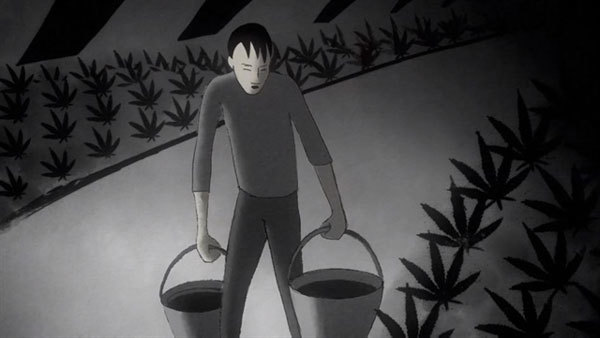 Cannabis recovered after a series of police raids in the northwest of England which saw prison sentences handed to down to Vietnamese drug dealers. Photo courtesy of Lancashire Police

These include the sex industry and large scale cannabis production, with many told if they ran away, they would be killed along with their families back home.
Officials estimate that modern slavery is one of the most lucrative criminal enterprises in the world, earning profits in the region of US$182 billion each year.
During a recent visit to the UK by a delegation from Vietnam, two Memorandums of Understanding were signed to allow the countries to work together to tackle the problem.
Speaking at the event, Ambassador Ward told Việt Nam News: "One is a MoU on immigration, information exchange and working together to make sure there is better intelligence sharing.
"The second is an MoU we are working towards for our border forces because the people who often first meet these individuals at the border are the border force.
"That is for the UK border, the Vietnamese border and also this is an issue for Vietnamese people being trafficked into other countries in the region like China, so it is not just a UK issue."
Actress Bao Thanh, who is famed for her roles in TV shows Sống chung với mẹ chồng (Living with mother–in-law) and Về nhà đi con (Come home, child), added: "I think this is a meaningful project, not only for myself but also for society.
"People will be more aware that this is an issue that not only the Government and foreign embassies but also we the people should be aware of and equip ourselves with basic knowledge to avoid falling into the human traffickers' traps."
Meanwhile, the International Labour Organisation (ILO) has also used World Day Against Trafficking in Persons to call for more efforts to improve labour migration conditions and reduce exploitation.
Around 93,000 people move abroad to work each year, mainly in construction, manufacturing, domestic work and agriculture.
Many are left with huge debts to pay for the cost of migration.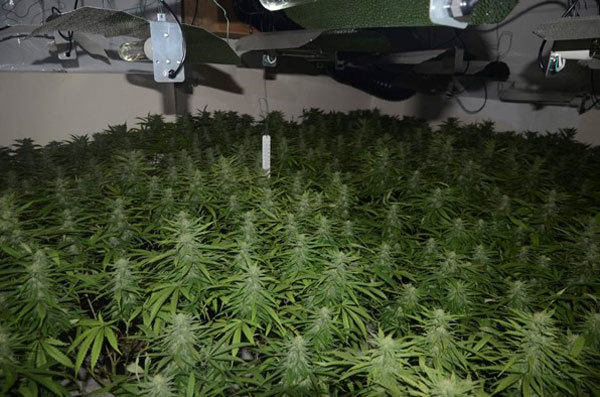 An image from the short film The Secret Gardeners which was produced by leading UK children's charity ECPAT UK to highlight the plight of Vietnamese children smuggled into the UK and forced into illegal activities. Photo courtesy of ECPAT UK
ILO Viet Nam Director Chang-Hee Lee said: "These debts make Vietnamese migrant workers vulnerable to human trafficking and forced labour as people seeking to abuse, exploit or deceive workers have leverage to manipulate them.
"To protect migrant workers from abusive and fraudulent practices during the recruitment process and to reduce the cost of labour migration, the Vietnamese Government, recruitment agencies and trade unions need to continue efforts to improve migration governance." VNS
Paul Kennedy