Director of Hanoi's Department of Transport Vu Van Vien talks to Vietnam News Agency about the city's plans to collect tolls from vehicles.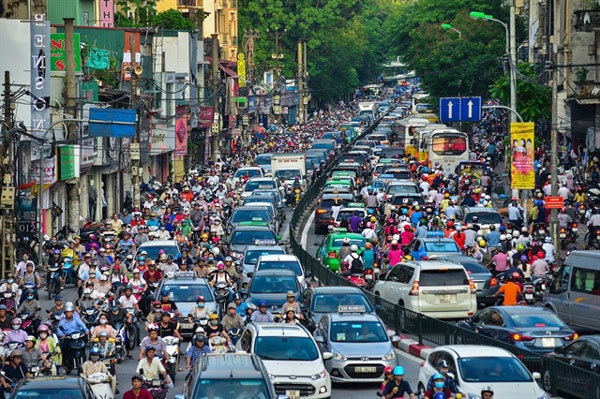 A traffic jam in Hanoi. — VNA/VNS Photo
Some people have opposed the plan for road tolls in central Hanoi. Can you tell us how these tolls will be collected?
The Hanoi People's Council has issued a resolution to increase the management of vehicles in order to reduce traffic and pollution during 2017-20 period, with a vision to 2030. It includes measures aimed at managing private vehicles, contributing to preventing congestion and environmental pollution. It also includes introducing tolls in traffic and pollution hot spots.
The municipal People's Committee has received approval from the Prime Minister to design the plan.
I want to stress that we are now in the process of collecting opinions and suggestions from experts to design the plan, and based on that we will continue studying and collecting more public opinions to ensure its feasibility.
Why has Hanoi decided to design the plan now?
The resolution clearly states that the city's transport infrastructure has failed to keep pace with the increasing number of private vehicles, leading to traffic jams and pollution, particularly in the inner city.
If we do not prepare response plans and measures, the situation will become a crisis. The transport department has proposed a number of solutions, including collecting tolls.
Hanoi at present has over 6.6 million vehicles, including 600,000 cars and 5.9 million motorbikes. The number of cars increased annually by 11 per cent during 2011-18, and the same figure for motorbikes was 6.75 per cent. Transport infrastructure has been unable to meet the increase in the number of vehicles, leading to traffic jams and worsening pollution.
Some people think the toll will conflict with other fees they already have to pay. What do you think?
We have to make clear the nature of this fee and ensure that it does not overlap others. It will come under the Law on Fees and Charges and the Government has asked the Ministry of Finance to entrust Hanoi to develop the plan.
When the draft is completed, the transport department will report to the city's People's Committee. The entire process, from approving, collection feedback, assessing and submitting to authorised agencies at different levels, must strictly follow regulations.
Apart from toll collections, what is the city doing to reduce traffic jams?
The resolution issued in 2015 clearly defines solutions to prevent traffic congestion, of which infrastructure investment is considered vital.
A series of key transport projects have been completed and put into use, including the first stages of the Phap Van-Cau Gie-Ninh Binh expressway, Hanoi-Thai Nguyen expressway, Hanoi-Lao Cai expressway, Hanoi-Hai Phong expressway, Nhat Tan Bridge, Nhat Tan-Noi Bai International Airport road and flyovers at traffic hot spots.
On October 10, the Hanoi People's Committee opened a section of road connecting Cau Giay District's Mai Dich Ward and the southern end of Thang Long Bridge. It is the first stage of the project to expand Ring Road 3, which aims to ease traffic congestion at gateways to the city.
These projects have helped to reduce congestion and accidents.
How about measures for public transport?
Together with investing in transport infrastructure, Hanoi has also focused on developing bus services to make them more modern and civilised.
Hanoi has 124 bus routes covering all 30 districts and communes.
Public transport has recorded encouraging results. The total number of passengers using public transport reached over 948 million in the first ten months of the year.
The public transport network has helped to reduce traffic jams and personal vehicles in the city.

Hanoi is mulling two different options to restrict the use of motorbikes in the city before the 2030 ban.  

Hanoi had announced plans to reduce traffic jams in 33 hot spots, said Vu Van Vien, director of the municipal Department of Transport.
VNS