It has been nearly four years since Hanoi first rolled out its experimenting traffic enforcement camera network hoping to levy fines more accurately and effectively.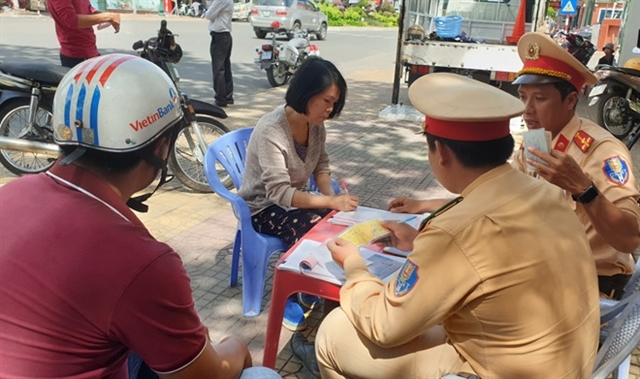 From the tickets issued, more than 1,200 people paid their fines, around 70 per cent of the total number of infringements. — Photo thanhnien.vn
At first it yielded modest results, but over time the system has proved to be more efficient.
Lieutenant Colonel Nguyen Minh Thuy, vice chief of the Hanoi Traffic Signal Police Squad told Tien Phong (Vanguard) cameras installed across the capital recorded more than 1,700 violations in the first half of this year.
These included motorists running red lights, speeding and using bus lanes.
From the tickets issued, more than 1,200 people paid their fines, around 70 per cent of the total number of infringements.
This figure was slightly higher than last year which saw around half of those caught paying up, but it was much more than HCM City, where only 17 per cent of offenders paid their fines.
The Government estimates billions of đồng worth of fines were not paid, leaving a shortfall in the country's coffers.
Thúy said it wasn't always a case of people neglecting to pay.
"The cars' owners might have moved away or sold the vehicles to another or because of late postal mailing. Or they simply just don't want to," she said.
The police had little option to deal with those no-show law breakers and could only pass on their vehicles' information to the Viet Nam Register – the agency in charge of car registry.
When a recorded car comes for renewal, its owner will be obligated to pay any outstanding fines, or have their car stripped of all papers and banned from the road.
Car owner Nguyen Ngoc found himself in trouble when he brought his car to a centre to renew paperwork. He was told he had a one-year-old fine.
Ngoc said he did not receive any notice about his traffic breach, but could not do anything but kept his car off the road until he managed to pay the amount due.
Ngoc said in future, he would constantly check to see if he was caught on the traffic cameras regardless of whether he received the ticket or not.
"The goal of punishment is not to collect fine but to educate and deter traffic violators," he said.
More cameras
Hanoi has so far installed 500 traffic CCTV cameras all over the city, of which 200 were able to identify and record the plates of violating cars in traffic black spots.
The city traffic police division recently proposed to set up another 5,000 road safety cameras to watch over traffic and detect breaches. It planned to install those CCTVs on streets in the centre, highways in and out of the city, flyovers and belt roads.
The division was also working with technology experts to develop a mobile application while would allow the police receive information of traffic violations sent by the residents. That means the police would not only rely on their CCTV network but also the residents' vigilance to spot and handle violations. — VNS