Flooding and heavy downpours have caused thousand tons of trash from Cam Ly landfill on a 60-meter-high hill to fall into valleys in Da Lat City, burying multiple gardens of local people and setting off horrible odors.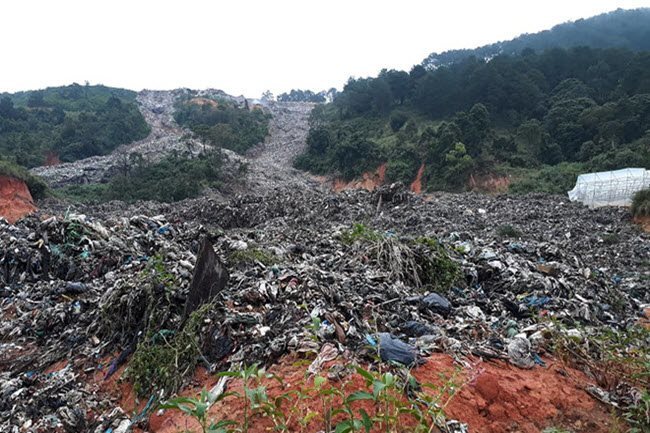 Thousands of tons of trash from a hill buries some seven hectares of farming land in Lam Dong Province – PHOTO: TNO
Bui Trung Duong, chairman of Dalat Urban Company, was quoted by Thanh Nien newspaper on August 13 as saying that some seven hectares of farming land were strewn with thousands of tons of trash.
Torrential rains from August 7 to 10 in the Central Highlands city of Dalat have prompted the trash from the hill to slip down onto many gardens planting flowers, coffee, and vegetables, Duong said.
There were even rolls of pressed trash rolling over the hill, leaving a long streak of more than one kilometer. Many veggie and flower gardens in neighboring areas were plastered under four-meter thick piles of garbage.
Some affected local gardens looked like extended Cam Ly landfill. Worse still, blackened wastewater from the landfill flowed into the gardens along with disgusting smell, then running into other areas and the downstream of Cam Ly waterfall, polluting water and posing risks of infectious diseases.
Nguyen Huu Vu, 32, said that the trash buried almost all his 2,000-hectare daisy garden, with half of the flower being close to harvest time. Similarly, Le Thi Nguyen had her rose garden, which covers 1,800 square meters of land, buried under garbage.
There are no official data from the local authorities regarding damages of the landfill failure. However, according to Tuoi Tre newspaper, the tumbling trash has wrought havoc directly on one hectare of farming land and affected a vast farming area in neighboring areas.
Cam Ly is the largest landfill in the province's Dalat City. Hundreds of tons of garbage dumped by nearly 4,000 local people of the city, which is home to many tourist destinations, are daily transported to the site. SGT

The upcoming Da Lat Flower Festival which will take place between December 20 -24, announced the People's Committee of Lam Dong at a recent press conference in Hanoi.  

To reduce the population pressure on Da Lat, Lam Dong Province authorities should not expand it but build satellite areas around it, an architect has said.