The Ben Thanh - Suoi Tien urban railway project will be completed by the end of 2023 or early 2024.
According to the latest report by the Management Board of HCM City Urban Railway Projects (MAUR), the metro line 1 or Ben Thanh -Suoi Tien metro route has completed 87.5% of the total workload, and is expected to fulfil 91% of the workload by the end of 2021.
Since 2020 when the Covid-19 pandemic broke out, the project has faced many difficulties in mobilizing human resources, according to MAUR. Currently, the workforce on the construction site has been significantly reduced due to social distancing measures as workers in locked down areas cannot go to work.
When Ho Chi Minh City implemented social distancing in accordance with Directive 16, the investor and contractors applied the 'three on the site' and the '2 destinations - 1 road' models, but the number of workers for this project continued to drop due to travel restrictions within the city.
In the early months of 2021, the project employed over 2,000 workers, but by August 2021, the number had dropped to only 544.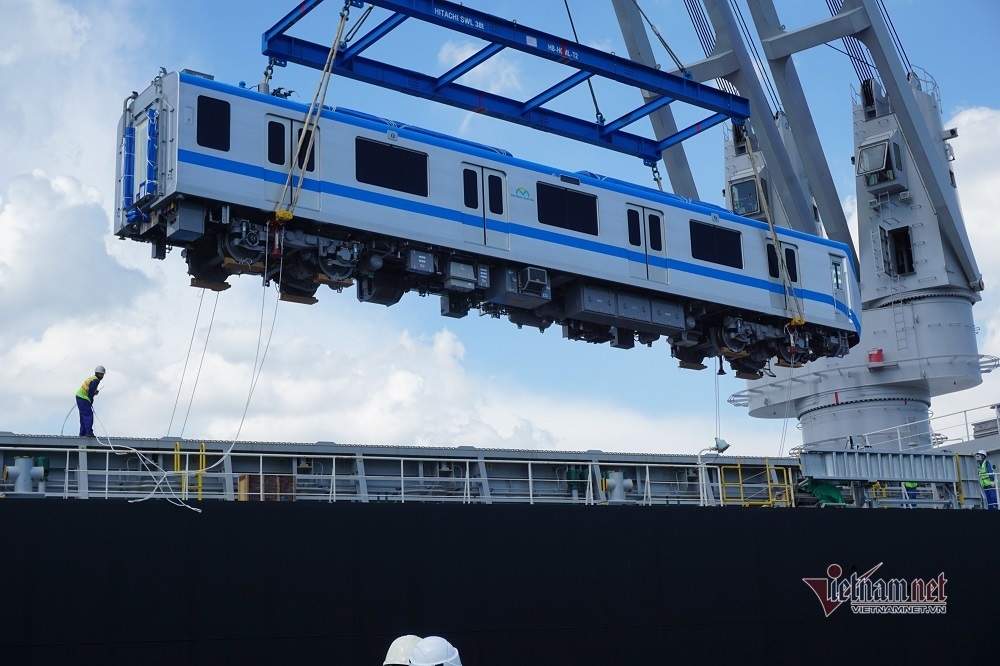 A carriage of metro trains for the Ben Thanh - Suoi Tien metro line.
MAUR said that the sharp decrease in workers and foreign experts who could not enter Vietnam, and the delay in imports of materials and equipment in the past two months, had greatly affected the project.
Under the impact of the pandemic, general consultant NJPT assessed that the project is unlikely to be completed in 2021.
The contractors have conducted a preliminary assessment of the project's progress said that it is likely to be completed by the end of 2023, early 2024.
The metro line will be on a trial run in early 2024.
The $2.05 billion project is the first of at least six to be built in the city and aims to ease traffic congestion in its north-eastern gateway.
Including four major bidding packages using official development assistance (ODA) and funds from the Japan International Cooperation Agency (JICA), the project is designed to have 14 stations, three of them underground.
There will be 17 three-carriage trains plying the route, running at a maximum speed of 110 km/h above ground and 80 km/h below ground.
Tuan Kiet

The HCM City People's Committee has asked the Ministry of Planning and Investment and Ministry of Finance to disburse Japan's official development assistance (ODA) capital from the central budget this year

Japanese contractor Hitachi on May 11 completed the installation of all three passenger carriages of train No. 2 onto a trial track at a depot of Ho Chi Minh City's Metro Line No.1 between Ben Thanh Market and Suoi Tien Theme Park.