Lu A Say once was called a crazy man after spending months in the forest searching the seeds of a type of confer tree known as pơ mu (fokienia hodginsii) in Vietnamese with the hope of cultivating them on a large scale.
A visit to Ang village and Doi cave in Moc Chau, Son La
Mysterious Son La: streams limpid, fish live undisturbed
Vietnam's medicinal plants: the 'green gold' mine in danger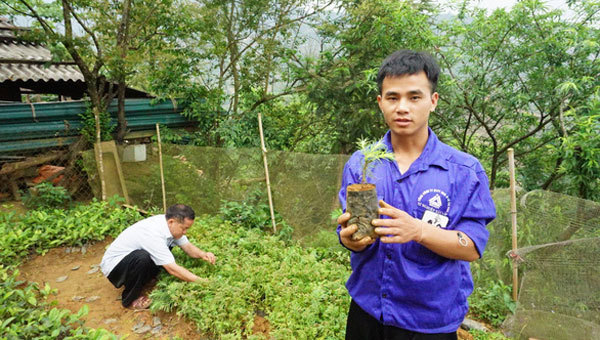 Lu A Say (sit behind) and his son Lu A Cu checks the pơ mu seedling in Son La Province's Ta Xua Village. — Photo tuoitre.vn
Ten years have passed, and Say now has the largest coverage of the trees in Vietnam. He is among the pioneers to have inspired local residents to plant the trees to stop them from disappearing.
Pointing to the four-hectare forest in Ta Xua Village, Say said it would be his legacy for his children with a little museum for those who were curious about the rare trees.
"More and more tourists are visiting Ta Xua Village to enjoy the forest now," he told Tuổi Trẻ (Youth) newspaper.
Say recalled the previous years when he was a young man.
Pơ mu was known as a precious species and was heavily exploited for its valuable and durable timber.
The H'Mong ethnic tradition of building houses using the timber and overexploitation destroyed tens of thousands of hectares of pơ mu in the commune.
Each time Say, together with his villagers, went into the forests, he realised the pơ mu trees were being cut back at a shocking pace, and sometimes he failed to find any at all.
The tree was listed as an endangered species in 1996.
He came to ask elder villagers if the trees could be planted, but his idea was laughed at.
"They called me crazy," Say said. "They said millions of pơ mu seeds fell onto the forest floor each year, but none of them sprouted."
Even Lu A Chong, his father, did not think he was serious about it.
Say decided to give it a shot. He collected the best seeds, started planting them, and duly failed. He tried again, and kept failing.
"I was confused. I didn't know why it didn't work," he said.
Say knew that he needed a special method to germinate the seeds.
He went in search for instructions from around the world on how to cultivate the seeds and came upon a Japanese method that requires the seeds to be soaked in warm water and then cold water before they are germinated.
By the time he succeeded, it was 1990.
Say now has more than 600 pơ mu trees planted on a hill. They have reached heights of nearly 20 metres with the diameter of almost one metre.
Say said many people had offered him large sums of money for the wood, but he refused them.
He supplies pơ mu seeds for local people and those who want to plant the trees. He also gives them instructions on how to plant them properly.
Say is now training his son, Lu A Cu, a graduate from Son La College, to continue developing his legacy.
Dinh The Anh, vice chairman of Ta Xua Commune's People's Committee, said Say's model of planting pơ mu trees could be expanded in the commune as a way of helping re-plant the forest and improve the incomes of local residents who wanted to use them for sustainable commercial purposes.
VNS