Dr Ho Ngoc Anh Vu of My Duc Hospital in HCM City won the Best Oral Presentation Award for his outstanding research at the 9th Congress of the Asia Pacific Initiative on Reproduction (ASPIRE 2019).
The 9th ASPIRE 2019 organised by the Asia Pacific Initiative on Reproduction and the Hong Kong Society for Reproductive Medicine held from May 2-5 in Hong Kong. Gia Loc spoke with Vu about his research and the status of reproductive medicine in Vietnam.
Vietnamese doctors win 2 awards at Asian conference
Charity provides free IVF treatment for poor infertile couples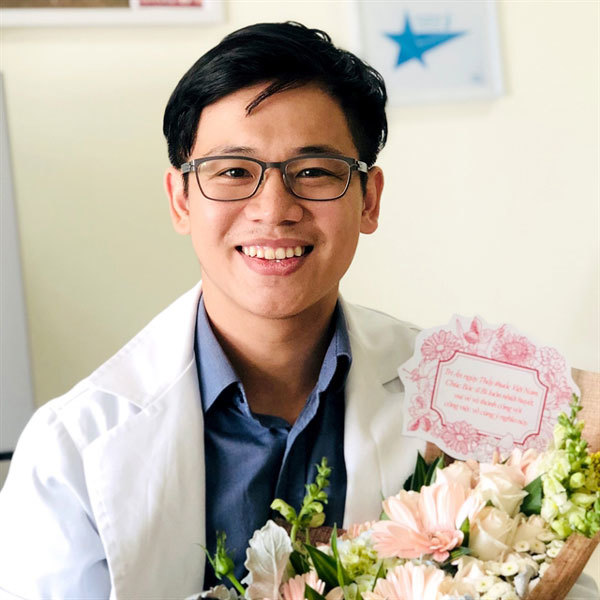 Dr Ho Ngoc Anh Vu of My Duc Hospital in HCM City. Photo courtesy of the hospital

Can you tell us about your research?
Our study compared the effectiveness and safety of in vitro maturation (IVM) of oocytes versus in vitro fertilization (IVF) in women with a high antral follicle count (AFC). My colleagues at the hospital and I conducted the research.
This was the largest study ever in Vietnam on this topic. We studied 1,000 patients who needed infertility treatment and compared the two techniques.
IVM helps the contents of ovarian follicles and the oocytes mature in vitro. The study showed that IVM seems to be an effective treatment compared to IVF, and it eliminates the risk of ovarian hyper-stimulation syndrome in women with a high AFC.
IVM is postulated as an alternative to conventional IVF to avoid ovarian hyper-stimulation syndrome. This has particular potential in women with a high AFC, who have increased risk of getting the syndrome.
Only few infertility treatment centres in the world, including IVFMD in Vietnam, have performed this technique.
In Vietnam, the first expert to do research and apply this IVM technique was Dr Vuong Ngoc Lan, the country's leading IVF specialist, at HCM City University of Medicine and Pharmacy. It was performed at My Duc Hospital, which is a private hospital specialising in infertility, obstetrics, gynaecology, and neonatal healthcare services.
In the IVF process, a patient's ovaries are stimulated by taking daily injections of hormones. This helps multiple eggs mature in the ovaries, increasing the chance for pregnancy.
This step can cause ovarian hyper-stimulation, which is a condition developing when the ovaries become very enlarged and tender due to the stimulation medications used. The syndrome can lead to development of pelvic pain and the accumulation of pelvic fluid as well as other complications such as ovarian torsion or deep vein thrombosis.
It can affect patients psychological state because they have to undergo hormone injections for around 11 consecutive days, while with IVM, they only need to do this for two or three days.
Fewer blood tests and ultrasounds are done with IVM compared to IVF, offering benefits for the patient and reducing costs.
Moreover, with IVM, patients do not need ovarian stimulation or are stimulated less. So their ovaries are not enlarged and their hormones do not increase.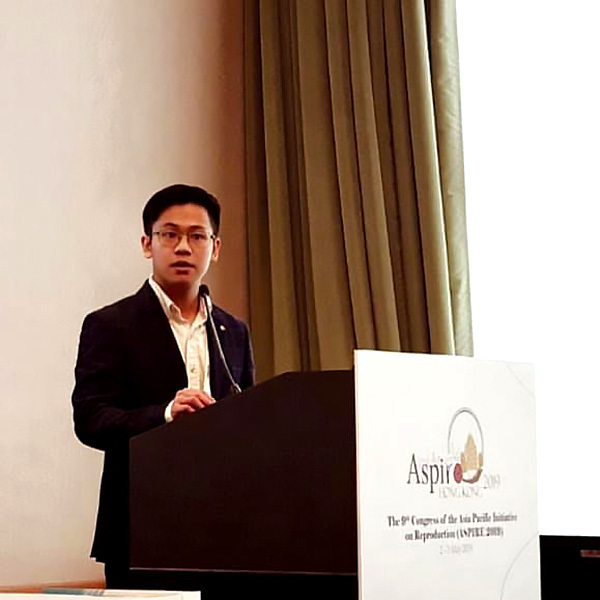 Dr Ho Ngoc Anh Vu of My Duc Hospital in HCM City presents his research at the 9th Congress of the Asia Pacific Initiative on Reproduction (ASPIRE 2019) in May. Photo courtesy of the hospital
What were the most significant breakthroughs of your study?
The big breakthrough was the increased effectiveness of infertility treatment.
If the technique is practised well in infertility treatment centres in the country, patients who need infertility treatment, but are afraid of ovarian stimulation and a lot of injections or have contraindications for stimulation and a high level of estrogen, could use the alternative technique. They will suffer less.
Is the technique used in other infertility treatment centres besides Mỹ Đức Hospital?
Not many infertility treatment centres in the country are using it. In the upcoming time, more centres are expected to use IVM after short-term training courses are provided by My Duc Hospital's doctors. Last year, the first Master class on IVM was held in our centre with participants from many countries in the Asia Pacific region, Australia and the US.
We are ready to train any doctor who wants to learn reproductive medicine.
To apply it, a complete system is required, including laboratories, advanced machines and high-level skills of doctors.
In the IVM process, it is difficult to extract and retrieve immature eggs. The size of immature eggs is 4mm to 6mm, smaller than the ones in the IVF process which are 16mm to 18mm. So, doctors have to have high-level skills and professional knowledge.
Besides IVM, which new techniques are being used in reproductive medicine in Vietnam?
Many new techniques, which infertility treatment centres in the world have applied, are used in Vietnam, where the cost is cheaper.
Pre-implantation genetic testing, a technique used to identify genetic defects in embryos created through IVF before implantation, is an example.
Vietnamese patients do not need to go abroad for infertility treatment. Many foreigners come to Vietnam for treatment. Many overseas Vietnamese I have treated said that they were impressed by Vietnamese doctors' expertise and skills. I often tell overseas Vietnamese that Vietnam's doctors are very good and can use many advanced techniques.
At the ASPIRE 2017 launching ceremony in Indonesia, the organising board's chairwoman mentioned Vietnam's reproductive medicine, especially assisted reproduction, as an example of good practice and legal regulations for other countries to learn from. This was a source of deep pride.
Why did you choose reproductive medicine? What are your plans for your future?
In the 2001-2008 period, my aunts were infertile and came to HCM City for treatment. I went along with them during that time. At the time, I thought that I would study at a medical university and work in reproductive medicine including infertility treatment, just like the doctors who treated my aunts. I saw these doctors as angels who brought happiness to infertile patients and their families.
Working with senior physicians, I learned the way they diagnose and treat and do research. With any occupation, we have to work with our whole heart. We have to take advantage of our time to keep our knowledge up-to-date and practise a lot.
In the treatment process, I often seek ways to understand what patients feel and share with them, because many of them are disappointed and very sad because of many repeated failures to get pregnant.
Of 10 patients with infertility treatment, four to six are successful and are able to deliver a baby. That is the reason why I want to do research to seek better treatment to help the remaining group who experience failure.
Our team is conducting a large trial composed of patients with high AFC in East Asia and Vietnam. In the East Asia region, the proportion of women with a high AFC is high. The study's results will help us have a deeper understanding about the characteristics of the region and Vietnam to create protocols that can be tailored to each patient. And it will provide more evidence related to the effectiveness and safety of IVM to the literature in the field.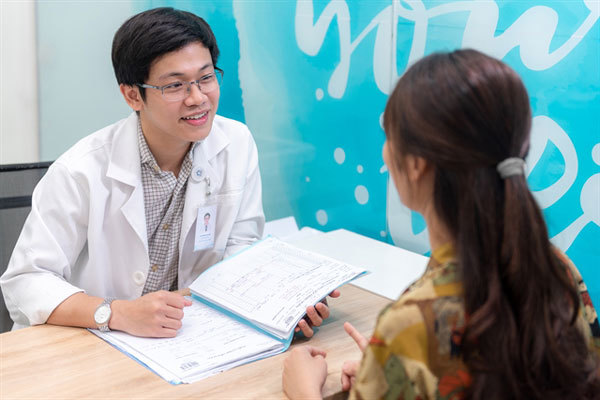 Dr Ho Ngoc Anh Vu of My Duc Hospital in HCM City examines a patient. Photo courtesy of the hospital
What advantages do young doctors have in helping patients?
Young doctors are provided favourable conditions to quickly update their professional knowledge and skills via modern technologies. They also are able to share patients' feeling and suffering.
Before they begin working independently, they first work with many senior physicians to learn how to detect and find solutions to problems that patients face.
When I read the health records of patients, I am really absorbed. I want to know why they experienced failure and I want to find a suitable therapy for them. Infertility treatment is like untying knots in a string. Thirty per cent of patients do not know why they are infertile.
VNS