Deputy PM Trinh Dinh Dung requested the involvement of the entire political system in the fight against African swine fever during a teleconference held by the Ministry of Agriculture and Rural Development in Hanoi yesterday.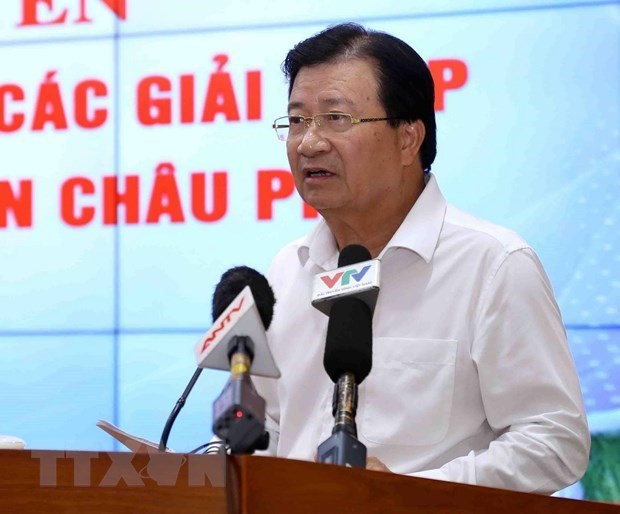 Deputy Prime Minister Trinh Dinh Dung
Ministries, agencies, and members of the national steering committee for the prevention and control of African swine fever were urged to form inter-sectoral working groups to inspect the efforts being carried out in localities.
The Deputy PM assigned the Ministry of Agriculture and Rural Development (MARD) to partner with ministries and agencies concerned to outline policies to support farmers and businesses who have had their inflected pigs culled.
The MARD will also be responsible for issuing documents guiding the slaughter of pigs in affected areas under the supervision of veterinary agencies.
Localities will be guided on how to build five national quarantine stations to ensure requirements for animal transportation in major localities along the north-south highway.
The Deputy PM asked the Ministry of Industry and Trade to work with ministries, agencies, and provincial People's Committees to purchase and slaughter pigs for cold storage to balance pork supply during the remaining months of the year.
According to the MARD, African swine fever occurred in 2,296 communes in 204 districts of 29 cities and provinces as of May 12. More than 1.2 million pigs were infected with the disease and culled, or over 4 percent of the total nationwide.
The central province of Thua Thien-Hue and 55 communes in 36 districts of 16 cities and provinces have posted no new cases in over 30 days.
Speaking at the event, MARD Minister Xuan Cuong warned about the rapid spread of the disease as there are still no vaccines available to prevent it.
Deputy MARD Minister Phung Duc Tien said several localities have yet to promptly monitor the outbreak, as well as destroy sick and dead pigs within 24 hours after discovery.
Vice Chairman of the Hanoi municipal People's Committee Nguyen Van Suu said 5.6 percent of sick pigs have been destroyed in the city at a total cost of more than 200 billion VND (8.69 million USD).
He suggesting increasing wages for officers involved in culling dead pigs from the current level of 100,000 VND per day. –VNA