As entering Alley 134 in HCM City's District 3 these days, you'll see residents voluntarily taking apart their homes to widen the alley so that fire trucks and ambulances can pass through as well as motorbikes.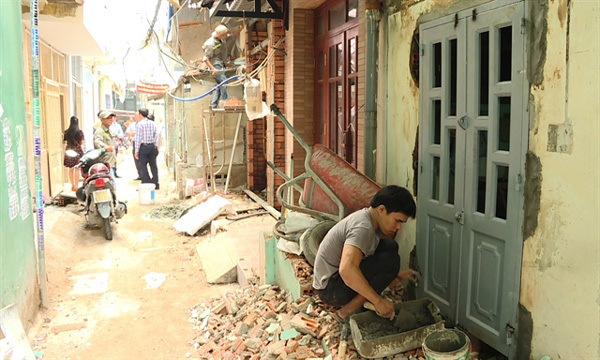 Residents on Alley 134 in HCM City's District 3 dismantle parts of their houses so that land can be used to expand the alley.
Khau Phung Danh lives on the alley which is located in District 3's Ward 4 where one square metre of land can cost tens to more than VND100 million (US$4,300), far more expensive than the price of land in suburban districts.
The alley, which is being widened to four metres, is so narrow that two motorbikes travelling in the opposite direction can barely pass through the space.
Danh donated about 1.5m in front of the house while paying for the dismantlement of parts of his house and eventual repairs himself. It cost him several million dong.
"We hope this expansion will make travel more convenient for everyone," he said.
The wider alley is especially needed in case of emergencies when fire trucks and ambulances need to enter the neighbourhood.
Since 2015, more than 1,170 households in eight wards in District 3 have donated more than 9,400sq.m of land to upgrade and expand alleys, worth a total of more than VND444 billion ($19 million).
Many of the alleys have been widened from 1.5-3 metres to 4-5 metres.
Le Thi Hong Ngan, who lives on Alley 16 off Nguyen Thien Thuat Street, said her family initially did not agree to donate land, but later were willing to do so after seeing the positive improvement in traffic flow and economic development.
"The wider alley creates favourable conditions for daily activities and businesses," Ngan said.
The new 5m-wide alley was expanded from three metres. The water drainage system was also upgraded, and security in the areas has improved as well.
"The value of our house will increase, and the quality of life will improve," Ngan said.
Besides District 3, many other districts have contributed land to widen alleys.
Phu Nhuan District in 1999 was the first to do so. In the past 10 years, it expanded 74 alleys after 3,100 residents donated 14,465sq.m of land.
Land donation campaigns in city districts have greatly contributed to urban refurbishment, according to Nguyen Thi Le, chairwoman of the city's People's Council.
Alley 47 on Nguyen Hien Street in HCM City's District 3 has been widened from 2.5 metres to 4.5 metres. — VNS Photos Ngoc Diep

Lessons
Mai Trung Hieu, deputy head of the People's Committee in District 3's Ward 2, said that public awareness raising campaigns and support from local authorities to residents living in difficult circumstance were both helpful.
"The authorities' understanding of local residents' needs was the key to success," he said.
Tran Thanh Binh, vice chairman of the People's Committee in District 3, which has 800 alleys, said the land donations for alleys began in 2005.
"The expansions have promoted the image of the district," he said.
Relations between citizens and the government also contributed to the success. "The key lesson learned was how to get the support of citizens," Binh said.
The district expects to have 34 alleys widened by the end of this year.
The city has a large number of small alleys that are only 1.5m wide, causing environmental issues and difficulties in travel, Le said.
"The expansions, combined with the upgraded drainage systems, have helped reduce flooding in urban areas," she said, adding that similar efforts should be encouraged across the city. VNS
Ngoc Diep