The People's Committee of Dong Nai Province on Tuesday instructed all provincial departments and agencies to prepare for a tender for hiring survey and land pricing consultants for the Long Thanh International Airport.
First phase of Long Thanh Airport can be completed in three years
Long Thanh Airport construction to start by end-2020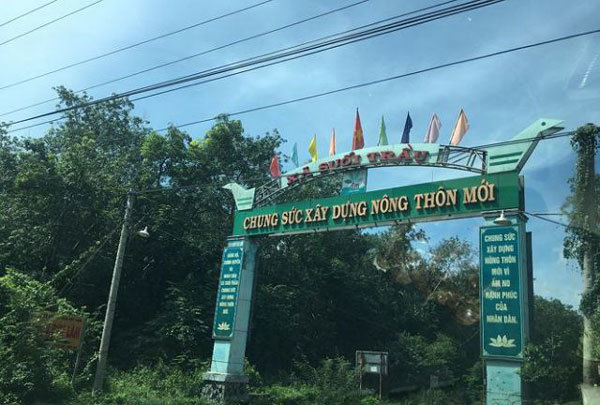 A residential area in Suoi Trau Commune, where Long Thanh International Airport will be built. — VNS File Photo
It ordered them to make adjustments to the compensation rates to be paid for lands acquired for the airport project.
Figures reported by these agencies have indicated differences between the survey map drawn up in 1995 and the current status of lands in three out of the six communes covered by the project.
The People's Committee has instructed the Department of Mineral Resources and Environment to do a fresh survey, draw the map and reconcile the differences so that the new data could be used for paying compensation and resettling families moved out for the project.
According to information released by the Long Thanh District People's Committee, as of June 1, these agencies have surveyed 146 households in the communes of Suoi Trau, Long An and Binh Son.
They have also surveyed 289 of 297 graves in these communes and contacted the families of those buried.
The province People's Committee has called on relevant agencies to co-operate with Long Thanh District authorities to speed up construction of the airport.
The 5,580ha airport will straddle six communes in Long Thanh.
On May 29 provincial authorities publicised a Resolution passed by the National Assembly Standing Committee for the dissolution and amendments of the administrative boundaries of the six communes.
It includes the dissolution of Suoi Trsu Commune and changes to Cam Duong, Long An, Long Phuoc, Bau Can, and Binh Son communes, including mergers.
According to Dinh Quoc Thai, the chairman of the province People's Committee, the airport is the largest task ever undertaken in the province.
It will affect 5,000 households who will be paid total compensation of nearly VND18 trillion.
Construction of Long Thanh Airport is scheduled to start late next year.
Once fully operational, it will reduce the load on Tan Son Nhat International Airport in neighbouring HCM City.
It will have the capacity to handle 100 million passengers and five million tonnes of goods a year.
VNS